The Pentagon's annual China Military Report went live this week.
The report claims the People's Liberation Army Navy is the largest of the world, but the U.S. Navy is still the largest by weight of ships.
Still, China continues to crank out an impressive number of warships, and it may only be a matter of time before the PLAN outweighs even the USN.
---
A new report from the U.S. Department of Defense claims the Chinese Navy, known officially as the People's Liberation Army Navy (PLAN), is the largest in the world. According to the Pentagon, the PLAN has 350 battle force ships, as opposed to the U.S. Navy's 293 ships. While the U.S. Navy is far larger by tonnage, that advantage could be erased given China's frantic shipbuilding schedule.
Over the last three decades, the Chinese military has enjoyed double-digit growth in defense spending. The rise of the Chinese economy has allowed the country to spend much more on its armed forces without spending a greater portion of the gross domestic product. In fact, the defense budget has grown by about sixfold in the last six decades, with an emphasis on modernizing combat forces and building out power projection capabilities—particularly the Chinese Navy.
In the late 1970s, China was a relatively poor country and relied on the concept of "People's War" to fight wars. Ground forces, including the Chinese Army and guerrillas, would surround and destroy enemy forces in a war of attrition. The Chinese Navy was largely regulated to a coastal defense force that could rarely project power 100 miles from the Chinese coastline.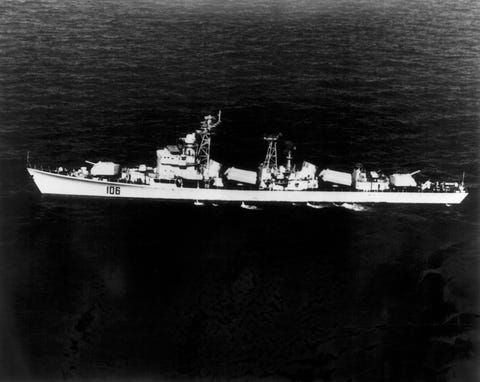 In 1979, the PLAN consisted of more than 140 missile boats, 53 corvettes, 12 frigates, 11 destroyers, 75 submarines, and 15 major amphibious ships. Even then, most of the ships were obsolete, fielding older missiles and sensors that made them no match for the U.S. Navy—or almost any other major navy, for that matter.
The Pentagon's 2020 Military and Security Developments on the People's Republic of China says the PLAN is "numerically the largest navy in the world" with 350 battle force ships, or ships that are able to contribute to combat operations. This includes 86 missile patrol boats, 49 corvettes, 53 frigates, 32 destroyers, one cruiser, 52 nuclear and conventionally powered attack submarines, four nuclear-powered ballistic missile submarines, 58 major amphibious ships, and two aircraft carriers assigned to the Northern, Eastern, and Southern navies, with the other 100 ships assigned elsewhere.