Though people in general blame HAL for low production rate but actually HAL is not only one responsible for LCA low production rate. There is multiple factors and agencies are responsible for low production rate. Let understand few things about some aspects of Tejas project.
Lack of orders:
40 Tejas Mark 1 ordered by IAF in 2005 – 20 aircraft in IOC configuration, a further 20 in FOC configuration including twin-seat trainers.As of March 2020, 16 Tejas Mark 1 in IOC Configuration and 4 Mark 1 in FOC configuration delivered In February 2021, the Indian Air Force ordered 83 Tejas during Aero India 2021, including 73 single-seat Mark 1As and 10 two-seat Mark 1 trainers. Total 123 ordered.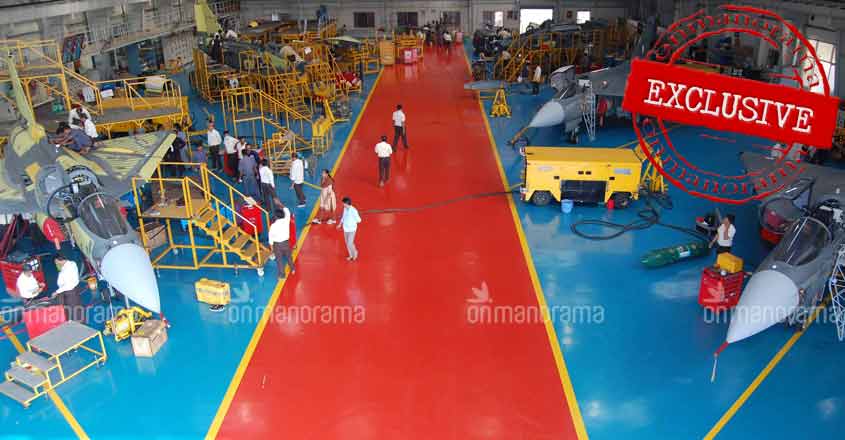 Unfinished product and parallel production :
It is always very difficult to produce an unfinished product. As per initial planning in 2005, the IOC version should be ready by 2010 and FOC version should be ready by 2012. But IOC of Tejas only achieved by 2014 and FOC by 2019. Fully 4 years and 7 years delay. That also without trainer certification.
Without certification, HAL cannot start full production. So they were just focused on Limited Serial Production. Means just 2 to 3 units per year. So by 2014, HAL had option to build just 16 units of Tejas when FOC was in trouble. So HAL does not feel confident to increase it's production rate. But after get FOC in 2019, HAL is going to complete all 32 units of Tejas by 2021 but due to pandemic it facing delay again.
"As per the contract, we are to start delivery of LCA (Light Combat Aircraft) by 36 months from today. The first delivery will be by March 2024. In the first year, there will be delivery of two aircraft which will be ramped up to 16. Total supply time, post first delivery is 6 years," Madhavan said at a press conference in Bengaluru.
"We faced issues due to lockdown in the first two quarters. The first quarter was completely washed out. But till the third quarter, we recovered. So financially or otherwise, we will reach the target set for the year, as per pre-Covid times," he added.
Production complexity :
Tejas has components from a lot of different vendors and different countries. GE 404 engine from USA. Radar and BVR weapons from Israel. Ejection seat from UK. Avionics from Israel, France, Russia and India. Etc. Every country has its own legal process for defence items export. As result components procurement processes become too complex and time consuming. Headache increases by uncertainty over Tejas development. Example, HAL had order 17 and 24 engines from GE in 2005-2008. But after delivery by GE, those engines were lying down in HAL warehouse for years. It's not only waste of resources but huge money needs to store those. Plus warranty period also get over by time.
HAL was never able to plan properly what components need to order and when. Plus supply chain also gets broken. It's a long discussion.
Unsatisfied end user :
Many people blame IAF. But as end user, IAF cannot be blamed. After giving teh order in 2005, IAF has to wait for 15 years to get its order. They suppose to get all its order by 2012 but they are going to get all those by 2021. Main problem is with Drdo and ADA. Actually, they are primarily responsible for the overall cause of Tejas. Their immature behavior and mismanagement are responsible for the failure of many defense products. Like Arjun, Trishul SAM etc.
Current Production Plan
The above figure shows the planned production plan. This graph was given by ex-defense minister Mr.Manohar parrikar.
All the 123 Tejas LCA which includes 20Mk1(IOC)+20Mk1(FOC)+83Mk1a=123 will be delivered till 2025.
With DRDO chief confirming that Mk1(FOC) will be converted to Mk1a later on.Here is it i n the tabular form.
There are Two assembly line. One is fully dedicated to tejas. Otherone is the Kiran aircraft hangar but this can produce only 3 tejas p.a as its too small and a stop gap measure by HAL.
Third assembly line will be ready by 2019. Under optimum condition production of all three assembly line can produce atleast 16 and at max 19.
So going through above plotted graph and table production is said to be on track and it will go up as soon as tejas recieves FOC this year.
How its work
Every problem of these people who ask this don't know that how it is determined it is done, upon the number of fighter's that are ordered and more thing is that they are built after order not before.
IAF had ordered 40 Tejas from HAL and at that nothing called as Tejas Mk1a was there so making a product of 20 planes per year was not feasible as after 2 years what would HAL do?
Hence the production was fixed for 5–8 years so that they would have 5–8 until the production runs dry and then by that time they would have make any deal with IAF to make more fighter and the same happened, HAL struck a deal with IAF for 83 more they are extending the production to 18 then 24 and then to 28 so that they can roll out Tejas Mk2 ( SP's ) and SPORT fighters.
Another interesting thing is that IAF will order 10+ squadrons of Tejas Mk2 which amount of 200+ fighter and hence the rate of production can be ramped up to 40+ planes year which would be good.