Twenty-three security personnel were killed and 33 injured on Saturday in one of the deadliest Maoist ambushes ever in Bastar. A CoBRA commando is still missing.
On Sunday, when reinforcements reached the encounter site On Sunday, police found injured jawans, who tried to take refuge in abandoned huts, had run into Maoists lying in wait for this. Wounded troops were stabbed, shot and hacked to death.
A fierce battle raged in the jungles of Bijapur district for hours on Saturday.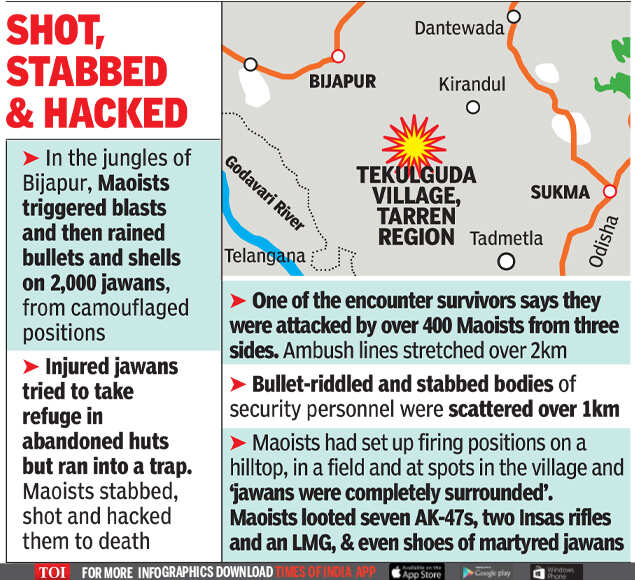 The area is a stronghold of dreaded Maoist commander Madvi Hidma, whose name has cropped up in every major attack in these parts since the massacre of Congress leaders in Jhiram Ghati in June 2013.
In Saturday's ambush, Maoists triggered blasts and then rained bullets and shells on the troops from well-camouflaged positions, inflicting heavy causalities.
One of the survivors of the encounter said that they were attacked by over 400 Maoists from three sides. The ambush lines stretched over 2km near Tekulguda village. Running gunfights broke out near Tekulguda, Jonaguda and Jeeragaon villages as the forces fought back hard to break out of the ambush.
Some jawans carried their injured colleagues into the deserted Tekulguda village, only to run into a trap where Maoists pounced on them with daggers.
Some locals who reached the spot before police told TOI, "Blood-soaked bodies of security personnel were scattered over 1km and we could clearly see signs of their desperate struggle for life. Bullet-riddled and stabbed bodies were found in an open field and huts in Tekulguda. A few of the bodies were without trousers. "
Villagers said the Maoists had set up firing positions on a hilltop, a field and in spots inside the village. "The jawans were completely surrounded." All the 50-60 houses in Tekulguda were vacant as per the Maoists' plan. Bullets and country-made mortars were recovered from the site, "they said.
Home minister Tamradhwaj Sahu said that around 2,000 troops had gone on the operation, deep in the jungles of Bijapur, on information that a large number of Maoists were holding a meeting there. Confirming that the troops were ambushed, Sahu said: "Our forces fought valiantly and both sides used mortars and other sophisticated weapons."
News of the ambush got out late Saturday afternoon when the gunfight was still on. Till that night, police had confirmed only five deaths. It took almost 24 hours for a rescue party of 500 cops to reach the encounter site in the dense forests of Tekulguda, close to the border of Sukma and Bijapur districts, with drones keeping watch on possible Maoist ambush parties.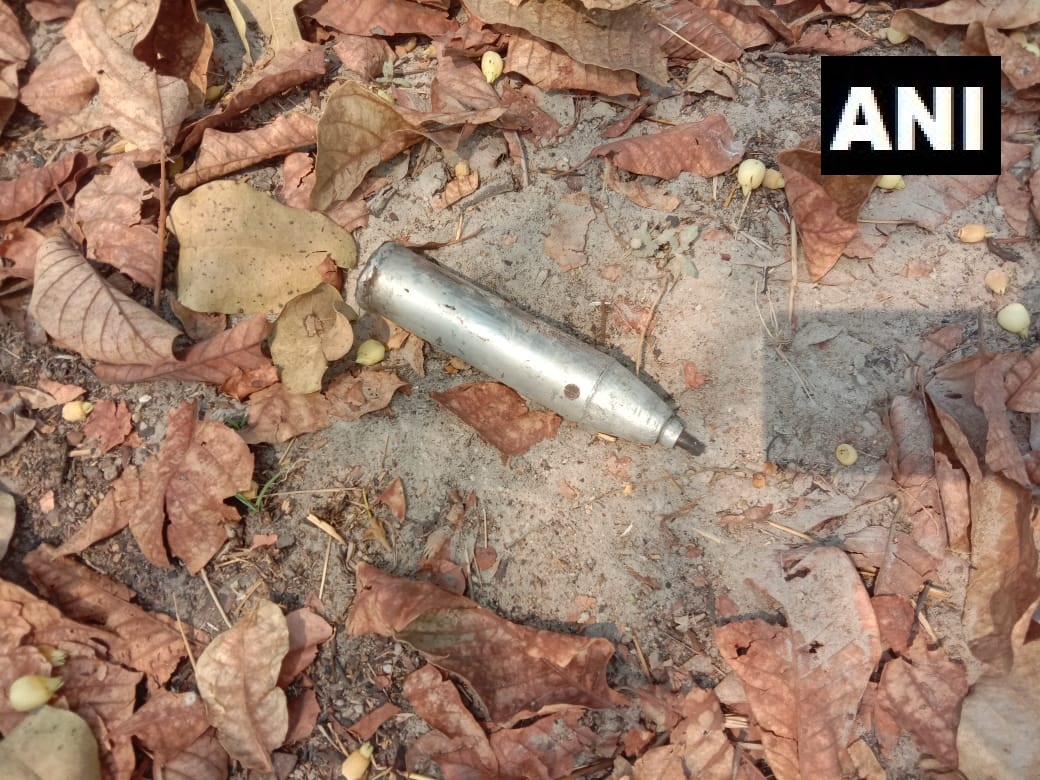 Quickly, the body count rose. Bastar range IG P ​​Sundarraj said that the uniformed body of a woman Maoist commander, Madvi Manoja, had been recovered along with an Insas rifle. Maoists looted weapons and even shoes from martyred jawans, a police officer said.
Sundarraj said that Maoists suffered heavy casualties – 12 killed and 16 injured – and that the insurgents had carried them in two tractors towards Jabbamarka and Gomguda villages. Seven of the dead jawans and 16 injured are commandos of the CRPF's commando unit, CoBRA, which is the spearhead in most major operations.
Eight personnel from District Reserve Guards, six from STF and a Bastariya Battalion jawan were also killed. The injured include 10 DRG personnel and five STF jawans.
A CoBRA jawan, Rakeshwar Singh Manhas, is still missing. The injured troops are being treated in hospitals in Raipur and Bijapur. "The 13 jawans, who are undergoing treatment in Raipur, are now out of danger," said chief minister Bhupesh Baghel, who is on a tour of Assam.
Union home minister Amit Shah called CM Baghel and discussed the situation in Bijapur. CRPF DG Kuldeep Singh, who arrived in Chhattisgarh on Sunday morning to take stock of the situation, said the Maoists looted seven AK47s, two Insas rifles and an LMG.
"There's no point in saying that there was some kind of intelligence or operational failure." Had it been so, forces would not gone on an operation and so many Naxals would not have been killed, "the CRPF chief said, adding:" Three tractors were used to carry injured and dead Maoists from the site. It is tough to say right now how many of them were killed, but it shouldn't be less than 25-30. "
President Ramnath Kovind, PM Narendra Modi, Union home minister Amit Shah, Congress MP Rahul Gandhi, CM Baghel and Sahu have expressed deep condolences.
PM Modi tweeted: "My thoughts are with the families of those martyred while fighting Maoists in Chhattisgarh. The sacrifices of the brave martyrs will never be forgotten. May the injured recover at the earliest. "
"I bow to the sacrifices of our brave security personnel. We will continue our fight against these enemies of peace and progress, "Shah tweeted, assuring all support to the state in battling the Maoist menace. CM Baghel said the morale of security personnel in Bastar is high. "We will win the fight against Naxalites, "He said.
This is the second major attack since March 24 when Maoists blew up a bus carrying security personnel, killing five policemen and injuring 13 in neighboring Narayanpur district.