Sweden's Saab Gripen fighter is a competitor to the F-35, Eurofighter Typhoon and Rafale in global fighter deals but loses to the opponent on two important fronts.
According to The EurAsian Times, the Gripen is one of the few major multi-role fighter jets marketed worldwide over the course of the last decade. It often competes with the US' F-35 Joint Strike Fighter, the Eurofighter Typhoon, and the French Rafale jets in global fighter jet deals.
Saab Gripen fighter
The Gripen is a small, versatile, single-engine fighter aircraft powered by a Volvo-Flygmotor RM12 engine. Gripen is the result of a joint development project by Aerotech Telub, Ericsson Microwave Systems, Saab Military Aircraft and Volvo Aero Corporation.
The Saab JAS-39 Gripen meets the needs of countries looking for affordable, low-maintenance yet powerful fighters. It is a fourth-generation fighter, originally developed in the 1980s to serve as a relatively cheaper, easy-to-maintain aircraft capable of tackle down any potential attackers and Meteor AAM make its more dangerous. JAS-39 Gripen is the major industrial business project in the history of the Nordic country.
This multirole fighter is widely used by the Swedish Air Force and other countries. Contrary to popular belief, a lot of Gripen's technology (like the engine) was actually outsourced to reduce costs. Over time, the original Gripen A and B versions gave way to much-improved C and D versions.
The E/F variants add greater range and payload capacity and features like modern avionics. The aircraft is equipped with a new British-built Selex Raven ES-05 active electronically scanned array radar to replace the older PS-05/A radar.
JAS-39E Latest variant
The JAS-39E variant is an upgraded version of the Gripen, equipped with a more powerful General Electric F414 engine. The redesigned fuselage allows for more than 40% fuel savings.
The JAS-39E variant also contains additional weapon mounts. The company seems to have focused significantly on merging data with information from active electronically scanned array radar (AESA), electronic warfare systems, infrared search and track systems and more advanced data links.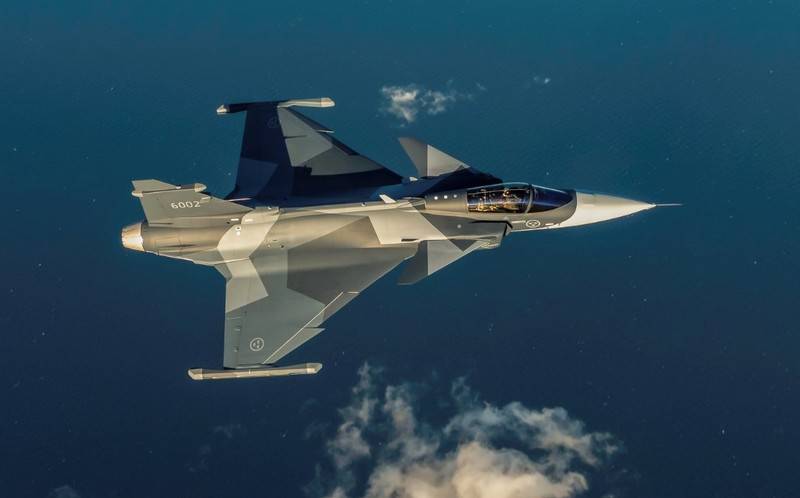 The Gripen E has achieved complete North Atlantic Treaty Organization (NATO) interoperability and is specially built for future Cyber-Central Warfare (NCW) environments.
In terms of weapons, Gripen E ensures air-to-air superiority with METEOR, AMRAAM, IRIS-T, AIM-9 missiles. Meanwhile, the latest generation of precision weapons and targeting sensors ensures superior air-to-ground capabilities.
Saab Gripen's Big Limits
According to The EurAsian Times , although the Gripen-E fighter is attractive in terms of advanced electronic warfare capabilities, the integration of powerful missiles, reduced radar cross-section and low operating costs, the injection model This attack still seems to lose to its rivals on two quite important fronts: political influence and economic support.
Gripen's rivals such as the Dassault Rafale, the F-35 and the Eurofighter Typhoon come with the respective diplomatic support of France, the US and some European countries.
Strengthening diplomatic relations through military agreements with countries that mostly hold important positions at international forums such as the United Nations Security Council, the European Union (EU), (NATO),… is beneficial to the client countries.
Having such political support behind an airplane also makes it a more worthwhile purchase option.
For example, Italian military aviation blogger David Cenicotti said: "The Eurofighter Typhoon is a mature technologically, arguably cheaper and more politically influential aircraft because it is built by four European countries." 
Indeed, being able to link politically and economically through a plane deal with not one or two but four European powers (Britain, Germany, Italy, and Spain) could be a big deal. better deal in the long run, even if buying a plane is a bit more expensive than other options like Gripen.
Entering into multibillion-dollar deals with major powers can make the client country a full-fledged ally of that government. This could open channels for further cooperation in defense and other key areas.
Gripen-E has borne the brunt of Britain's political-economic power in recent years. The Saab company was forced to give up the opportunity to supply the Griphen-E aircraft to Argentina because the UK had imposed a ban on the export of British components used for this aircraft.
In addition, Sweden lacks the economic capacity to support the Gripen tenders. When Ukraine announced plans to spend a large amount of $ 7.5 billion to renew its air force in May last year, France introduced the country's Rafale fighter jet and expressed its willingness to provide financial support. for the agreement to be enforceable.
France is ready to guarantee a loan of up to 85% for Ukraine to pay for the purchase of Rafale fighters. This type of incentive gives an edge over offers from countries such as France and the US, which Sweden does not currently have.