The prime minister-led Cabinet Committee on Security (CCS) recently cleared the procurement of 15 indigenously developed Light Combat Helicopters (LCH) at a cost of Rs 3,887 crore (roughly $500 million), marking a big step forward in the country's Make-in-India initiative.
The Light Combat Helicopters (LCH) were purchased at a time when the three services are focusing heavily on improving their overall offensive capabilities in light of India's myriad security issues, notably its border issues with China and continued hostility with Pakistan.
The Indian Air Force will receive ten helicopters, while the Indian Army will receive five, the defense ministry announced.
"The CCS has approved procurement of 15 Light Combat Helicopter (LCH) Limited Series Production at the cost of ₹ 3,887 crore along with infrastructure sanctions worth ₹ 377 crore," it said. 
The Light Combat Helicopter Limited Series Production (LSP) is an indigenously developed combat helicopter with around 45 percent indigenous content by value, with more than 55 percent indigenous content expected to be added over time. The helicopter is manufactured by the state-run Hindustan Aeronautics Ltd (HAL).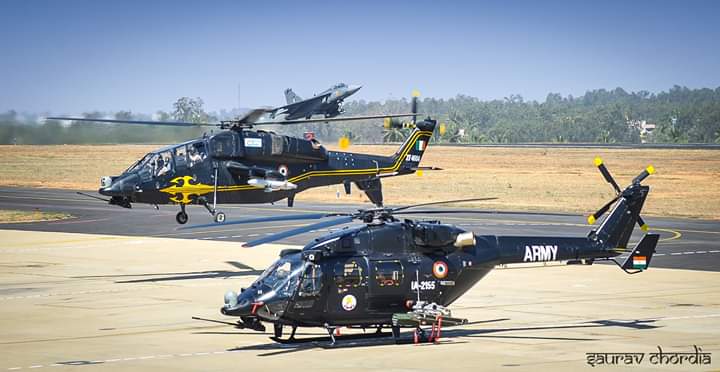 The ministry said that it would be a robust system that will suit the operational needs of both the Indian Air Force (IAF) and the Indian Army. The Army and the IAF apparently have a total need of around 160 twin-engine LCHs.
The ministry further said that the 'Atmanirbhar Bharat Abhiyaan' translating to Self-Reliant India Mission is helping India improve its ability to design, develop, and manufacture innovative cutting-edge technologies and systems in the defense sector.
The helicopter's capabilities were put to the test during a long flight campaign from high-altitude bases in the Himalayas. It has all of the requisite skills to operate in Siachen.
In another step towards becoming #AtmanirbharBharat, #CCS has approved procurement of 10 Light Combat Helicopters (LCH) for #IAF and 05 for #IA.

A potent platform, #LCH has one of the highest operating altitudes among the combat heptrs in the world.https://t.co/MF0dzIHaj7 pic.twitter.com/yxVmsBx4mi

— Indian Air Force (@IAF_MCC) March 30, 2022
"The production of LCH will reduce import dependence for combat helicopters in the country. Light Combat Helicopters are already on the import embargo list. With its versatile features built-in for combat missions, LCH has the export capability," the ministry said.
India's Light Combat Helicopters (LCH) Features
During the Kargil war against Pakistan in 1999, the necessity for Light Combat Helicopters (LCH) was felt for the first time. Considering Indian forces lacked an LCH, they were compelled to adapt MI-17 helicopters to operate at such extreme altitudes.
During the conflict, the Indian Air Force lost one of these helicopters after it came under enemy fire.
In 2006, HAL revealed its intention to develop an LCH capable of operating in both harsh desert conditions and high altitude areas of Ladakh, including the Siachen Glacier. Before conducting its maiden test flight in 2010, the production of these choppers had been plagued by multiple delays.
The Ministry of Defense did not place an official order for any LCHs from HAL until November 2016, when it ordered 15 choppers in limited series production. In January 2019, the LCH successfully completed weapons trials, and HAL certified it "ready for operational induction" in February 2020.
The LCH has "the maximum possible commonality with Advanced Light Helicopter (ALH)," according to HAL. A pilot and co-pilot sit one behind the other in the helicopter. The helicopter also features a variety of stealth features and has armor protection, night attack capability, and crash-worthy landing gear.
It has a maximum take-off weight of 5,800 kg and is propelled by two Shakti engines. It has a range of 550 kilometers and an operational ceiling of 6.5 kilometers, with a top speed of 268 kilometers per hour.
LCH carries a 20 mm gun and 70 mm rockets, as well as air-to-air and air-to-ground missiles. The LCH has a full glass cockpit, an Electronic Warfare suite, and a helmet-mounted display for the pilots.
"State of the art technologies and systems compatible with stealth features such as reduced visual, aural, radar and IR signatures and crashworthiness features for better survivability have been integrated into the LCH for deployment in combat roles catering to emerging needs for the next three to four decades," the defense ministry said in a statement.
The LCH is particularly suited for anti-tank missions, as it can fly low & quick to strike and destroy opposing armor columns. It is also viable for a scout mission, according to HAL, in which it could fly ahead of marching Army columns and detect hostile positions.
It can also be used in air defense duties and to destroy enemy air defense assets. Furthermore, the helicopter is also capable of conducting urban warfare missions and combat search and rescue missions.
India has been at the forefront of the development of Light Combat Aircraft. India's LCA Tejas has been hogging the global media limelight with its spectacular display at international airshows including Dubai and Singapore. With LCH, India looks to replicate the 'success' of Tejas.