A History Like No Other – The AK-47 assault weapon has made an enormous impact on armies all over the world since the end of World War II and into the modern era. It was invented by Mikhail Timofeyevich Kalashnikov and adopted into service by the Soviet Union in 1949. Kalashnikov was a soldier in World War II who developed several inventions for tanks after fighting in Eastern Front battles against the Germans. Born in 1919, Kalashnikov learned his gift for mechanical engineering while working for a railroad and later as a tanker and tank mechanic.
The below is a short history of the man and the weapon he invented that changed modern warfare forever.
Kalashnikov Studied Weapons While Fighting In Tanks
Kalashnikov was wounded fighting the Germans in 1941 near Bryansk. While recovering from his injuries in the hospital, he got the idea for a new submachine gun. Kalashnikov had already designed an automatic pistol that could be fired at close quarters from a tank. He realized that most shots in battle were from close range and were fired at targets at less than 300-meters.
Kalashnikov Was a Skilled Inventor
Kalashnikov wanted to have an accurate and easy-to-carry weapon that could automatically feed rounds from a magazine. He began work at the Matai depot to assemble a working prototype. His commander heard of his creativity and sent him to the Moscow Aviation Institute where Kalashnikov would have better tools, parts, and support staff. In 1942, Kalashnikov had developed his second submachine gun prototype.
The Soviet Union's top small arms engineer and scientist, A.A. Blagonravov, had an interest in Kalashnikov and his new weapon. Blagonravov took the young designer under his wing, and they worked together at the Central Research Small Arms Range in the Main Ordnance Directorate of the Red Army. In 1944, Kalashnikov created the first experimental model of what would become the AK-47. After much testing, calibration, and optimization, the Soviet Army adopted the weapon in 1949 and dubbed it the Avtomat Kalashnikova.
A Russian Hero Who Even Had His Own Vodka
Kalashnikov was decorated with the Stalin Prize First Class and later three Order of Lenin Prizes. He was then given an honorary doctorate in engineering, promoted to major general in 1994, and hailed as a Hero of the Soviet Union. He even released a brand of vodka in 2004. Kalashnikov died in 2013.
The AK-47 Has Proliferated Beyond Comprehension
It is impossible to measure the impact that the AK-47 and its variants have had on military history. The Russians have estimated that they have made at least 70-million of the weapons and millions more are made by other countries legally and illegally.
A Robust But Easy to Use Rifle
The AK is simple to use and tough. Its parts are not machined to fit that tightly compared to weapons such as the M16A4 or M4. It is, therefore, easier to take apart and put together. The parts are seemingly impervious to dirt and dust, and it usually resists malfunctions.
7.62mm Round Has Stopping Power
The bore, chamber, gas piston, and gas cylinder are often coated with chromium, and this allows the weapon to be more resistant to rust and corrosion. These features make it popular in urban, jungle, or desert environments. The AK-47 is not as accurate as some assault weapons; however, it has a 7.62mm round with high muzzle velocity that has outstanding stopping power that causes much damage to human targets.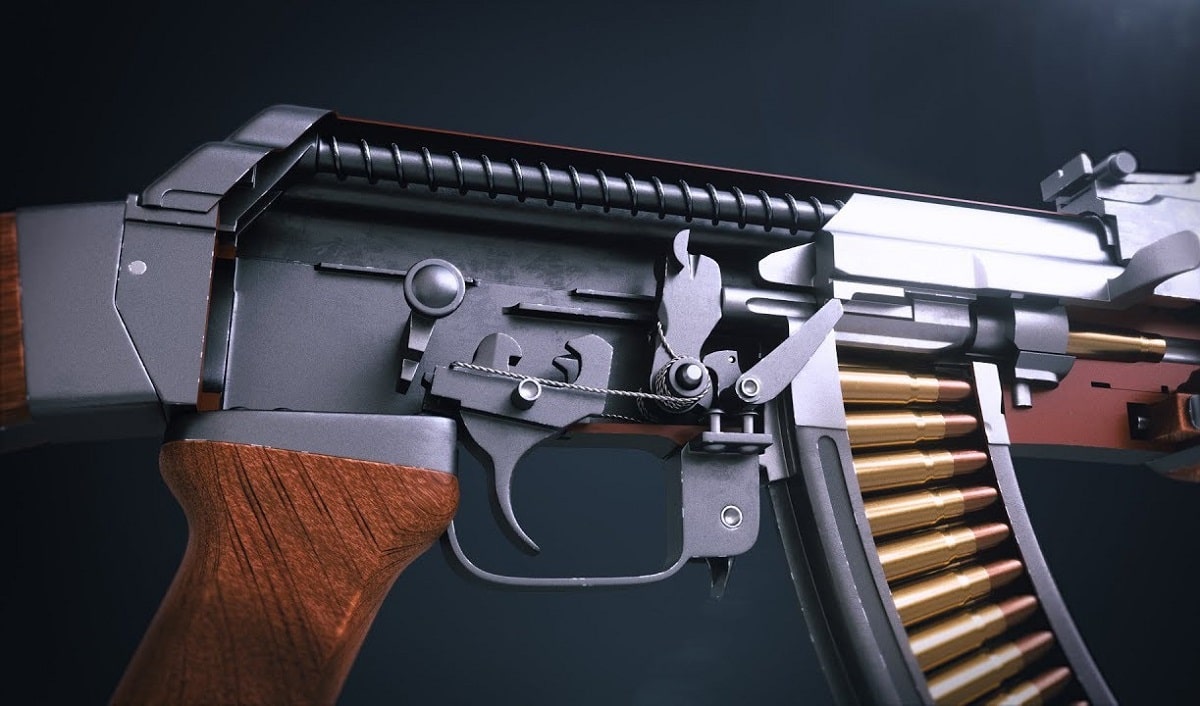 Its 'zero' range is usually 250 meters from the manufacturer which means that sight correction is usually not needed at short range. The AK-47 is often fired with only iron sights; another feature that allows it to quickly train new users. Unfortunately, the AK-47 is often the weapon of choice for militant groups who use children as soldiers.
The AK-47 Has Global Reach
At least 20 countries are known to produce military versions of the AK-47 family of weapons. Other countries and non-state actors produce the weapon without license from Russia. The Soviet Union exported the weapon to at least 55 armies during the Cold War. The AK-47 is now used by as many as one hundred countries.
The weapon's symbol has been included in the military flags and emblems of several countries and non-state actors. Most small arms experts agree that the AK-47 and its variants are one of the best rifles ever made and more AK-47s have been produced than any other assault weapon in the world.
Source: 1945