Displacing 45,693 tons and with a length of 844 feet (257 meters), USS Tripoli (LHA-7) could easily be mistaken for an aircraft carrier. Tripoli is similar in size to the Charles de Gaulle or the Vikramaditya, the flagship carriers of French and Indian Navies respectively, and while shorter, has a comparable displacement to the former United States Navy's Midway-class carriers.
However, LHA-7 is actually the second of the America-class of landing helicopter assault-type amphibious assault ships that are designed to put ashore a Marine Expeditionary Unit using helicopters and MV-22B Osprey V/STOL transport aircraft, supported by F-35B Lightning II V/STOL aircraft and various attack helicopters. A total of eleven of the new LHAs will be built, based on the USS Makin Island (LHD-8), the final ship of the Wasp-class of amphibious assault ships. The first two were modified and constructed without the well decks and smaller onboard hospitals so as to provide more space for aviation uses.
Meet the Tripoli
Built by Ingalls Shipbuilding (Huntington Ingalls Industries) in Pascagoula, Mississippi, Tripoli was launched in May 2017, and after running about a year behind the production schedule, she was finally delivered in February 2020. She recently completed sea trials, and on Monday, LHA-7 departed Naval Station San Diego, California, on an independent deployment to the Western Pacific.
She will gather her complement of F-35B aircraft that will allow further testing of the United States Marine Corps'
"lightning carrier" concept
 – where it can load up to twenty of the aircraft and provide adjunct capability to a carrier strike group. The departure was less than a month after the warship had wrapped up a week of at-sea testing and training to prove the viability of the lightning carrier concept. The recent tests were seen as a major milestone in determining how many fighters the Navy and Marine Corps could operate aboard the ship at one time.
The F-35s came from three Marine Corps squadrons, USNI News reported – including the "Vikings" of Marine Fighter Attack Squadron (VMFA) 225 and the "Wake Island Avengers" of VMFA-211, both based at Yuma Marine Corps Air Station, Ariz., and Marine Operational Test and Evaluation Squadron 1, based at Yuma and New River, N.C. The advanced, multi-mission F-35Bs are currently replacing the Marine Corps' older F/A-18 Hornet and AV-8B Harrier jets.
Future Role of the LHA
Typically the U.S. Navy's big-deck amphibious assault ships train and deploy as part of a three-ship Amphibious Ready Group, which can deploy with 2,200-member Marine Expeditionary Units, with their large well-decks supporting waterborne craft that provides significant Marine Corps capability in littoral operations. USS Tripoli, however, was designed to support air operations that will be centered around the F-35B multirole aircraft – and thus operate almost as a carrier, hence the lightning carrier concept.
"We refer to the ship as 'assault carrier 7.' And assault is traditional for an LHD, LHA," Capt. Joel Lang, USS Tripoli's commander, said during an April 3 media event aboard the warship. "We have the space for a battalion landing team, we have about 1,000 infantrymen. And typically the air combat element is a blend of rotary and tilt-rotor in order to enable that assault force to go ashore. What we're doing right now is lightning carrier, and we are proving the operational concept. … We are proving the tactics and the techniques and the procedures to employ the lightning carrier concept."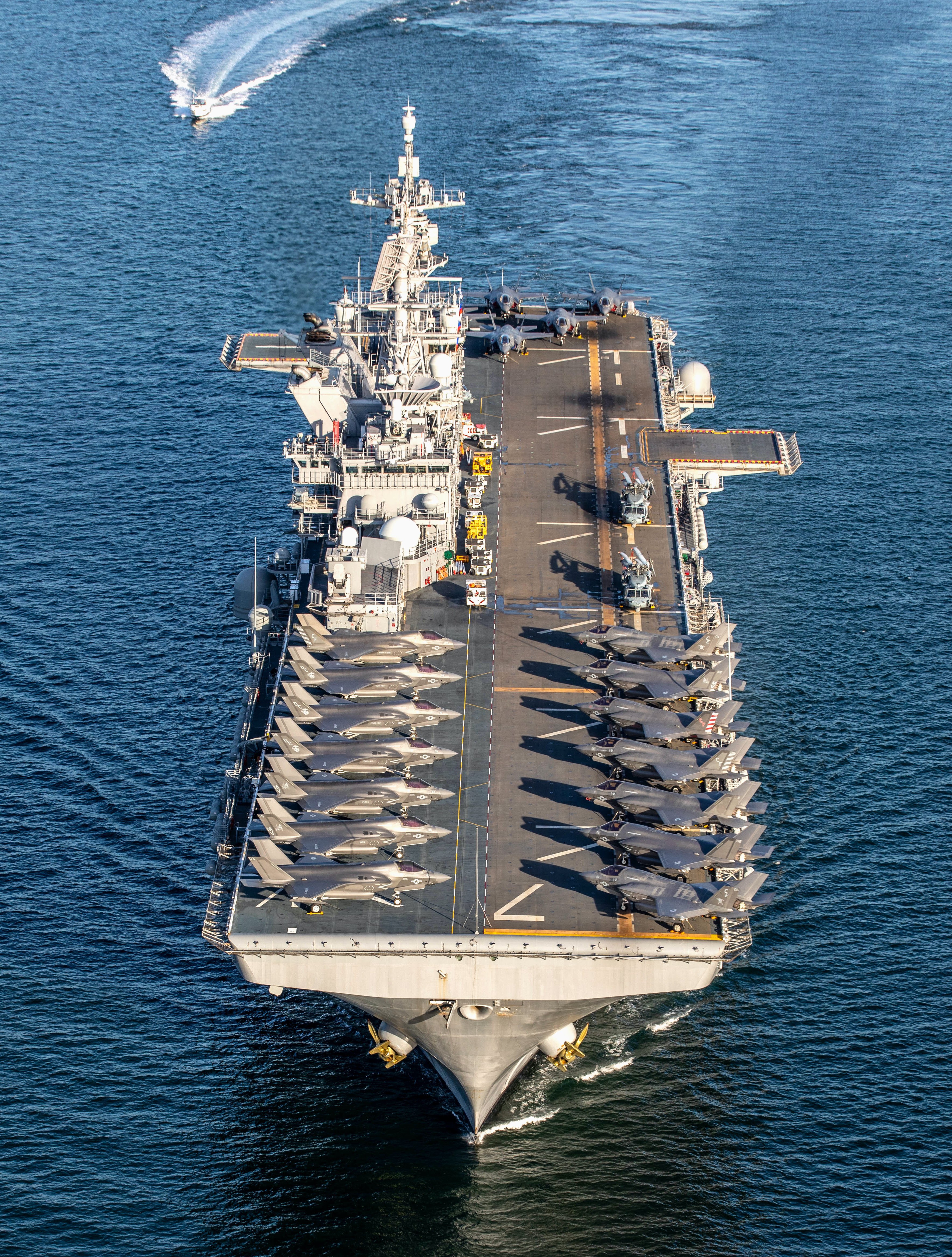 Despite the lack of a well-deck, the first two vessels of America-class shouldn't truly be seen as mini-carriers – even if two years ago, USS America (LHA-6) was the U.S. Navy's most significant operational naval asset in the South China Sea region when the aircraft carrier USS Theodore Roosevelt (CVN-71) was sidelined in Guam while its crew recovered from a coronavirus outbreak.
"This is just an option… for contingency operations," said Col. Chad Vaughn, commander of Marine Aircraft Group 13., and veteran F/A-18 pilot who was among the first ones to transition to the F-35B. "This ship just gives you an option. We're not an aircraft carrier. We are an LHA that is very uniquely suited to aviation operations – whether that's an assault or in this case, a lightning carrier. The traditional carrier has capabilities that are unique that we do not. … We do some unique things that we can help out the joint task force or the combatant commander and do unique things to help out those CVNs and help out the Marine commander on the ground, whoever it is. We have some unique capabilities, especially when you put twenty F-35s on here."
Further warships in this class, including USS Bougainville (LHA-8), will have a well deck for amphibious warfare, and will contain landing craft including the Landing Craft Air Cushion (LCAC). LHA-8 is now scheduled for delivery to the U.S. Navy in 2024.