Ayni Air Force Base, also known as Gissar Air Base, is a military airbase in Tajikistan, just 10 km west of the capital Dushanbe. and 20 kilometers away from Pakistan occupied Kashmir (POK). This is India's first overseas secret airbase. It has been secretly operated for 20 years. It can launch raids on Pakistan and Kashmir during the war.
During the Cold War, Ayni was one of the main military base of the Soviet Union. However, after the Soviet Union withdrew from Afghanistan, the infrastructure of the base deteriorated severely. India quietly took steps, negotiated with Tajikistan, and then spent $US100 million to renovate the airbase and extend the runway to 3,200 meters.
India is keen to establish military bases in Tajikistan in order to gain a strategic foothold in Central Asia. However, Tajikistan is Russia's sphere of influence. The country's military strength is relatively weak and it depends entirely on Russia's protection. Russia is stationed in Tajikistan with the 201st infantry division with a size of 7,000, as well as the air force. This base has always been the topic of the Three Kingdoms of Russia, India, and Tajikistan. However, India step up and help the Tajik air force to build a good and advanced airbase and a huge amount of money and Tajikistan lacked money, so the two countries hit it off at once, and Russia had nothing to do.
After the closure of US military bases in Central Asia in 2014, India became the second-largest foreign military force in Central Asia after Russia. Participate fully in the game in Central Asia.
However, in the event of a conflict between India and Pakistan, if Indian fighter jets from Aini Air Force Base can strike important cities such as the capital, Islamabad, Pakistan will be caught off guard.
The C-17 and C-130 J transport aircraft and fighter jets of the Indian Air Force can use the Tajikistan Air Force Base, so the base has always been the focus of the public.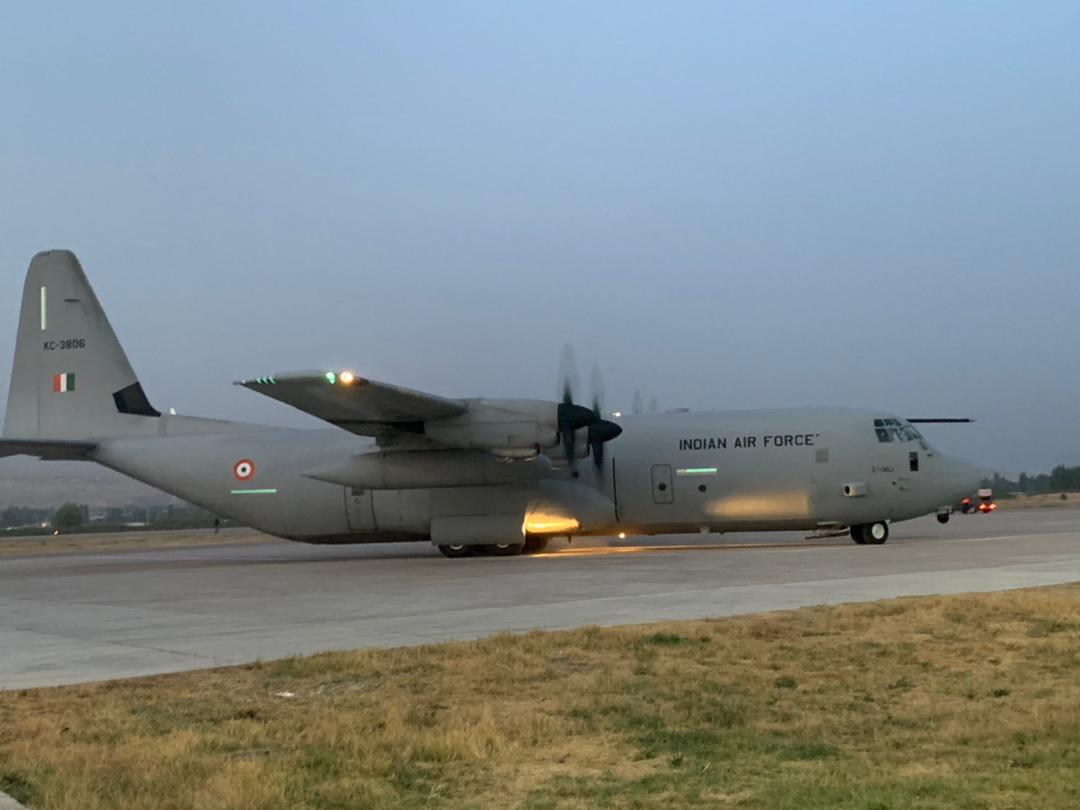 Though outside the public eye, the base has come under the spotlight because of the Afghanistan evacuation process during which C-17 and C-130 J transport aircraft of the Indian Air Force besides an Air India aircraft have used the Tajikistan airbase, reported ANI.
A C-130 J aircraft, for instance, airlifted 87 Indians from Kabul and landed in Tajikistan. The evacuees were eventually picked up by an Air India flight that took off from the Ayni airbase and brought back to India.
Ayni Air Force Base is often confused with another Facor base. Fahar in southern Tajikistan-close to the northern border of Afghanistan-was an urban hospital base that India ran in the 1990s.
The Ayni Air Force Base was renovated approximately in 2001-2002. The project received strong support from the late George Fernandez, the former Minister of Defense of India. The Indian Air Force appointed Nasim Akhtar, then captain, to start the restoration of the air base. At that time, about 200 Indians were working on this project, and the airstrip at the airport was extended to 3,200 meters, enough to allow most heavy transport aircraft to take off and land.
In addition, the Indian team also established a new hangar, overhaul workshop, and oil depot. It is estimated that India has spent nearly 100 million U.S. dollars. At the end of 2005, Dhanoa was appointed as the first base commander of Ayni Air Force Base, when he was a captain.
However, sources say that only during Narendra Modi's administration did India temporarily dispatch the first batch of fighter jets to Ayni Air Force Base. India plans to deploy 12 MiG-29s at Aini Air Force Base, but they are not yet in place. The MiG-29 has a maximum range of 2,100 kilometers, and the entire Pakistan and Central Asia are within the strike range. Currently, India has deployed at least one squadron of Mi-17 armed transport helicopters (13) and a number of trainers at Aini Air Force Base.
The strategic concept behind Aini Air Force Base, Tajikistan shares borders with China and Pakistan, and it is adjacent to the Wahan Corridor. Tajikistan is only 20 kilometers away from Pakistan-controlled Kashmir. If India can start operations from Tajikistan, it will be hard to defend against. Sources said that Indian Air Force fighters can target Peshawar from Tajikistan, which puts additional pressure on Pakistan. Therefore, India's choice of Ayni Air Force Base is really killing two birds with one stone, with good intentions.
During the war, this meant that Pakistan would have to transfer its military power from the eastern border to the West, which weakened the direct front between Pakistan and India. Another big advantage of gaining a foothold in Tajikistan is that it bypassed Pakistan and opened up different routes to Afghanistan.
However, because the Ayni Air Force Base was built secretly, it is not yet familiar to the outside world. If India makes full use of it, the neighboring countries will come to the radar of IAF from two sides.
Regards the Indian Ocean as India's territory and has been quietly establishing overseas bases. In addition to establishing military bases in Nepal and Bhutan, it has also built a naval base in Oman's Duqum Port. Seychelles in the Indian Ocean, Madagascar, Iran, Mauritius, and Maldives have bases and large radars are deployed to monitor every move in the Indian Ocean at all times.