Drones are changing the face of modern warfare. They have helped win numerous wars in recent times; the latest being the Azerbaijan-Armenia conflict. How drones proved tremendously effective against armour and artillery and from this conclusion two rival India and China rush to convert old aircraft into optically-manned combat aircraft.
Indian Kiran MK-II OMCA
In February last year, Hindustan Aeronautics Limited (HAL) and New Space Research & Technologies had signed an agreement "to explore cooperation for joint development and manufacturing of various products and systems in the area of unmanned systems, swarm technology and space systems."
India has been a late starter in using drones as an attack strategy in modern warfare, in fact, the Rustom series is not a new phenomenon. It was initiated in the 80s by the DRDO by late Rustom Damania as part of operational requirements for the three services – Army, Navy and Air Force.
Now reports say India has been testing the Kiran MK-II intermediate jet-powered trainer aircraft to convert it into CATS OMCA (optically-manned combat aircraft).
Retired IAF captain Harsh Vardhan Thakur who is an experimental test pilot with HAL, and Bengaluru-based New Space Research & Technologies have been working with Indian officials at HAL to reinvent the Kiran MK-II as an unmanned combat vehicle.
The experiment which is still in its testing phase, can prove to be a gamechanger especially along the Line of Actual Control (LAC) as China continues to eye the eastern Ladakh region including areas in Arunachal Pradesh. Reports say the experiment could also extend to the Russian-built MiG-21 and MiG-27 fighter jets.
The Kiran MK-II is India's earliest two-seater intermediate jet-powered trainer aircraft manufactured by HAL which took flight in 1976. It was in production throughout the late 70s and was finally put out of production in 1989.
Kiran MK-II can carry two 500lb (227kg) bombs or two SNEB rocket pods containing seven 68 mm rockets or two pods with 7.62 mm machine guns, or two 50-Imp Gal (226 litres) drop tanks. While the maximum speed of the aircraft is 695 km/h.
HAL had earlier unveiled its Combined Air Teaming System (CATS) which involved a mothership operating distantly with an autonomous unmanned aerial vehicle known as CATS Warrior to strike inside enemy territory.
The unmanned aircraft concept may look like a futuristic project but HAL seems to have made rapid strides in the last few years.
China J-6 OMCA
China is planning to turn thousands of old MiG-19 fighters into suicide UAVs, to attack in the event of war.
The Chinese Air Force has long been said to be quietly turning hundreds of the antiquated J-6 (the domestic version of the MiG-19 fighter ) out of service into a suicide attack drone.
The J-6 is a copy of the Soviet MiG-19 and was the core of the Chinese Air Force during the Cold War, with 3,000 in service, until China bought it. Modern Soviet fighter jet in 1989.
However, the antiquated J-6 still has a potentially important role in the PLA's war plans; especially around the Taiwan Strait, where the mainland and Taiwan are separated geographically by the relatively wide strait.
Recent satellite photos have shown not only the expansion of China's air bases near the Taiwan Strait, but also the deployment of hundreds of J-6 fighter jets to the airfields by the Chinese side.
San Francisco-based satellite data company Planet Labs provided October images of the J-6 at Liencheng Air Base in Fujian province (opposite Taiwan island). Liencheng Airport is expected to be one of the PLA's top military bases, ready to respond to future conflict hotspots.
The J-6 fighter has a relatively short range, but with the Taiwan Strait only 130km wide, it is fully capable of overcoming this distance, even having enough range to approach from many different directions ( detour).
Given that the J-6 fighters are marginal and outdated, but can be converted into a drone at a relatively low cost; avoid wasting old airplanes, but there's also nothing that's risky in terms of life.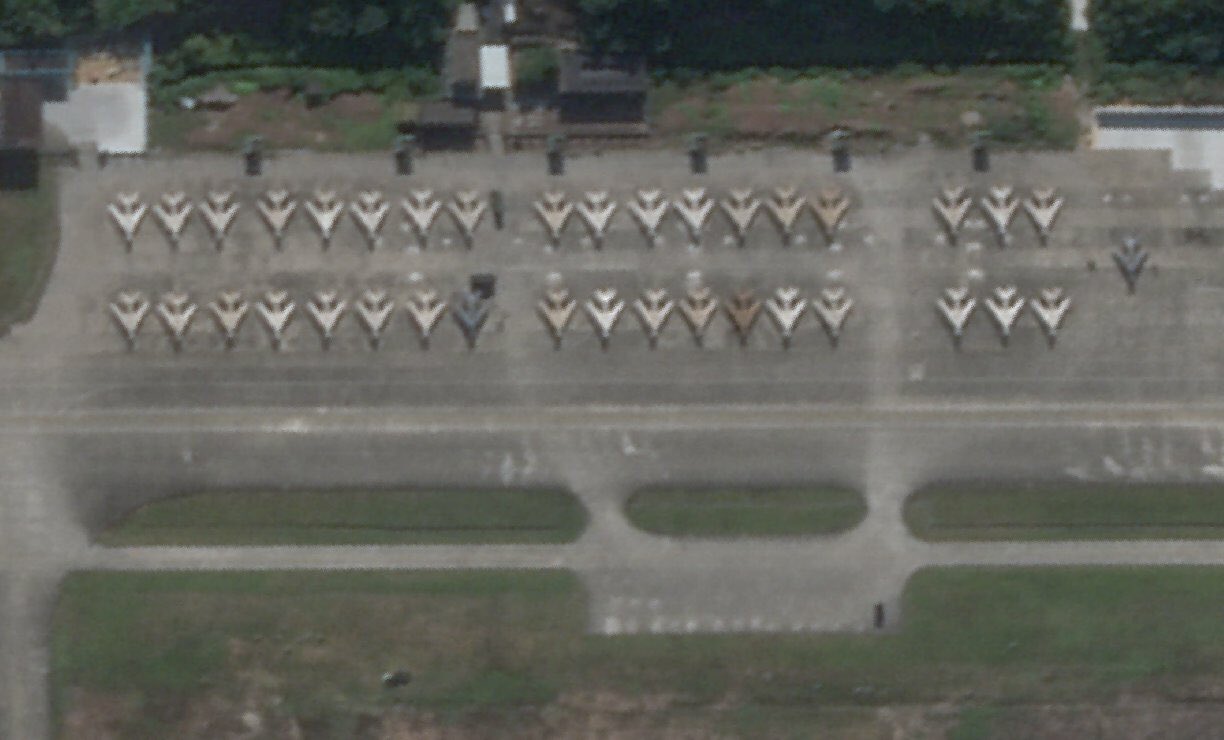 In addition, the J-6 aircraft also have good maneuverability, effective close-range air-to-air combat, so the use of fighters to shoot down these types of aircraft with aviation cannons will be not easy
As conflict erupts across the strait, in the first wave of PLA firepower aimed at gaining an upper hand over Taiwan, which may include J-6 UAVs, supported by electronic warfare facilities, as well as fire support from heavy attack aircraft such as the J-16, from a safe distance with long-range weapons.
Currently, in addition to the scenario used for the conflict between the two sides of the Taiwan Strait, the J-6 drone has relatively few uses; however, it is not excluded that the PLA will find a way to reserve them for another conflict.
It also needs to be re-affirmed once again, China absolutely does not have to invest too much in this fleet of old aircraft to turn them into suicide UAVs, this will be a relatively small investment (compared to the potential of this aircraft), but brought great advantages on the battlefield and most importantly, helped reduce human casualties to zero.