China has built many bunkers along the border with India in the Himalayas to protect its soldiers and weapons this harsh winter.
The Chinese military's Western Theater Command, which administers the border areas with India, has stepped up construction of underground facilities to protect its strategic bases and barracks, according to Chinese state media and a military observer.
Many recent posts on Chinese social media show many underground facilities and quote some military experts as saying that these facilities are designed to protect military assets. strategic value, such as a command center, underground storage, and missile depot.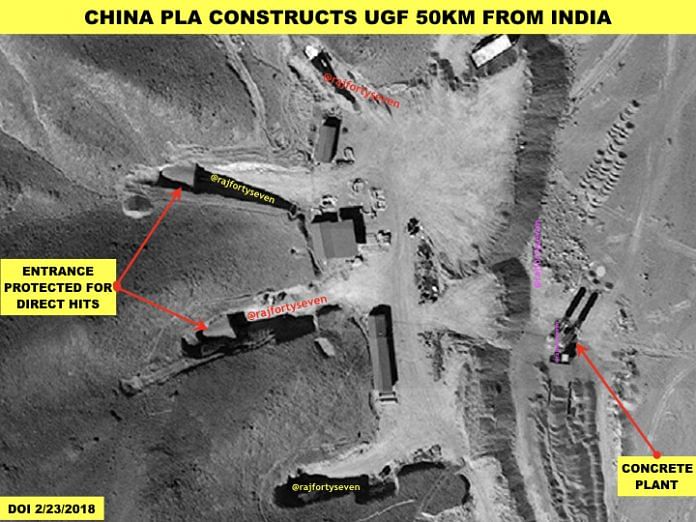 We all know that whether it is eastern Ladakh or Arunachal Pradesh, all these areas experience heart-wrenching winters. This cold stings so much that even men and men even weapons stop working after getting cold. The Western Theater Command of the PLA, which is responsible for guarding the border with India, is supervising this construction work. This work is going on very fast and the effort of the PLA is to complete the work of keeping these strategically very important bases, soldiers and weapons safe at the earliest. Military command centers, hangars for giant guns, tanks and warships and missile storage are prominent among the bases being built in these constructions.
Zhou Chenming – a researcher from the Yuan Wang Military Institute of Science and Technology – said that the construction of underground projects in the area along the China-India border is to create a living and working environment. safety for Chinese troops stationed in remote areas.
"The underground barracks were built in the front line, 5,000 meters above sea level, as a line of defense to prevent any raid from the Indian side," said Zhou. The bunkers can be used as barracks and ammunition depots, while the soldiers stationed in the second line of defense live in comfortable conditions, such as greenhouses and hot water."
Zhou said that the People's Liberation Army (PLA) has built many underground facilities as safe havens for Chinese soldiers since the period of the Korean War (1951-1953). Today, modern technology and advanced machinery have improved the construction of such facilities.
Last week, the central television channel CCTV posted images of a medic from the Xinjiang Military Region performing first aid exercises at an altitude of 4,800 meters, including a video showing several soldiers emerging from the underground facility, the entrance to which is well camouflaged.
In January of this year, CCTV reported that the PLA had set up its first strategic observation post at an altitude of 5,592 meters above sea level in the Doklam plateau to monitor every move from the Indian side.
The posted video shows the observation station built right above an underground base, inside there are dozens of soldiers.
CCTV said that, after the clash in Doklam in 2017, strategic observation posts such as "station 5592", which are equipped with many underground windproof and heated bunkers, have become the norm on the border. gender.