An image that appeared over the weekend appears to show, for the first time, a new anti-radiation missile, which would primarily be used to destroy hostile radars, intended to arm Chinese combat jets. Two of the missiles are seen under the wings of a People's Liberation Army Air Force J-11BS Flanker two-seat multirole fighter jet as it takes off.
While there is no information about how this new missile might work or the kind of performance that might be expected, a typical anti-radiation missile (ARM) functions by homing in on radio-frequency emissions from hostile surface-to-air radar systems. Typically, these weapons require high speed in order to ensure they can hit their target before it switches off its radar.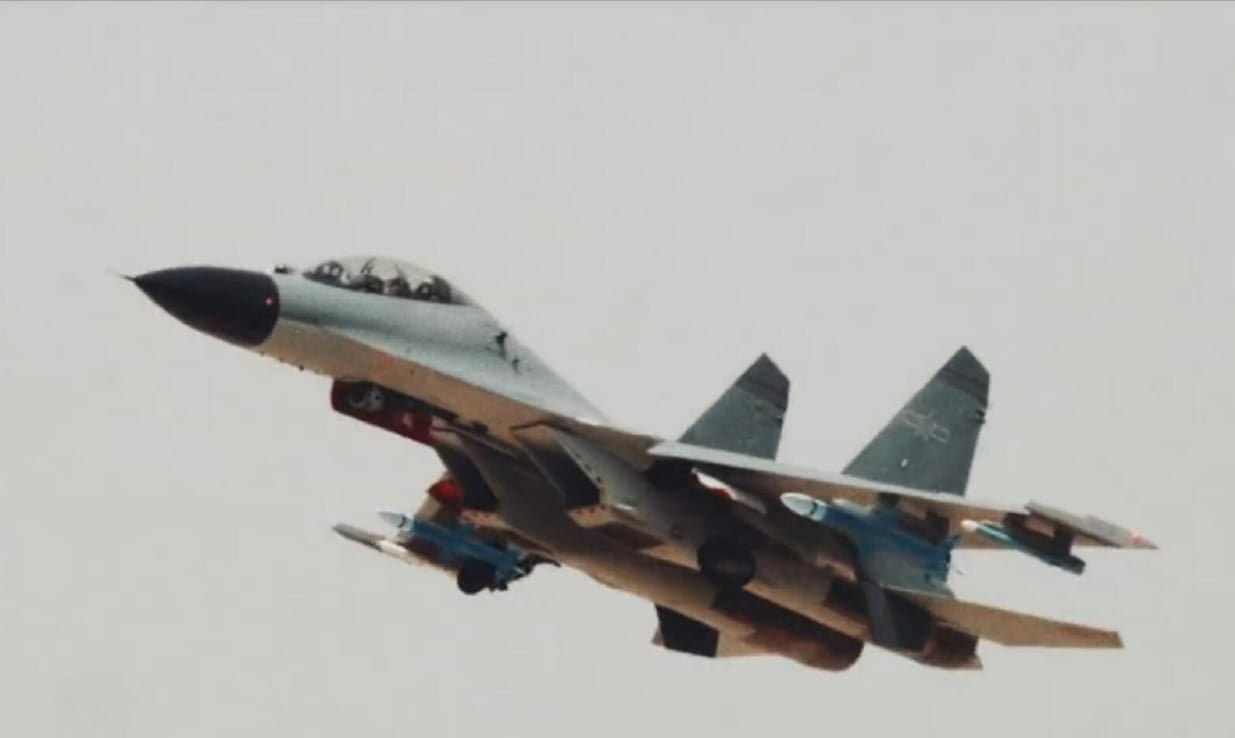 Expert Andreas Rupprecht posted a screenshot of the video to Twitter claiming it was China's next-generation anti-radar missile, which had entered service recently. Andreas Rupprecht, a Chinese military aerospace expert and friend of The War Zone who tweets as @RupprechtDeino, was among the first to highlight it and has said he thinks it is China's new anti-radiation missile, noting that its appearance has been "long expected." The original source of the image is a brief clip in a recent People's Liberation Army Air Force (PLAAF) pilot recruitment video that was then posted to Facebook by a user named @柳成梁.
A video of a Chinese fighter jet taking off with a next-generation anti-radar missile. Chinese experts claimed U.S. AGM-88 HARM-like anti-radar missiles pic.twitter.com/xNXFNCeGRB

— The foxbat (@IndiandefenceNS) November 16, 2020
Rupprecht wrote: "This is the first time a PLA J-11BS aircraft has been shown with sophisticated identification markings, but what is even more surprising is the new and unknown missile it carries under the wings.
According to a news publisher of Vietnam, the new anti-radiation missile is equivalent to U.S. AGM-88 HARM anti-radar missiles.
While the Russian counterparts belives that the new anti-radar missile is specially developed to hunt down India's upcoming S-400 air defense system.
The weapon is very similar to the American AGM-88 HARM high-speed anti-radar missile and a modification of the Chinese CM-102, developed on the basis of soviet Kh-31P anti-radar missiles.
Some observers noticed its similarity to the Indian Rudram-1 complex tested in October this year. Poor image quality has made it impossible for experts to conduct a more detailed study.
"Although there is no information on its characteristics, it can be predicted that it is a typical anti-radar missile, which aims to target radio frequency radiation from hostile surface-to-air radar systems. Usually this weapon requires high speed to ensure that the target is hit before turning off the radar," Wrote The Drive.
China began developing anti-radar missiles in the mid-1990s, when Russia handed over documents on the soviet version of the Kh-31 complex.
The new system in the video could be intended for Chinese J-16 multipurpose fighters – a further development of the J-11. It is thought that some versions equipped with electronic combat systems would be the leading means of suppressing enemy air defenses.