ield Marshal Shamsherji Hormusji Framji Jamshedji Manekshaw, MC (03 April 1914 – 27 June 2008), popularly known as Sam Bahadur ("Sam the Brave"), was an Indian military leader who was the first 
Indian Army officer
 to be promoted to the five-star rank of field marshal. His distinguished military career spanned four decades and five wars, beginning with service in the British Indian Army in 
World War II
. Manekshaw rose to become the 8th Chief of Army Staff of the Indian Army in 1969 and under his command, Indian forces conducted victorious campaigns against 
Pakistan
 in the Indo-Pakistani War of 1971 that led to the liberation of 
Bangladesh
 in December 1971.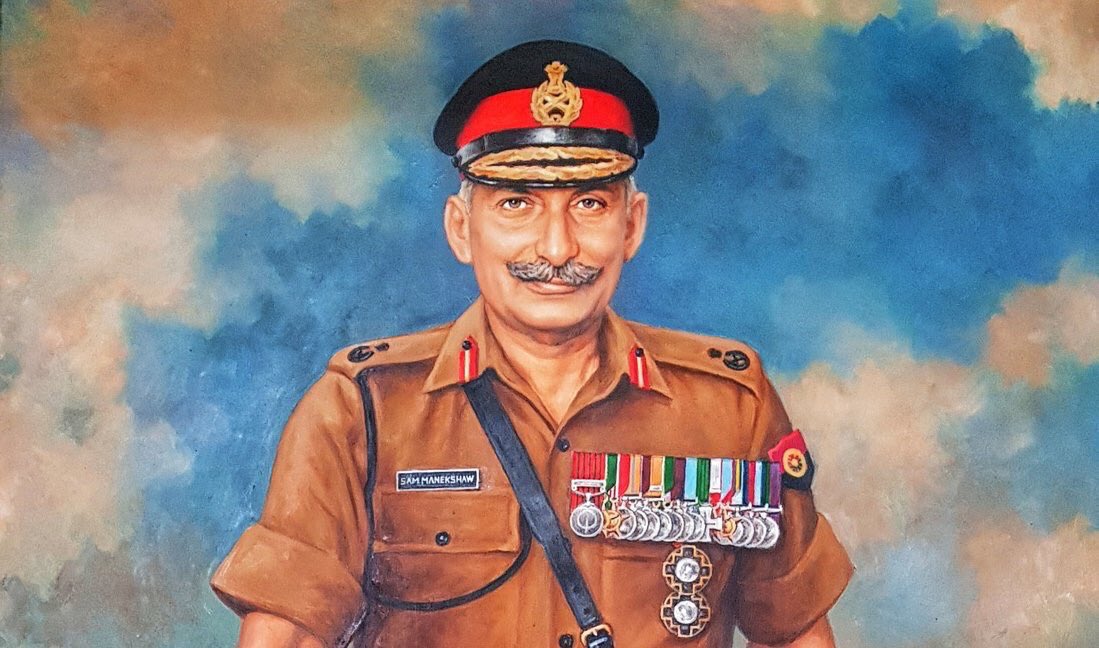 Manekshaw was born in Amritsar, Punjab to Parsi parents, Hormusji Manekshaw, a doctor, and his wife Heerabai, who moved to Punjab from the small town of Valsad on the Gujarat coast. After completing his schooling in Punjab and Sherwood College, Nainital, and achieving a distinction in the School Certificate examination of the Cambridge Board at the age of 15, he asked his father to send him to London to become a gynecologist. When his father refused to send him until he was older, in an act of rebellion, Manekshaw took the entrance examination for enrollment into the Indian Military Academy (IMA) at Dehradun. He was successful and as a result became part of the first intake of 40 cadets on 1 October 1932. He graduated from the IMA on 4 February 1934 and was commissioned as a second lieutenant in the British Indian Army (which later became the Indian Army after Independence).
After taking over as chief of army staff, at a function on 8 June 1969 to mark the centenary of Sherwood College, Manekshaw recalled that his years at the college had prepared him for war as they had taught him to live alone and independently, to fight without relent, tolerate hunger for long periods and to hate his enemy.
On commissioning, as per the practices of that time, Manekshaw was first attached to the 2nd Battalion, The Royal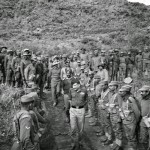 Scots, a British battalion, and then later posted to the 4th Battalion, 12th Frontier Force Regiment, commonly known as the 54th Sikhs. During World War II, the then-Captain Manekshaw saw action in Burma in the 1942 campaign on the Sittaung River with the 4/12 Frontier Force Regiment, and had the rare distinction of being honoured for his bravery on the battlefield.
Manekshaw attended the 8th Staff Course at Command and Staff College, Quetta, from 23 August to 22 December 1943. He was then posted as the brigade major of the Razmak Brigade, serving in that post until 22 October 1944 when he was sent to join the 9th Battalion, 12 Frontier Force Regiment in Burma, as part of General William Slim's 14th Army. Towards the end of World War II, Manekshaw was sent to serve on General Daisy's staff in Indo-China where, after the Japanese surrender, he helped repatriate over 10,000 former prisoners of war (POWs). He then went on a six-month lecture tour to Australia in 1946, and after his return was promoted to the rank of lieutenant-colonel, serving as a first grade staff officer in the Military Operations Directorate.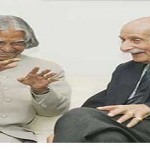 Upon the Partition of India in 1947, his parent unit – 12th Frontier Force Regiment – became part of the Pakistan Army (rechristened Frontier Force Regiment), and so Manekshaw was reassigned to the 16th Punjab Regiment, before being posted to the 3rd Battalion, 5th Gorkha Rifles, which he was detailed to command. The tumultuous events of partition required Manekshaw's retention in army headquarters as a lieutenant colonel in the Military Operations Directorate, though, and because of this he subsequently missed his chance to command an infantry battalion as he was later promoted to brigadier, becoming the first Indian Director of Military Operations. The appointment of Director of Military Operations was upgraded first to major general and later to lieutenant general and is now termed 
Director General Military Operations (DGMO)
.
While handling the issues relating to Partition in 1947, Manekshaw demonstrated his acumen for planning
and administration, and later was able put his battle skills to use during operations in Jammu & Kashmir in 1947–48. After commanding an infantry brigade, he was posted to the Infantry School at Mhow as the school's commandant and also became the colonel of 8 Gorkha Rifles (which became his new regiment, since his original parent regiment, the 12th Frontier Force Regiment, had become part of the new Pakistan Army at partition) and 61st Cavalry. Manekshaw then commanded a division in Jammu and Kashmir. A stint at the Defence Services Staff College followed where he served as the commandant. It was here that his outspoken frankness got him into trouble with the then Defence Minister, V. K. Krishna Menon. A court of inquiry was ordered against him. The court, presided over by the then-Western Army Commander, Lieutenant General Daulet Singh, exonerated Manekshaw. Before a formal 'no case' could be announced, war with China broke out. Manekshaw was then promoted to lieutenant general and moved to Tezpur to take over IV Corps as its GOC.
A year later, Manekshaw was promoted as army commander and took over the Western Command. In 1964, He moved from Shimla to Calcutta as the GOC-in-C of the Eastern Army. As GOC-in-C, Eastern Command, he successfully responded to an insurgency in Nagaland for which he was later awarded the Padma Bhushan in 1968.
On 7 June 1969, Manekshaw became the 8th chief of army staff when he succeeded General P P Kumaramangalam. As chief of the army staff, he rendered yeoman service to the nation by forging the Indian Army into an efficient instrument of war. His years of military experience were soon put to the test as India decided to help the Mukti Bahini rebels against West Pakistani forces.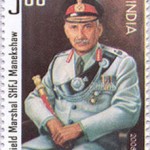 Towards the end of April 1971, Indira Gandhi, who was Prime Minister of India at that time, asked Manekshaw if he was ready to go to war with 
Pakistan
. Manekshaw refused, saying that his single armoured division and two infantry divisions were deployed elsewhere, that only 13 of his 189 tanks were fit to fight, and that they would be competing for rail carriage with the grain harvest at that point of time. He also pointed out that the Himalayan passes would soon open up, with the forthcoming monsoon in East Pakistan, which would result in heavy flooding.When Indira Gandhi asked the cabinet to leave the room and the chief to stay, he offered to resign. She declined to accept it, but sought his advice. He then said he could guarantee victory if she would allow him to prepare for the conflict on his terms, and set a date for it. These were acceded to by the Prime Minister.
When the Indian Army finally went to war in December that year, under Manekshaw's leadership, it proved victorious against the Pakistan Army. The war, lasting under a fortnight, saw more than 90,000 Pakistani soldiers personnel taken as prisoners of war, and it ended with the unconditional surrender of Pakistan's eastern half, resulting in the birth of Bangladesh as a new nation.
When the Prime minister asked him to go to Dhaka and accept the surrender of Pakistani forces, Manekshaw declined, magnanimously saying that the honour should go to his army commander in the East, Lieutenant General Jagjit Singh Aurora.
For his distinguished service to the country, the President of India awarded Manekshaw a Padma Vibhushan in 1972 and conferred upon him the rank of field marshal, a first, on 1 January 1973. He became one of the only two army generals of independent India to be awarded this prestigious rank; the other being Kodandera Madappa Cariappa who was awarded in 1986. Manekshaw retired from active service a fortnight later on 15 January 1973 after a career of nearly four decades, and settled down with his wife Silloo in Coonoor, the civilian town next to Wellington Military Cantonment where he had served as commandant of the Defence Services Staff College, at an earlier time in his career. Popular with Gurkha soldiers, Nepal fêted Manekshaw as an honorary general of the Nepalese Army in 1972.
Manekshaw died at the 
Military
Hospital
 in 
Wellington
, Tamil Nadu, on 0030 hours, 
27 June 2008
 at the age of 94. Since then, 16 December is  celebrated each year as 
"Vijay Diwas"
 in memory of the victory achieved under Manekshaw's leadership in 1971. A postage stamp depicting Manekshaw in his field marshal's uniform was released by President Pratibha Patil.
The most popular and respected Indian General he never minced words and one can never forget his quote, "A 'Yes man' is a dangerous man. He is a menace. He will go very far. He can become a minister, a secretary or a Field Marshall but he can never become a leader nor, ever be respected. He will be used by his superiors, disliked by his colleagues and despised by his subordinates. So discard the 'Yes man'."