The Ukrainian military captured a modernized Russian infantry fighting vehicle. The first ever capture of a rare Russian BMP-2M "Berezhok" upgraded IFV, which features a new turret with Kornet ATGM, optics, and AGS-30 automatic grenade launcher.
Ukraine fighters continue to capture the latest military technology and equipment during the counteroffensive of the Defense Forces of Ukraine in the Kherson region and Kharkiv region.
According to the latest photo released by some Ukrainian soldiers, the Ukrainian military captured a rare and modern Russian modernized BMP-2M with the "Berezhok" combat module. This is the first time Ukraine captured this latest variant of the BMP-2 armor vehicle.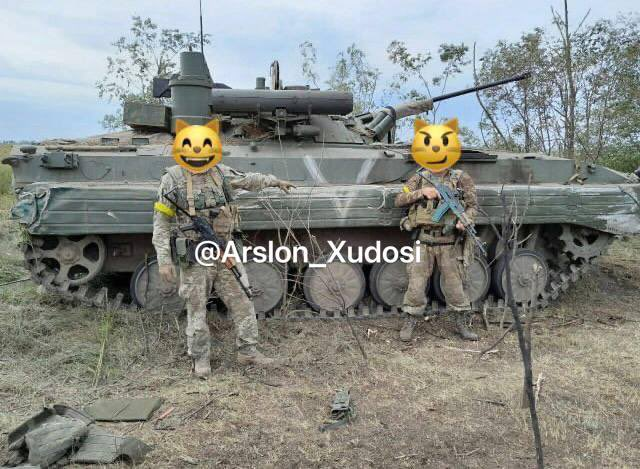 BM-2M equipped with a new 30mm 2A42 automatic gun, a 7.62mm PKT coaxial machine gun and a 30mm AG-17 automatic grenade launcher (AGL). The 30mm cannon has the capability to fire 500 rounds of ammunition a minute, while the 7.62mm gun offers a rate of fire of 2,000 rounds a minute. The AGL can launch 250 grenades a minute for a maximum range of 1,730m.
The hull of the IFV is protected by appliqué armour, which enables the vehicle to withstand 12.7mm B-3232 rounds and high-explosive anti-tank (HEAT) missiles.
The BMP-2M IFV is equipped with a multi-channel optical system for stabilisation of view during firing. The vehicle has an advanced target detection system, a laser range-finder and a thermal imaging system to improve the accuracy of target detection and mission efficiency.
An armament stabiliser and ballistic computer, as well as a BPK-3-42 gunner's sight are fitted to the vehicle enable the firing of main armament. The vehicle is also installed with PL-1 laser illuminator.
The target detection ranges of the vehicle during the day and night are 5,000m and 3,000m respectively.
The BMP-2M IFV is equipped with a six-cylinder, four-stroke UTD-23 supercharged, direct-injection diesel engine. The engine has the capacity to produce a maximum power of 360hp. The upgraded variant has a power-to-weight ratio of 22.5hp/t.
It can travel at a maximum speed of 65km/h on road, while the maximum amphibious speed is 7km/h and the cruising range is 600km. The combat weight of the vehicle is approximately 16,000kg.
As previously reported, the first Russian units equipped with BMP-2m with the Berezhok combat module were introduced to Ukraine from the end of April – the beginning of May.