India's DRDO on Sunday successfully test-fired army variant medium-range surface-to-air missile (MRSAM) off the coast of Odisha's Balasore.
The army version of MRSAM flight tested from ITR off Odisha coast intercepted a high speed aerial target at long range. The target was destroyed by the missile in a direct hit, confirms DRDO. The system's air version has been handed over to IAF while most all recent Indian navy ships are equipped with the MRSAM system.
Today's test comes after India's surface-to-surface BrahMos supersonic cruise missile was successfully test-fired on Wednesday. MRSAM Air and Missile Defense System is a cutting edge innovative system, that once again has proven its advanced capabilities against a variety of threats.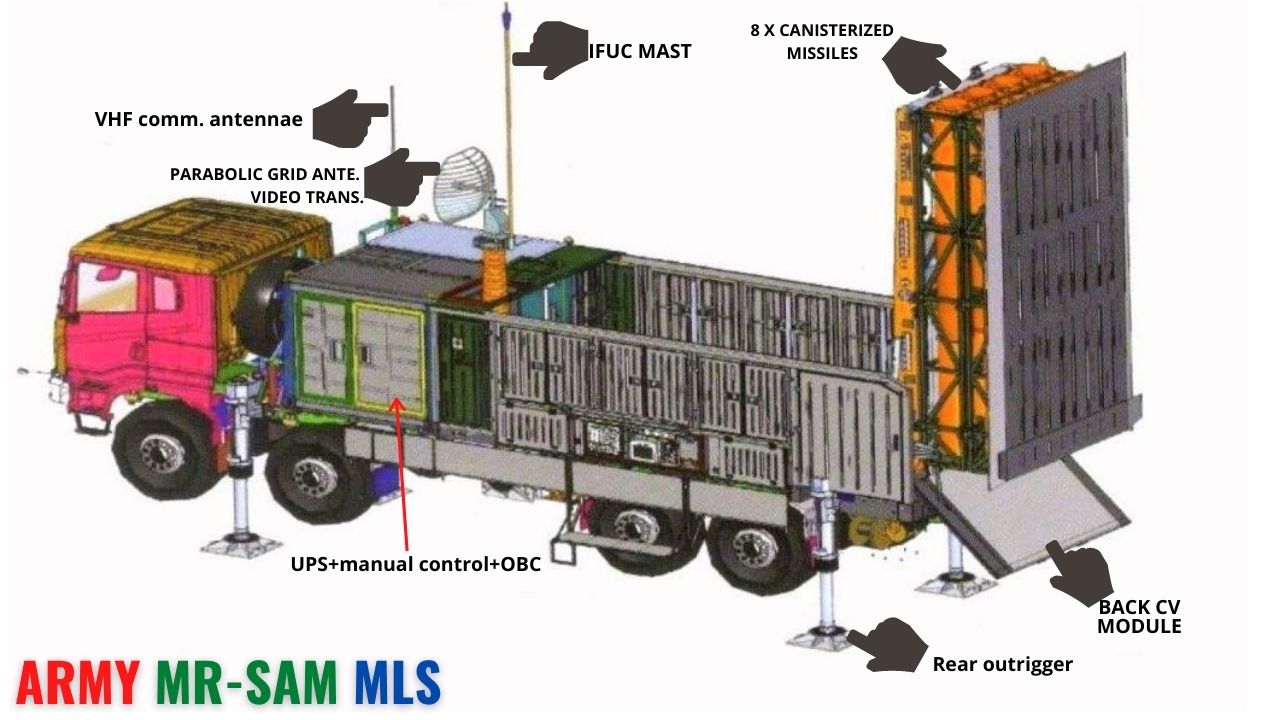 MRSAM Mobile Launcher System (MLS) Consists of launch control system (LCS) with 8 canisterised missiles, intra-fire unit comm system for command with combat management system (CMS) & other necessary equip's, power supply etc. MLS comprises of Towing Vehicle and Trailer Platform.
The MRSAM Air and Missile Defense system, also known as the Barak-8, is a medium-range ship-borne air defense system. The system includes a battle management, command, control, communication, and intelligence center (BMC4I); vertical launch system with Barak 8 interceptors, and a multi-function surveillance, track and guidance radar.It can fire Barak 8 or Barak 8ER interceptors for a 360-degree defense against a variety of airborne threats.
The Barak 8 is strategically valuable for both naval and land air defense purposes. It has all-weather and day/night capabilities and is capable of multiple simultaneous engagements in complex scenarios.The Barak MX variant will also be capable of providing tailored air defense at short-, medium-, and long-ranges.
It is an advanced system that provides ultimate protection against different aerial platforms including short range ballistic missiles. It has advanced phased-array radar, interceptors with advanced RF seeker, command and control, and mobile launchers. It has a two way data link.
Variants
Naval Barak-8 (70km) system designed for anti-air and anti-ship missile defence both long range as well point defence. This system also comprises of EL/M-2248 MF-STAR AESA radar. As per rumours it could also serve as a point defence ABM.
MRSAM(70km) variant for the IAF, designed for air defence and cruise missile defence.
A highly mobile shorter range variant (50km) for IA, designed for air defence as well anti-PGM capabilities which could possibly include point defence ABM capabilities (Nasr).
An extended range version (150km) called Barak-8ER which in all likelihood will find its way to IN and IAF inventory