Defense Minister Rajnath Singh will induct the MRSAM missile into the war fleet. The induction of this missile will increase the strength of the Indian Air Force.
The Indian Air Force on Thursday (Sept 9, 2021) is going to induct the MRSAM/Barak-8 missile system in Jaisalmer. This system has been jointly developed by India and Israel and will help the IAF in boosting its combat capabilities and protect from enemy aircraft.
Earlier this year the two countries India and Israel had successfully carried out tests at a facility in India which validated that all the components of the weapons system were working.
Barak-8 system has been jointly designed and developed by Israel Aerospace Industries (IAI) and the Defence Research and Development Organization (DRDO). A medium-range surface-to-air missile system has the capability to shoot down an enemy aircraft at a 50-80 km range.
It is an advanced system that provides ultimate protection against different aerial platforms including short range ballistic missiles. It has advanced phased-array radar, interceptors with advanced RF seeker, command and control, and mobile launchers. It has a two way data link.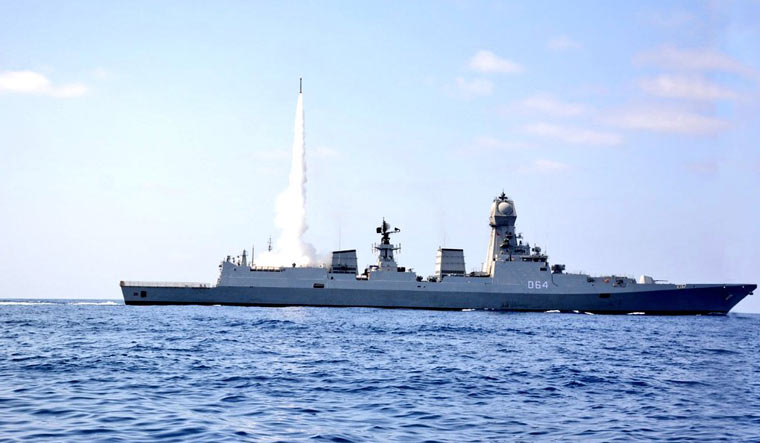 In 2017, the IAI and India had inked a USD 1.6 billion contract for MRSAM for India's ground forces. And the companies which have been involved in this project include Bharat Dynamics Limited, Bharat Electronics Limited (BEL), Larsen & Toubro (L&T), and Israel's Rafael Advanced Defense Systems. It has been made under the `Make in India' initiative.
The MRSAM is used by IAF and the Navy. The naval version is called LRSAM, and it is based on the Barak 8.  A USD 777 million contract for seven ships was inked with state-owned Bharat Electronics Limited in 2018.
The Barak-1 system is already in service with the Indian and Israeli armed forces. This system was chosen to be enhanced into a superior air defense missile system.
It evolved into a medium range SAM for land forces and this version is called Barak-8 and this has been jointly designed and developed by ISI and DRDO, Elta Systems, Rafael, and other companies.
This system provides a 360 degree defence against various airborne threats and can engage multiple targets in all weather conditions as well as day/night. Can be used to defend against helicopters, ballistic missiles, anti-ship missiles, fighter jets, cruise missiles and UAVs.
Variants for Indian armed forces
Naval Barak-8 (70km) system designed for anti-air and anti-ship missile defence both long range as well point defence. This system also comprises of EL/M-2248 MF-STAR AESA radar. As per rumours it could also serve as a point defence ABM.
MRSAM(70km) variant for the IAF, designed for air defence and cruise missile defence.
A highly mobile shorter range variant (50km) for IA, designed for air defence as well anti-PGM capabilities which could possibly include point defence ABM capabilities (Nasr).
An extended range version (150km) called Barak-8ER which in all likelihood will find its way to IN and IAF inventory.
Barak-8 as an AAM.
Indian air force is one of the proposed user of KS-172 and R-37. These are the long range missiles that were designed primarily for killing slower, less maneuverable platforms like large transports, refueling tankers, AWACS and other C4ISTAR platforms. But these missiles are practically useless for engaging highly maneuverable fighters because the low g-tolerance of these missile don't allow them to do so.
By rule of thumb, an AAM needs to pull atleast 4 times more g-force than the target it is engaging, something the aforementioned missiles cannot do.
According to sources, Rafael and Raytheon are developing a Stunner (David's sling program) based long range BVRAAM leveraging on the key technologies developed for program namely the dual seekers placed in its very unique "dolphin nose" and a triple pulse motor. So my question is what's stopping India from doing the same? Here are few points in favour;
Barak-8 is already in service with India as its co-developer.
It has an excellent active seeker.
It has 2-way datalink.
It can be guided by Phalcon or DRDO AEW&CS.
It has very high g performance. At 80g, it is twice that of contemporary AIM 120C5, SD-10 etc.
At 60 kg, its warhead is five times larger than the one in AIM 120C5.
At 4.5 meters and 275 kg weight it is not significantly longer or heavier than contemporaryBVRAAMs. At the same time it short enough to be carried internally by FGFA.
By rule of thumb, an AAM has 3 times the range when the same missile is fired from the surface. This suggests that Barak-8 as AAM could very well have 200 km+ range.
With use of existing technologies, this program could be very economically efficient.
With Barak-8 as BVRAAM, even lower rung IAF fighters like Tejas or Mirage could kill much superior Flankers from the Eastern side at much longer distances when backed by AWACS. This could be the solution to many of IAF problems like delays in aircraft acquisition, dwindling squadron strength, less reliance on Su-30MKI, more threats neutralized with higher sortie generation.
Barak-8ER
It has been reported that an ER (extended range) variant of the Barak 8 is under development, which will see the missiles maximum range increased to 150 km. Designed to engage multiple beyond visual range threats, the low launch signature Barak-8ER is understood to retain the same autopilot/inertial navigation system and active radar seeker guidance as the Barak-8, although some modifications to the software and to the missile control surfaces are likely. The booster increases the length of the missile at launch from its current 4.5 m to nearly 6 m, although the length in flight after the booster has been jettisoned may be slightly less than the base Barak-8 missile, if a TVC is not present. The missile diameter and fin spans are thought to be the same as the base Barak-8. The booster weight is currently unknown, although the missile's weight after the booster has been jettisoned is the same as that for the current Barak-8 configuration.
Levy said that initial operational capability (IOC) for Barak-8ER will first be declared for the naval variant, followed by IOC for the land variant. He declined to comment on a launch customer for Barak-8ER, but noted "existing Barak-8 customers will be interested in this configuration because it offers additional capability to their current system". The missile is expected to equip the Indian Navys future Visakhapatnam-class destroyers.
MR-SAM
MR-SAM is the land based configuration of the missile. It consists of a command and control system, tracking radar, missile and mobile launcher systems. Each launcher will have eight such missiles in two stacks and are launched in a canister configuration. The system is also fitted with an advanced radio frequency (RF) seeker.

The Indian Army ordered five regiments of this version, which consists of about 40 launchers and 200 missiles for ₹17,000 crore (US$2.5 billion). It is expected to be deployed by 2023.
Indian Army, Navy and Airforce Deals To Defend Indian Borders
Spyder DEAL 9 squadron = 18 batteries = 54 launchers around 400 missiles = $ 1200 million
Barak 8 NAVAL DEAL = missiles no unknown
Barak 8 IAF DEAL = 9 squadrons =18 batteries = 54 launchers = 490 missiles = $2400 million
Barak 8 ARMY DEAL = 3 regiments = 9 batteries = 27 launchers = 200 missiles = $2400 million.
IDF (Israel Defense Forces) owned Barak-8 medium-range surface-to-air missile system will be loaned to India on emergency requests for immediate deployment in the Ladakh region after India recently moved in short-range Indian-made Akash SAM systems.