Hindustan Aeronautics Limited (HAL) to soon start the production of first five units of TAPAS (Tactical Airborne Platform for Aerial Surveillance) drones. The drone has already met all its revised qualitative requirements.
Tactical Airborne Platform for Aerial Surveillance-Beyond Horizon-201 or TAPAS BH-201 (lit. 'Heat') (also known as Rustom 2) is a high-altitude long endurance unmanned aerial vehicle (UAV) which used to be previously referred as Rustom-II.
HAL will start the staggered delivery of these UAV by September this year. In total 76 units of this UAV will be ordered by forces. There will be 60 drones for Indian Army, 12 for the Indian Air Force and 4 for the Indian Navy.
In a first official confirmation by ADE, it was made public that TAPAS drone will be optionally armed.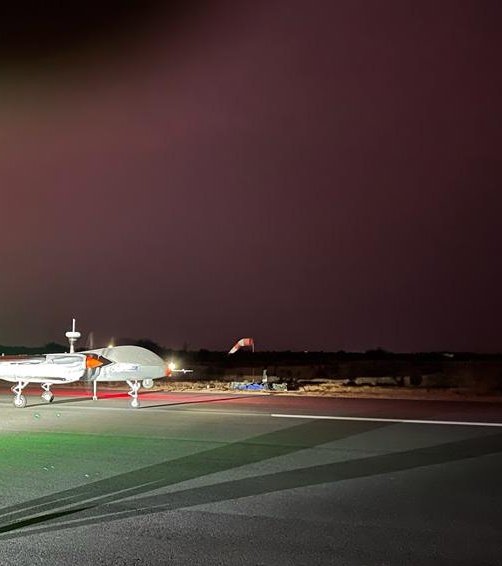 Program Director while talking to media said that the TAPAS UAV is pre-designed to carry certain type of weapon systems already in operation, it will be a MQ-1 category drone, capable of carrying two anti-tank guided missiles. It can carry 250 kg of weapon under the wings.
In Indian context, these missiles can be HELINA or Standoff Anti-Tank (SANT) guided missile. Earlier it was believed, TAPAS will be a purely in reconnaissance and search platforms but now it's officially confirmed that it will be optionally armed.
DRDO carried out a successful test flight of TAPAS-BH-201 on 25 February 2018, at the Aeronautical Test Range (ATR) located in Chalakere, Chitradurga district. This was the first flight of the UAV in user configuration with higher power engine. During its development trials Rustom 2 crashed near Jodichikkenahalli in Karnataka's Chitradurga district on 17 September 2019. No one was hurt.
The UAV was being tested at Challakere Aeronautical Test Range, a DRDO outdoor testing facility.] TAPAS-BH-201 completed satellite communication (SATCOM) mode trial and flew with long range electro-optical payload as of 16 August 2020. In December 2021, Rustom- II had reached an altitude of 25,000 feet and had achieved an endurance of 10 hours. On March 12th 2022, it demonstrated its flight altitude above 27,500 feet with an endurance of 18 hours.
However, according to some officials, It can fly at an altitude of 32,000 feet and has an endurance of 18 hours. The UAV has already demonstrated night landing capability a couple of days ago.
The flight control systems, avionics and data link systems for the first five TAPAS drones are ready. Drawings will be delivered to have by may and as soon as the airframe is ready these systems can be fitted quickly.
MALE UAV 'TAPAS BH-201' is being developed to meet the Indian armed forces requirements for Intelligence, Surveillance and Reconnaissance (ISR) roles by transmitting real time data to ground control station. It may also be used for civil purposes e.g. assisting in relief & rescue operations during natural calamities. It can carry numerous payloads such as Medium & Long Range Electro-Optic (MREO & LREO) systems, Electronic & Communication Intelligence (ELINT & COMINT) systems, Synthetic Aperture & Maritime Patrol (SAR & MPAR) Radars; additionally, it can also carry situational awareness payloads e.g. IFF, TCAS, UCR. Six airworthy airframes have been realized & one hundred flight trials have been conducted so far.
Salient Features
Take-Off/ Landing: Conventional take-off/ Landing with External Pilot or Automatic Take-Off & Landing (ATOL)
Payloads: EO (Daylight & FLIR), SAR, MPAR, ELINT, COMINT, IFF, TCAS, UCR