INS Visakhapatnam has been formally commissioned into the Indian Navy in the presence of Defence Minister Rajnath Singh at the Naval Dockyard in Mumbai on Sunday.
INS Visakhapatnam is a P15B stealth-guided missile destroyer. It is indigenously designed by the Indian Navy's in-house organisation Directorate of Naval Design and constructed by Mazagon Dock Shipbuilders Limited, Mumbai. INS Visakhapatnam, has been constructed using indigenous steel DMR 249A and is amongst the largest destroyers constructed in India with an overall length of 163m and displacement of over 7400 tons. The ship has a significant indigenous content of approx. 75%.
India's first indigenous P15 Bravo destroyer 'Visakhapatnam' to be commissioned in Mumbai tomorrow by @DefenceMinIndia Rajnath Singh. pic.twitter.com/fCf3kYeTeJ

— Livefist (@livefist) November 20, 2021
The destroyer is equipped with the following armament, all made in India in line with the Indian government's Make In India program: a 76mm Super Rapid Gun Mount (SRGM) made by BHEL, 16 Brahmos supersonic anti-ship missiles, 32 LRSAM Medium Range Surface-to-Air Missiles, two anti-submarine Indigenous Rocket Launchers (RBU 6000), Indigenous Torpedo Tube Launchers (ITTL) and four AK-630M Close-In Weapon Systems (CIWS). The vessel has a rail-less helicopter traversal system and can house two helicopters. Primary sensors include the EL/M-2248 MF-STAR Active Electronically Scanned Array (AESA) radar, Thales LW-08  radar, BEL HUMSA-NG sonar as well as BEL's Shakti EW suite.
It is equipped with an array of weapons and sensors which include Brahmos supersonic surface-to-surface and Barak-8 surface-to-air missiles(LRSAM). LRSAM has a range of up to 100 km. Max speed up to match 4.5, Its Minimum range of 500 meters allows it to be used as both a short-range and medium-range air defense missile., medium and short-range guns, anti-submarine rockets and advanced electronic warfare and communication suits.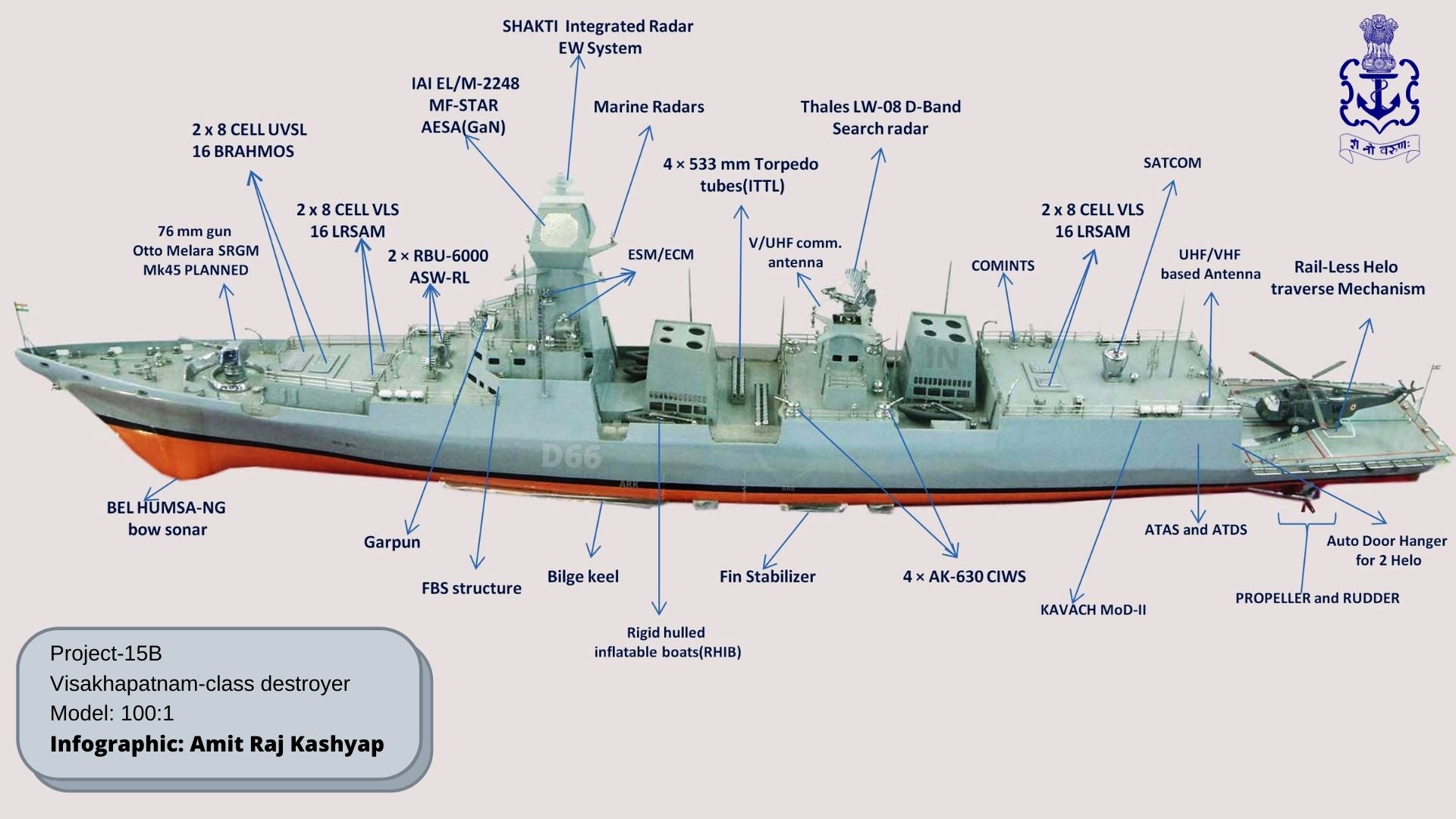 The ship is propelled by a powerful combined gas and gas propulsion which enables her speed of over 30 knots. The ship has the capability of embarking two integrated helicopters to further extend its reach.
INS Visakhapatnam boasts of a very high level of automation with sophisticated digital networks including Combat Management System and Integrated Platform Management System.
Some of the major indigenous equipment system onboard Visakhapatnam includes the medium-range surface-to-air missiles, surface-to-surface missiles, torpedo tubes and launchers.
It is also armed with anti-submarine rocket launchers, super rapid gun mount besides foldable hangar doors, Helo traversing system, close-in weapon system and bow-mounted SONAR.
Visakhapatnam will augment the Indian Navy's mobility, reach and flexibility towards the accomplishment of its role and tasks.
It is equipped with EW system. Shakti is an Integrated Radar EW System with ESM and integrated Radar Finger Printing System (RFPS) covering B to K frequency band and Electronic Counter Measure (ECM) System covering H to K frequency band.