Nilgiri class frigate is a new batch of ships being constructed in India for the Indian navy. The ships are pretty close to destroyers if you compare their displacement. The ships weigh almost 7000 tons which is almost a destroyer but due to the lesser number of weapons ship is classified as a frigate.
Nilgiri class will not only be the most advanced frigate of India but also one of the best frigate in the world. 7 ships are under construction. The first ship is to be delivered in 2022, all ship is expected to be delivered by 2025. The total cost of 7 ships is almost $7.2 billion which means more than $1 billion for each ship which is pretty expensive because you can get destroyers in that amount but India's main focus is on made-in-India projects.
The Nilgiri-class frigate or Project 17A is a follow-on of the Project 17 Shivalik-class frigate for the Indian Navy. The frigates are built with extensive use of low-observability technologies, including new radar-absorbing coatings, composite materials and "faceted" shape superstructures.
According to official data, 80 percent of the Project 17A frigates construction is done with Indian-made materials and equipment. More than 2000 local firms are involved in the supply chain.
In South Asia, there is no one who can stand against the Indian navy. Recently the first domestically-made aircraft carrier INS Vikrant complete phase-1 trials. After successful maiden sea trials, Vikrant to sail out for Phase-II trails.
The Indian Navy has indeed improved tremendously over the years. Whether it's an aircraft carrier, a submarine, or other warships, India is building world-class weapons with its own domestic technology, of course, the progress is not fast like China but once India will gain experience no one can stop.
The new generation of stealth frigates derived from The "Shivalik" class frigate and INS Kolkata class destroyer both are stealth warship built by India, but this frigate is old and cannot meet the needs of the future Indian navy. This old frigate is the first stealth frigate designed and built by India. However, when the demand cannot be met, India is focusing on building a new generation of stealth frigates, which are much stronger than the original "Shivalik" class frigates.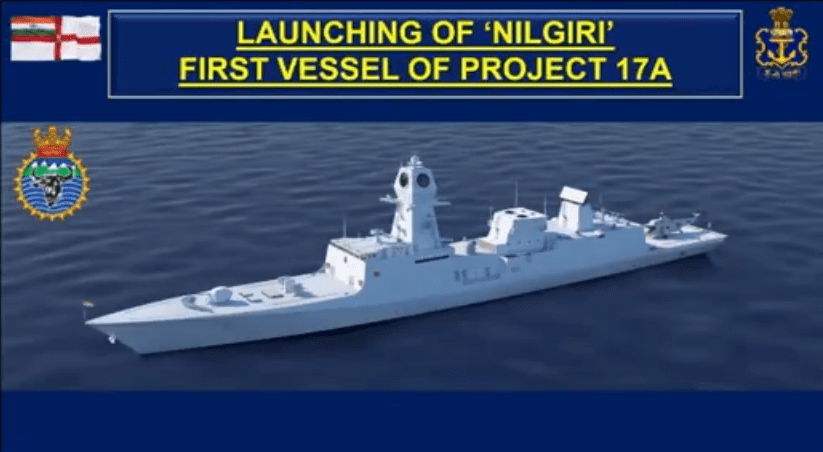 The first ship of the Indian Navy's most advanced stealth frigate project P17A will be named the Nilgiri class. This new generation of frigate has already been launched and will be delivered next year. It will be the first of the Nilgiri class stealth frigates. This scale model was released by MDSL at the Chennai Defense Expo. It will be powered by two General Electric LM2500 gas turbines and two MAN-made diesel engines, which will ensure the speed and range of this frigate.
The Nilgiri-class frigate is the first ship of the P17A. This frigate is 149 meters long, 17.8 meters wide, and has a draft of 5.15 meters. Although the size does not show how big this frigate is, it can still be seen in its tonnage. The size of the new frigate, the standard displacement of this frigate has reached 6,673 tons. To be honest, this tonnage is already very large. If you calculate the full-load displacement, it is estimated that it will almost reach 8,000 tons. This tonnage is obviously the tonnage of the destroyer, and some The tonnage of the country's destroyer is not as large as that of this frigate. It has to be said that India building such a high tonnage frigate so later they can add additional weapons and other equipment in mean times.
This new generation of stealth frigate has a maximum speed of 28 knots and a maximum endurance of 5,500 nautical miles(10,200km). It also emphasizes stealth. On the basis of the stealth of the "Shivalik" class frigate, the stealth performance is further enhanced to ensure the survival of the ship itself. ability! Moreover, the anti-submarine capability of this frigate is excellent. The anti-submarine capability, which was emphasized at the beginning of its construction, is definitely a huge threat to the submarine. Moreover, its own air defense capability and anti-ship capability are excellent. It is the most advanced warship ever built by India.
This new generation of frigate is equipped with a 127 mm BAE main gun. 2 AK-630M near-anti-aircraft guns, and The ship is equipped with one of the fastest anti-ship missiles in the world. 8 Bhrahmos are mounted on the ship for land attack and anti-ship missions. Brahmos maximum range in up to 500 km with a top speed Mach 3. India is working to further increase its speed and range. You must know that the possibility of intercepting supersonic missiles in the world is very small, and India's The "BrahMos" supersonic missile is already very mature. For anti-submarine ships is equipped with RBU 6000 Russian-made depth charges and Indian-made torpedo tubes. Such a strong combo will greatly increase the strength of the Indian Navy!
Nilgiri class is equipped with 32 Barak-8 SAM of Israel-India origin. Barak-8 maximum range is 90 km which is pretty healthy for a frigate. 2 rocket launchers,4 x Kavach Decoy launchers, and can carry two anti-submarine helicopters.
It is equipped with Israel made  EL/M-2248 MF-STAR S-band AESA radar which can track both aerial and ground targets at a range of more than 250 km. The ship is also equipped with BEL HUMSA-NG bow sonar and BEL Ajanta EW suite.
The ship has a brilliant endurance of 21 days with over 12,000 km range. The comprehensive, offensive capabilities are also very strong, once delivered, it will greatly enhance the strength of the Indian Navy.