Unmanned surface vessels (USV), is currently being researched and manufactured by the military of the leading countries in the world. China is actively developing the direction of manufacturing unmanned weapons. And the country has also achieved some remarkable success in this direction. Like other countries in the world, China's early advantage was its unmanned aviation complexes – unmanned aircraft (UAVs). However, in parallel with the aforementioned development of UAVs, Beijing also carries out many USV projects for the Navy.
Taking into account the current pace of development of the PLAN, there is no doubt that in the near future, the PRC will provide unmanned surface ships of various classes and functions. "Territorial flood" of seas.
M75A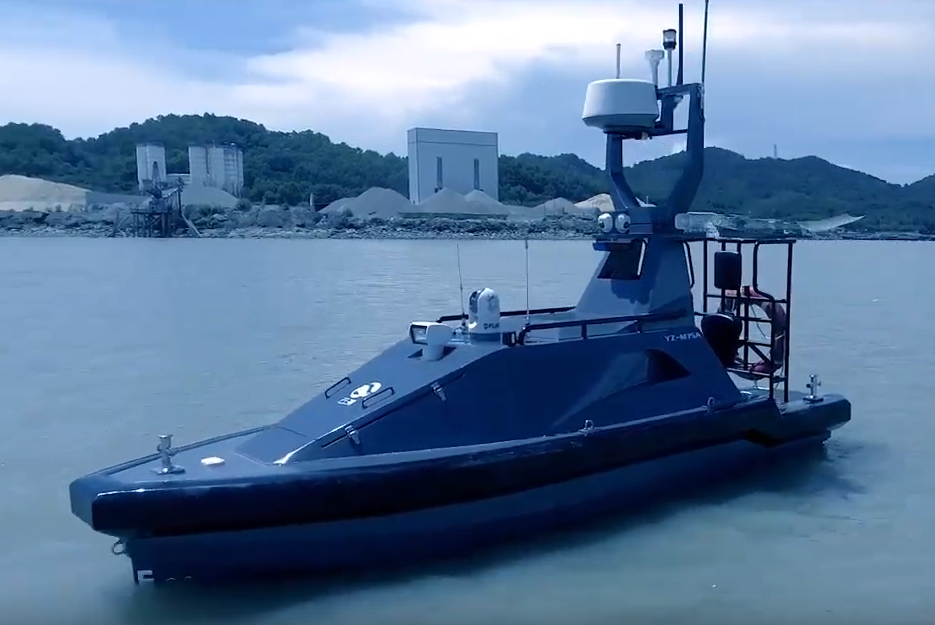 One of the projects in progress is the unmanned water (USV) M75A (pictured at the beginning of the article) project. First of all, this USV has a function to deal with offenses at sea – piracy and smuggling.
The M75A can patrol over waters with a radius of 50 km (such a distance is most likely determined by the operational range of the M75A secure communications system).
The M75A's equipment allows it to detect and identify ships at any time of day and night. When chasing targets, the M75A can accelerate up to 35 knots.
SeaFly-01
Beijing Sifang Automation Manufacturing-Science Corporation based in Beijing designed USV SeaFly-01. The base length of the base model – 10.25 meters and the width – 3.7 meters. Dimensions can be adjusted according to customer requirements.
Top speed up to 45 knots. Maximum operating distance – more than 400 km.
The small height, the "angled" hull configuration and the use of radio wave absorbing materials significantly reduce the radar reflectivity of the USV SeaFly-01. The USV SeaFly-01 uses two jet water pumps.The hull of the SeaFly-01 multi-chamber vessel is made of composite material. Thanks to that, the internal capacity for equipment installation and storage is increased. Also ensures that the boat can operate when the wave altitude is up to 2.5 meters.
Unmanned boat SeaFly-01 is equipped with advanced control systems and automated vehicles. Not only can it be controlled remotely, but it can also automatically follow a predetermined route, automatically choose an obstacle course avoidance path and automatically return to the starting base.
Several USVs SeaFly-01 can be linked together into a cluster of ships operating in a unified manner.
The attack on the enemy's surface ships with a cluster of dozens of small unmanned surface ships carried out simultaneously from many different directions will allow to distract the enemy, causing great damage for enemy surface ships even using relatively weak weapons such as multi-purpose anti-tank guided missiles or 30 mm caliber automatic cannons, by firing at vulnerable points above ships – such as radar antennas, short-range air defense missile complexes, control towers, and onboard aircraft.
In addition, small surface ships can accurately determine the coordinates of the enemy surface ship and then attack and destroy it with anti-ship missiles. Theoretically, unmanned floating ships can also perform "kamikaze" ("suicide") attacks by detonating themselves next to the side of the surface.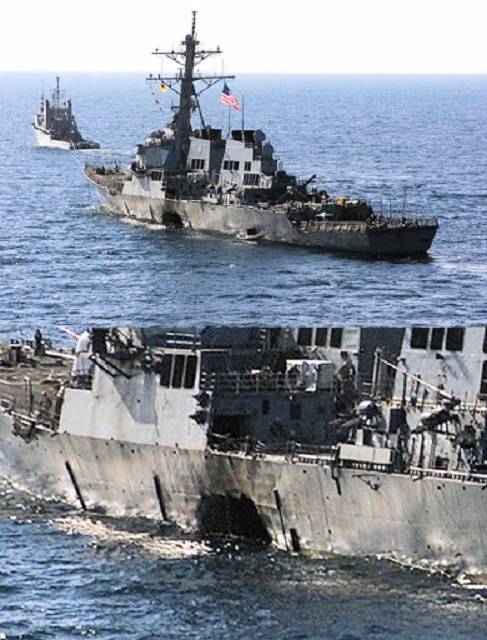 Meanwhile, the task of destroying small ships is quite a difficult one due to their small physical size, high speed and "stealth" ability. Additionally, the cost of the weapon used to destroy USVs may be even higher than the cost of the USVs themselves to be destroyed.
The capacity of the USV China SeaFly-01 is 1.5 tons. Various means of reconnaissance – optical and radar positioning stations, as well as other equipment may be located on the top of the ship or (and) in enclosed spaces.
These USVs can be controlled directly at distances up to 50 km. At large distances they can also be controlled with the Chinese satellite communication system and the BeiDou (BeiDou) satellite navigation system.
There is one very notable detail – unlike the US GPS and Russian GLONASS global positioning system, the Chinese BeiDou system itself can operate in a (limited) mode that functions as a single system. satellite communication system, allowing the transmission and reception of short data packets.
This way that in an emergency, for example when a communication failure occurs, it can send the USV to return to the base.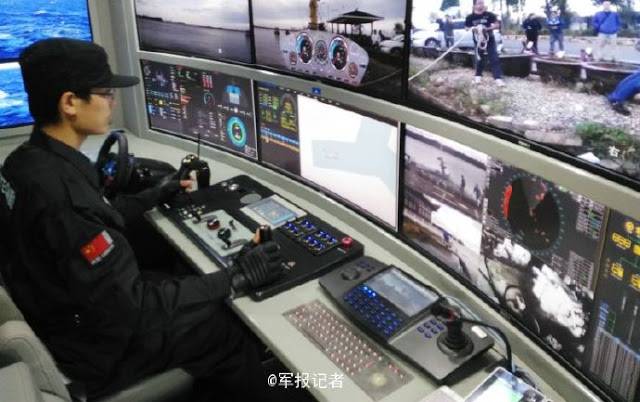 Some later variants of the SeaFly-01 could be armed with a 5.8 or 12.7 mm machine gun, as well as guided anti-tank missiles.
JARI-USV
One of the promising projects is the development of a JARI-USV unmanned surface vessel with a length of 15 meters and a displacement of 20 tons. The speed of the BANCO JARI-USV reaches 42 knots (77 km / h), the cruising range is 500 nautical miles or 926 kilometers.
BANK's JARI-USV reconnaissance assets include an in-phase array radar, sonar and OLS. Four radar screens provide a view of airspace up to 100 kilometers away.
BANK JARI-USV is created in a modular way, allowing you to mount equipment and weapons on it depending on the task at hand. It is envisaged that the JARI-USV can be armed with a vertical launch unit (UVP) for eight HJ-10 multipurpose ATGMs, a torpedo tube and / or a module with a 30mm caliber autocannon.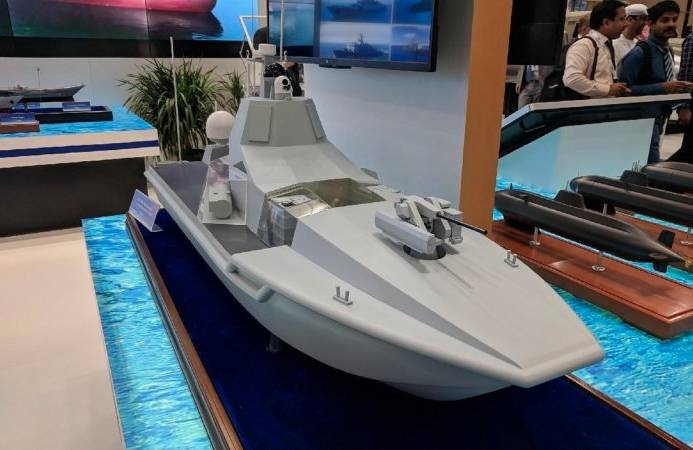 M80A
Yunzhou Intelligence Technology (Yunzhou-Tech) has developed a series of BENK type M80s, designed to meet the challenges of exploration and hydrography.
The BENK M80A hull is implemented according to the "hydrofoil trimaran" scheme and is made of several layers of the company's patented foamed carbon fiber.
Its length is 4.8 meters, width – 2.35 meters, height above the water – about 1.35 meters.
The small profile of the boat (in combination with sloping surfaces and the use of radio absorbing materials) gives the M80A a low radar signature.
BENK М80А can operate at wave heights of up to 2.5 meters.
It is powered by two electric motors, giving it a cruising range of up to 200 nautical miles at speeds of up to 10 knots.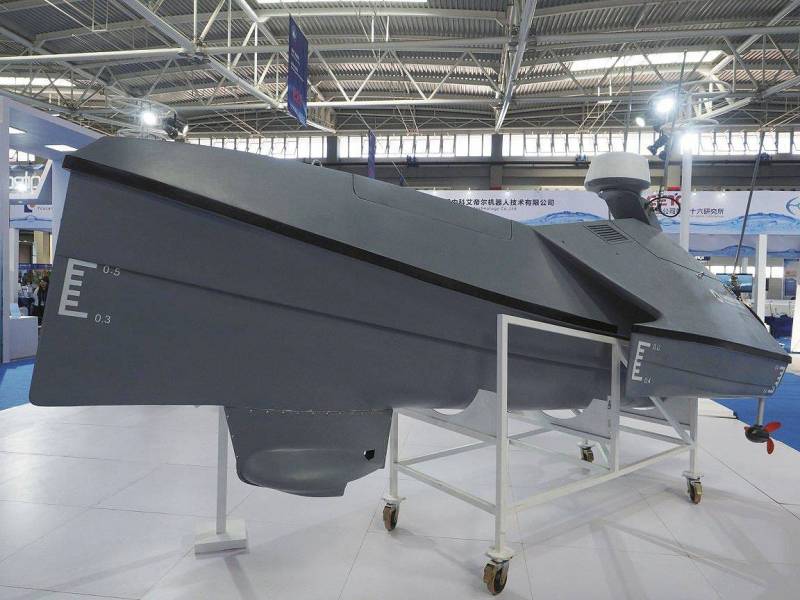 BENK М80А is equipped with a universal compartment with dimensions of 1.5×1.2×0.5 meters and a load capacity of 150 kg, which can accommodate side scan sonars and other equipment necessary to perform hydrological work: acoustic Doppler current profilers, multi beam echo sounders, towed solid bottom profilers and multi parameter sounders.
The communication range with BENK M80A is 5-15 kilometers, and there is also 4G communication equipment on board, which makes it possible to use commercial LTE cellular networks. And with the help of specialized equipment (directional antenna?) To transmit large amounts of data at a distance of up to 30 kilometers.
CASC
The China Aerospace Science and Technology Corporation (CASC) is developing a BENK line, which should include models of various dimensions.
CASC's BANK line includes the B850, A1150, C1500 and D3000 models (other modifications may appear later).
The B850 is a high-speed unmanned boat designed for patrol and expeditionary operations. The length of its hull is 8.8 meters, the maximum speed is up to 40 knots and the autonomy is approximately one day.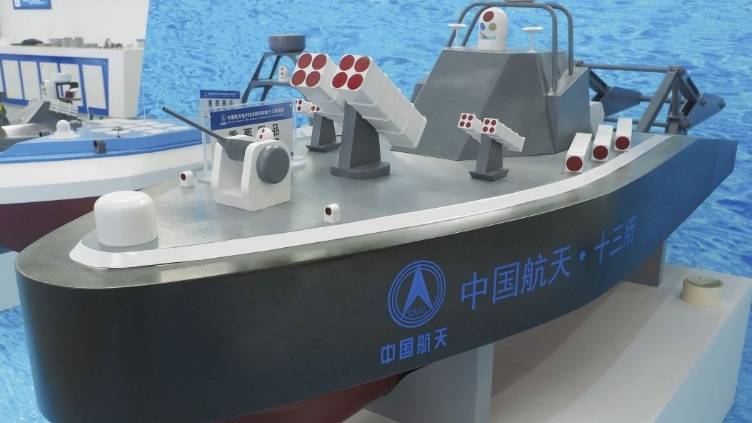 Unmanned boat B850
The next model, the A1150 (with a hull length of 11.5 meters) is designed for use as a survey vessel. A modification of the C1500 with a hull length of 15 meters is used to combat submarines.
The reconnaissance equipment installed in the CASC BENK may include sonars, radars and OLS. Reconnaissance capabilities are complemented by an onboard UAV-quadcopter.
The aforementioned BENK armament includes remote control modules with 7.62mm or 12.7mm machine guns. Additionally, ATGM units can be installed. Modifications A1150 and C1500 can be equipped with torpedo armament.
D3000 vessel
The most ambitious project is the D3000 vessel with a length of 30 meters, with a cruising range of up to 450 nautical miles and a range of up to 90 days.
The project allows the possibility of increasing the size of the vessel, with a corresponding increase in cruising range and autonomy.
The BENK D3000 is planned to be equipped with a hybrid power plant, including electric propulsion motors, which will run on diesel generators. Gas turbines can be used instead of diesel engines.
A large capacity battery will continue to function when the main power supply fails. Also, the BENK D3000 battery can perform quiet patrols at low speed. It is assumed that additional photocells can be installed in the body to recharge the batteries.
The D3000 is a trimaran. Its maximum speed is about 40 knots. It operates at wave heights of up to 10 meters.
The payload of the BENK D3000 is up to 10 tons. The modular implementation of the project allows you to flexibly assemble equipment and weapons according to customer requirements.
The BANK D3000 is controlled via ChinaSat satellite communication (obviously there is also a direct radio control channel).
At the front of the hull, a Ture 730 CIWS armament module with a 30mm multi-barrel autocannon is installed, including a radar and OLS for detection and guidance.
The D3000 is designed to operate autonomously, as part of a BENK group or as part of a combined flotilla, including BENK and NK of different classes, performing reconnaissance tasks, attacking ground and surface targets and anti-submarine warfare.
At this stage, the basic design of the D3000 includes two modifications: D3000A and D3000B.
Modification D3000A is optimized for reconnaissance and defense of the flotilla. For this, the D3000A is equipped with a multifunctional radar and sonar at the bow of the boat. The D3000A's armament includes anti-aircraft missiles and torpedoes.
The D3000B modification is designed for reconnaissance and attack missions. To do this, the D3000B is equipped with two quadruple anti-ship missile launchers.
Findings
Unmanned surface ships are just beginning their journey into the navies of the world's leading countries. Currently, there are many problems, mainly with the reliability of BENK equipment.
After all, if the UAVs, after patrolling for several days, return to the airfield for a technical inspection, then in the BENK it is necessary to ensure the uninterrupted operation of equipment and mechanisms for several months without maintenance.
However, reliability issues will be addressed. This will indirectly lead to a decrease in the number of crew members on "manned" surface vessels.
BENK's scope of application will be continually expanded.
Like UAVs in the sky, uninhabited surface and underwater vessels will significantly change the face of the battlefield over and under water.