The missiles developed by the UK are said to be able to detect 5th generation fighters effectively. Notably, London has emphasized its readiness to hunt down Russian fighter jets.
Sky Sabre, a state-of-the-art air defence system, replaces Rapier, propelling the British Army to the forefront of ground-based air defence missile technology.
Avia.Pro reports that a British copy of the S-400 missile has been deployed to hunt down Russian fighter jets.
According to UK Govt website Sky Sabre unprecedented in speed, accuracy, performance and target acquisition, Sky Sabre will be able to hit a tennis ball-sized object travelling at the speed of sound.
16 Regiment Royal Artillery is now accepting into service the first tranche of Sky Sabre and further procurements will be configured to operate in all parts of the globe.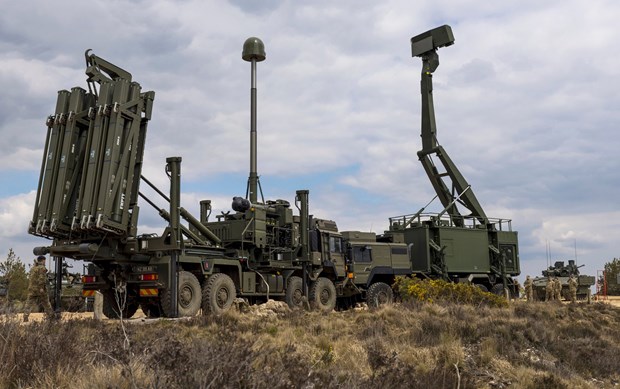 Sky Sabre has three key components expected to operate up to 15km apart in the battlespace:
• A Giraffe Agile Multi Beam 3D medium-range surveillance radar that rotates 360 degrees on an extending mast and can scan out to 120km for threats.
• A pioneering computer system linking up the radar and missiles sending them to their targets. It also provides 'Link 16', a tactical datalink allowing Sky Sabre to share its information with Royal Navy vessels, Royal Air Force systems and our allies providing full integration across UK Armed Forces and joint NATO operations.
• At 99kg each, the Common Anti-Air Modular Missiles (CAMM) are double the weight of Rapier and have three times the range. They can reach speeds of 2,300mph eliminating fighter aircraft, drones and even laser-guided smart bombs. Eight missiles are mounted on the launcher, which fire in a unique multi-directional manner that significantly reduces its signature making it less of a target for adversaries. The launcher also re-arms in less than half the time of Rapier.
n fact, it can control the flight of 24 missiles simultaneously whilst in flight, guiding them to intercept 24 separate targets. It is an amazing capability." Major Tim Oakes said.
According to current information, British air defense systems are already deployed in some parts of Europe. Their exact locations were not provided, but it is highly likely that those will be the areas where Russian warplanes are most commonly seen.
However Sky Saber has a much lower target detection and destruction range than the Russian design, however, the radar station of the British missile complex is said to be able to detect aerial targets sensitively, even effective detection of 5th generation fighters.