After the US Navy aircraft carrier, China has also built models of four F-35 fighter aircraft and E-3 Sentry early warning aircraft in the Taklamakan desert for target practice.
Since the website, USNI News published the article "China Builds Missile Targets Shaped Like U.S. Aircraft Carrier, Destroyers in Remote Desert", many media seems to have started the "treasure hunting in western China deserts. In just a few days, news about China's newly-built more American aircraft carrier targets and F-35 stealth fighters published by SCMP. On November 11, image published by The Drive shows China's apparent use of two E-3 Sentry Airborne Warning And Control System (AWACS) mockups on its impact range used for testing advanced missile technology.
The US "Dynamics" website stated on November 11 that using open source satellite photos, it was discovered that China had newly added a model of the US Air Force E-3 "Sentry" early warning aircraft in the range of testing advanced missile technology.
According to the report, satellite photos on August 28 showed that two full-size E-3 early warning aircraft models appeared on the main runway of the comprehensive weapons test site in the western desert of China. They are likely to simulate the targets of Chinese ballistic missiles. "It is logical to specifically include E-3 as China's main imaginary target in the desert." The best way to eliminate any aircraft during the conflict is to blow it up on the ground. Compared with the U.S. Navy's smaller E-2 series of early warning aircraft, the E-3 has stronger air command capabilities, and the entire U.S. Air Force has only 31 E-3 early warning aircraft. This large-scale air command platform is a huge force multiplier, which supports the US military's tactical air combat strategy, and serves as a key command, control, and surveillance node as well as a decision maker for tactical air power.
Reports believe that destroying the E-3 and other clumsy air support models will greatly weaken the U.S. military's advantages in air combat and battlefield situational awareness. "In fact, China itself is also a loyal supporter of early warning aircraft, and has invested heavily in the development of a series of advanced airborne early warning platforms. It is obvious that China attaches great importance to this capability, and how eager to do it in the event of a conflict with the United States. Possibly destroy them. In view of this, China is planning to use a combination of the J-20 stealth fighter and ultra-long-range air-to-air missiles to execute the tactics of hunting down American early warning aircraft, but it is still best to destroy them before the latter takes off. Plan of action."
What worries the United States is that the Kadena Air Force Base in Okinawa is permanently stationed with E-3 early warning aircraft. In the hypothetical US-China conflict in a US think tank, the Kadena base is very vulnerable to the PLA's ballistic and cruise missiles. Other major backup bases of the US military, including the Anderson Air Force Base in Guam and even Wake Island, although they can also take off and land E-3 when necessary, they are also within the range of the PLA's ballistic missiles.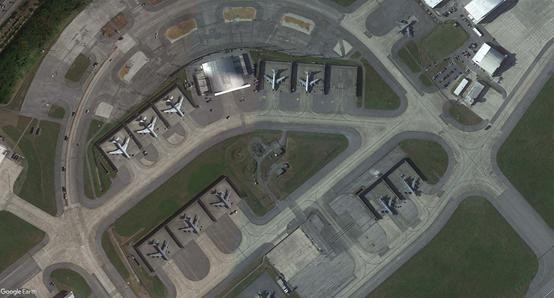 According to reports, The inclusion specifically of the E-3 Sentry on one of China's primary impact targets in the Gobi Desert makes total sense. E-3s would be among the highest priority targets for Chinese long-range missiles, and especially for its ever-evolving standoff missile capabilities. The best way to kill any aircraft during a conflict is on the ground. The E-3s — just 31 of which are in the USAF's inventory — are massive force multipliers. They underpin America's tactical air combat strategy and work as critical command-and-control and surveillance nodes and enablers for tactical airpower. Destroying the E-3s, and other lumbering support assets, would go a long way toward neutering American advantages in air-to-air combat and situational awareness over the battlefield.
While "South China Morning Post" reported on November 11 that according to the latest issue of the Canadian defence magazine, recent satellite images showed that at least four F-35s target models appeared in the People's Liberation Army shooting range in Korla, Xinjiang, China. 
According to the report, these proportionally produced models of F-35 fighter jets may be the targets of the Dongfeng-16 and Dongfeng-21C missiles of the PLA Rocket Forces. It is delivering "message" to the US military base in Japan.
As the PLA has strengthened its training against Japan, this shooting range in Korla has been expanded in the past two years." "(These models and the deployment of Dongfeng-21C missiles) can be regarded as the PLA. In response to the U.S. Marine Corps' deployment of more and more F-35B fighter jets at Iwakuni Air Station, Japan, and at the same time, the Japan Air Self-Defense Force is also sending more F-35A fighter jets to the Misawa base unit." He also claimed that before. A simulation model of an American F-15 fighter jet was also found in this shooting range in Korla.