On March 4th three frigates based on the Royal Navy's Type 31 design have been ordered by the Polish Navy for a total cost of £1.4 billion. This ship will become the future main warship of the Polish Navy.
The Arrowhead 140 is actually the international version of the British Navy's Type 31 frigate. This frigate was originated in 2010 and replaced the previous Type 23 frigates. At present, a total of 10 frigates of this type have been ordered, of which five are British, two belong to Indonesia and three for Poland. The UK's first Type 31 frigate, named Adventurer, was officially laid down on September 23, 2021, and all five frigates are scheduled to be commissioned by February 2030. It has to be said that the construction speed and service speed are still a bit slow.
The new ships will provide Poland with the capability to engage both aerial and naval threats to Polish maritime interests and to support NATO operations. The deal comes at a time where NATO countries have increased their defence spending in the wake of the Russian invasion of Ukraine.
UK Minister for Defence Procurement Jeremy Quin said: "Poland is one of our oldest and closest allies, and we continue to strengthen our partnership to help deter future threats.
"The Arrowhead 140 frigate will be a formidable addition to Poland's fleet, providing world-leading capabilities to Poland's growing naval presence."
David Lockwood, chief executive of Babcock, added: "We can tailor the design to suit the needs of the Polish navy.
"Driven by innovation and backed by heritage, the Arrowhead 140 frigate has British ingenuity and engineering at its core.
"But above all, we are looking forward to working with Poland as it develops and grows its shipbuilding capability, creating real social and economic benefits for the country."
The Type 31 frigate is relatively large, with a maximum displacement of 5,700 tons and a length of 138.7 meters. The Type 31 frigate will have CODAD Propulsion, which is a combined diesel propulsion system, with four 20V 8000 M71 diesel engines from Rolls-Royce and MTU and four generators installed. The warship has a maximum speed of over 28 knots and a maximum range of 9,000 nautical miles. The ship will have crew members of 80 to 100 people.
In terms of weapons, the Type 31 frigate is equipped with 24 cells VLS Sea Ceptor anti-air missiles, which is a bit small compared to the tonnage of the hull. Other weapons include two external 4-mounted anti-ship missile launchers, and a 57mm MK110 naval gun as the main gun. There are also some auxiliary weapons, such as anti-submarine torpedoes and terminal interceptor missiles, 40mm MK4 guns and several 7.62mm machine guns to deal with other small targets. In addition to these fixed weapons, it can also carry a helicopter for anti-submarine, rescue, and land attacks. In addition, warships can also use drones, which is also a must-have capability for new frigates.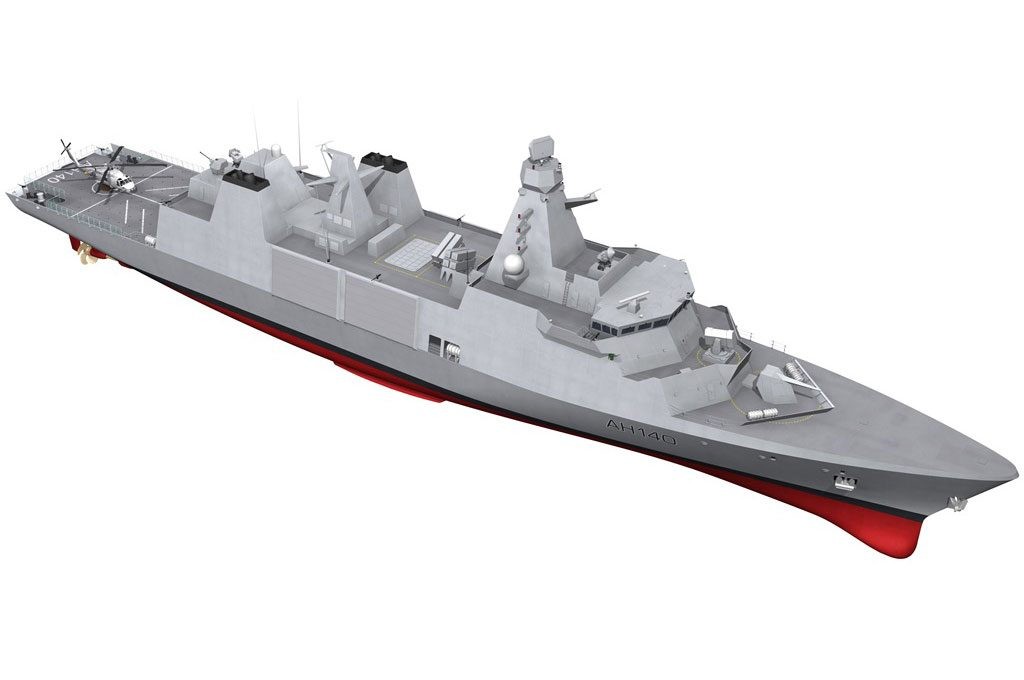 From the perspective of the performance of the warship itself, the Type 31 frigate is actually not particularly good. After all, its displacement of 5,700 tons is quite large as a frigate. In the past, 4,000 tons was considered a large frigate. But its number of weapons is not even close to India Shivalik class friagtes and Chinese 054A frigate, not to mention other advanced warships. This is also the development direction of European warships, large tonnage, but relatively few weapons. The advantage is that it has such a large tonnage, and it is relatively simple to upgrade and refit in the future, but the disadvantage is that the number of weapons and equipment at this stage is really difficult to deal with the fierce naval battle. The Polish Navy had also considered Meko A-300PL warship, but it was failed against British defence giant, Babcock.
In fact, the relationship between the cooperation between the United Kingdom and Poland and weapons is actually very small, as we can see from other changes in Poland's military. Poland used to have a very close relationship with the Soviet Union, and could produce Soviet jet fighters and new helicopters under license, especially the Mi helicopters, and even improve on these two helicopters and have their own aviation industry. And Poland is also developing new helicopters on top of these technologies, such as the W3 and other helicopters. Judging from its development time and performance, it is a pretty good helicopter. It is precisely because of this that Sikorsky even acquired a Polish helicopter company to produce S70i helicopters for the Philippines. It can be seen from these that the relations between Poland and the West are getting closer and closer.
Not only that, Poland abandoned the PT91 tank designed on the basis of the Soviet T72 tank, first purchased second-hand Leopard 2 tanks from Germany, and spent $6 billion to buy 250 advanced M1 improved tanks before the conflict between Russia and Ukraine. Coupled with the choice of the British frigate this time, it can be clearly seen that Poland wants to completely fall to the west. In fact, it is not just Poland. Uk's Babcock has a very large possibility to rebuild the Ukrainian navy and even the entire military industry on a large scale.
This also demonstrates how Western powers continue to deteriorate Eastern European countries in order to draw them into their spheres of influence. The United Kingdom, which is located outside of the European continent, and the United States, which is located in North America, may both benefit from the dramatic changes in Europe and even in certain former Soviet Union countries.