Recently, China Central Radio and Television's "Military Documentary" program broadcasted an episode of "Focus on Aircraft Carrier Battle Groups". The program introduced the current achievements of the Chinese Navy's aircraft carrier combat formation and its future development direction.
So far the Chinese Navy carrier strike group consisting of an aircraft carrier, 055 large destroyer is the core, supplemented by two 052C/D destroyers and two 054A frigates. Of course, one nuclear attack submarine (SSKN), and one supply ship accompanying it.
For the Chinese Navy, which is in the ascendant of aircraft carrier fleet construction, in the future, in the organization or formation of aircraft carrier formations could be changed, there is still confusion should PLAN will choose "aircraft carrier battle group" or "aircraft carrier strike group"?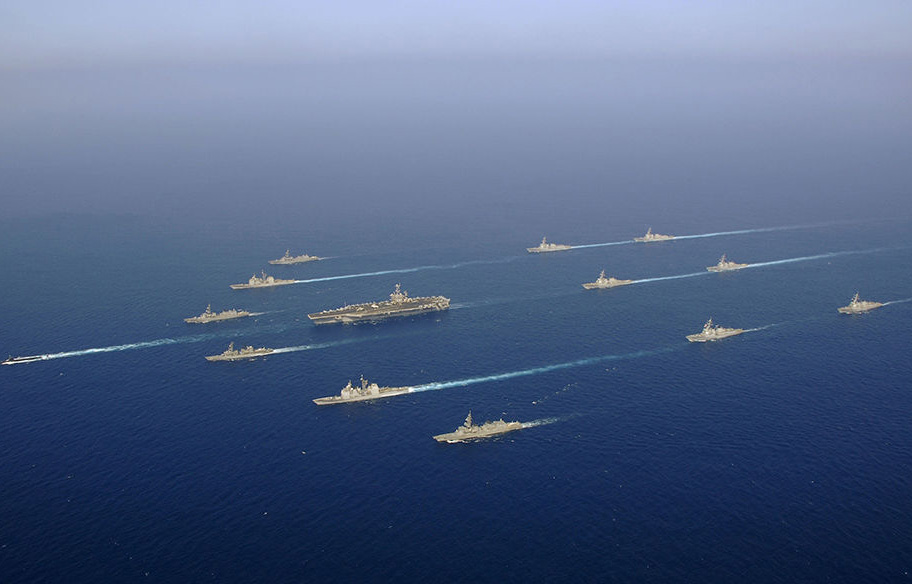 From the early period (Till 2018), the analysis of the Chinese Navy's aircraft carrier formation was experimental. For example, in the early days PLA NAVY tested the incorporation of amphibious dock landing ships and conventional submarines in the aircraft carrier formation. However, they could not keep up with the pace of action of the aircraft carrier formation due to the slow speed of these two ships and only conducted preliminary tests, And never again appeared in the Chinese Navy's aircraft carrier formation.
Since 2018, especially after the Type 055 destroyer began its experimental service in 2019, the composition of the Chinese Navy's aircraft carrier formation has begun to be gradually fixed: the core force includes an aircraft carrier and carrier-based aircraft forces.
At the same time, it is worth noting that the Chinese Navy seems to be still intentionally changing the composition of the aircraft carrier formation. In some cases, it may reduce 1 destroyer or reduce 1 frigate, but it is not clear that this is a compendium. It is still similar to the combat formation of the aircraft carrier strike group.
According to Chinese media in the future PLA Navy will adopt the US Navy carrier strike group formation because it is more suitable for future development trends and more suitable for China. The American aircraft carrier strike group consisting of air combat forces, surface combat forces, underwater combat forces, and support forces. Under certain operational situations, it is suitable for aircraft carrier formations to form large strike groups to undertake fleet decisive battles; and in some cases, it is suitable for aircraft carrier formations to form small strike groups to undertake forward presence or even strategic deterrence tasks. This type of formation of aircraft carrier formations and a modular force combination model will most likely become the goal that the Chinese Navy will try to achieve in the future, especially after Type 003 aircraft carriers enter service.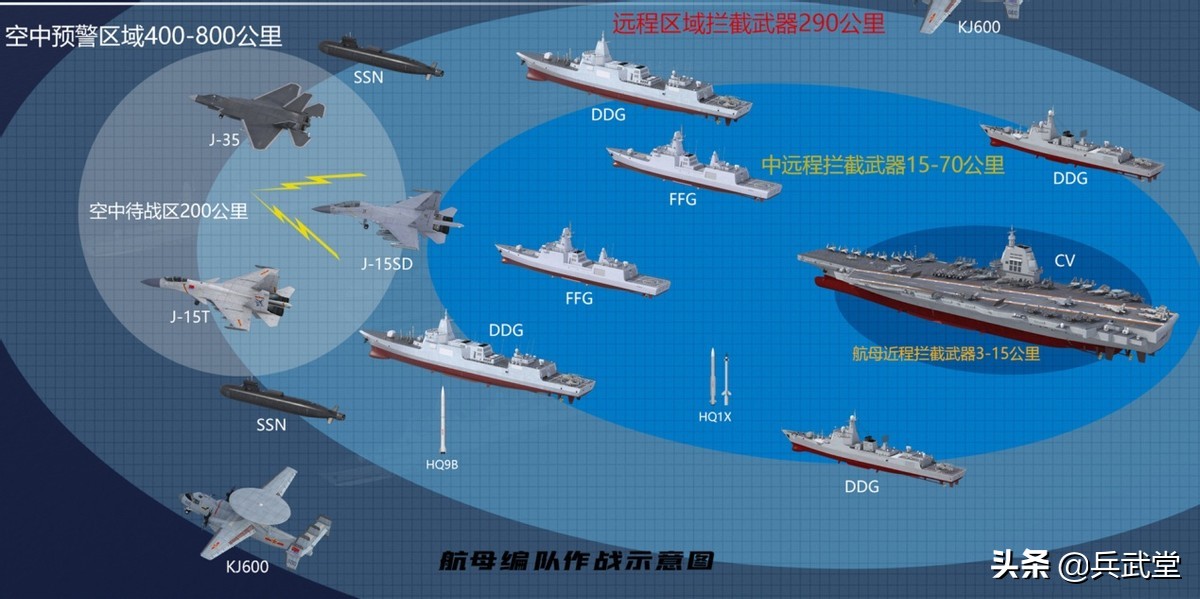 So in the future, what kind of organization will the PLA Navy aircraft carrier battle group appear in? we can assume there will be at least 2 heavy 055 destroyers, two 054A frigates, two 052DL destroyers, Two nuclear powered attack submarines, and at least one supply ship.
Judging from the current data, in the future aircraft carrier battle group organization, the core ship aircraft carrier will be a new generation of domestically-made aircraft carriers, equipped with electromagnetic catapults. The take-off and landing capabilities will be greatly. At the same time, there will be a large number of new carrier-based aircraft that could be J-35 (FC-31).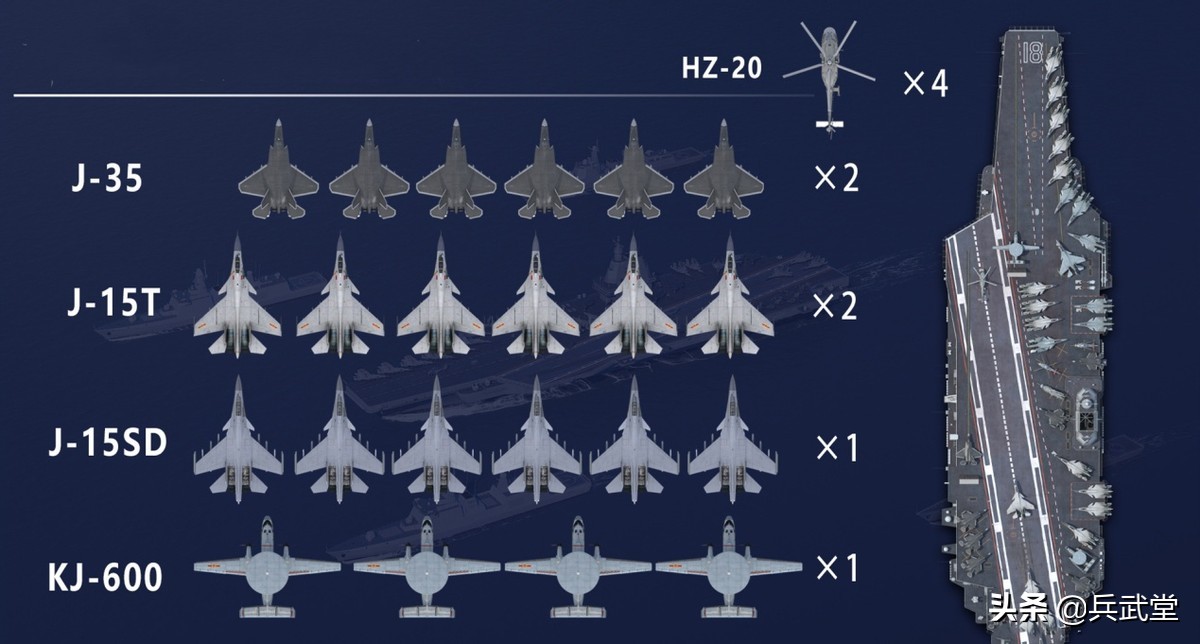 From the perspective of the size of the entire battle group, the current standard 055 and 052D destroyers of the two aircraft carrier fleets already have a sufficient number. These two destroyers will be responsible for long-range area interception, with a distance of 290 kilometers, and can also serve as the command core of the entire aircraft carrier formation if needed. In addition to these two types of destroyers, there is a brand new 054B frigate, which can be responsible for medium-range interception with a range of about 15-70 kilometers. Of course, the 054B frigate has not yet officially appeared. According to Chinese media, the 054B will integrate part of the 052D's ship electrical equipment and radar sensing capabilities to ensure stable air defense and anti-submarine capabilities at mid-range. Aircraft carrier also has 3-15 kilometers close defense system protection much lower compared to Indian aircraft carrier which has a range of 80km.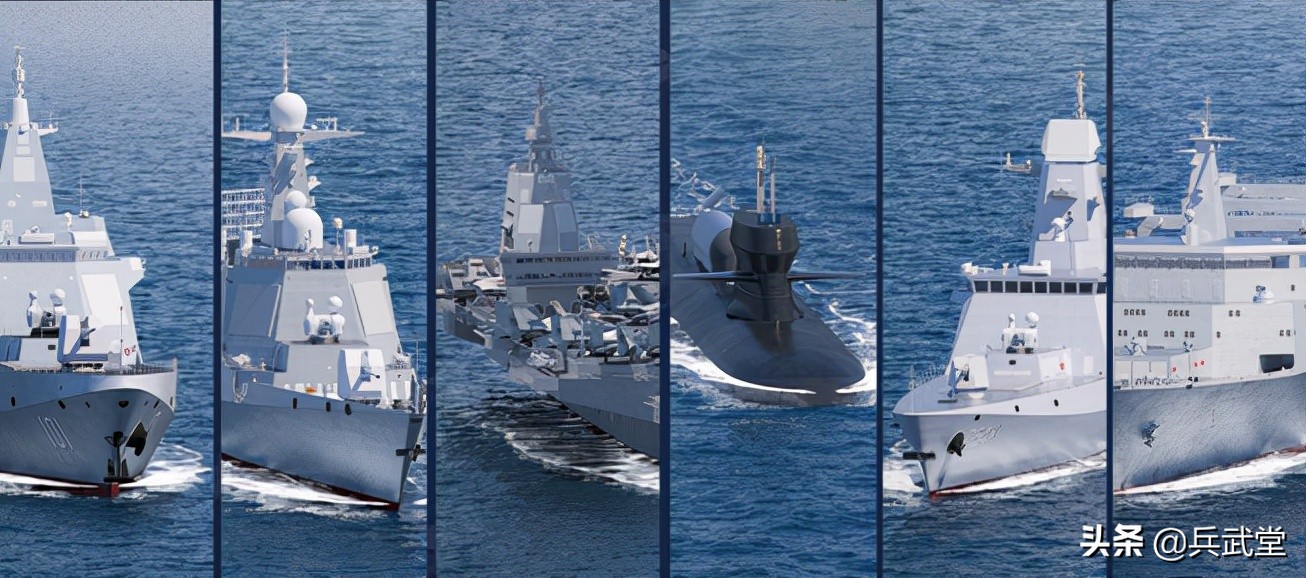 As for the key carrier-based aircraft part, there may be at least three types of carrier-based aircraft in the future Chinese aircraft carrier organization. Among them, the J-35 stealth carrier, but there is no sign if China can complete the development of this fighter at time. It is currently speculated that it may be equipped with the J-15T, and some J-15SD electronic warfare versions. The high-profile appearance of the J-15D in this air show shows that this fighter will have a place on the future aircraft carrier. Otherwise, on the basis of the development of the J-35, the J-15D will not be developed separately.
In addition, there are two carrier-based airborne early warning and control, KJ-600. In addition, the Z-20 helicopter naval model will also have a small number of aircraft, which will become a general-purpose service and rescue helicopter for aircraft carriers, which will be very useful. Of course, there are still two Type 095 attack nuclear submarines underwater as an important component of the aircraft carrier formation, but there is generally not much news about the big blackfish. But it is quite sure the future Carrier strike group of PLA Navy will have 1 or 2 Nuclear subamrine.
Generally speaking, the future organization of the Chinese aircraft carrier battle group has basically taken shape. Only the 054B and KJ-600 and Z-20 navy types have not been fully unveiled. However, most of this equipment has been designed and completed except for the 054B.