Several countries in the Asia-Pacific region are caught up in the global hypersonic and energy-oriented arms race. So which country is catching up with this worldwide competition?
China
It is not surprising that China is one of the countries focusing on both of these areas and is widely recognized as the Asia-Pacific leader in the field of hypersonic weapons. China equips this weapon in the form of a supersonic flying vehicle DF-17. The DF-17 made its first public appearance at a military parade held in the capital Beijing at the end of 2019.
This weapon uses a standard ballistic missile in its first phase to give an initial boost to the glide vehicle and is used to strike a target after retry. The DF-17 hypersonic flying vehicles at the parade were mounted on a wheeled based 5-axle transport launcher. This makes the road-mobile launch system the same as much of China's ballistic missile arsenal.
In addition, China is also said to be developing another flying vehicle. This type of vehicle was tested and known through a video posted on the social network Weibo in October last year. It shows a People's Liberation Army Air Force bomber equipped with a hypersonic weapon system. The H-6N bomber, filmed coming in for a landing at a base in central China, is carrying a large missile with the telltale nose shape of a weapon that can travel faster than Mach 5.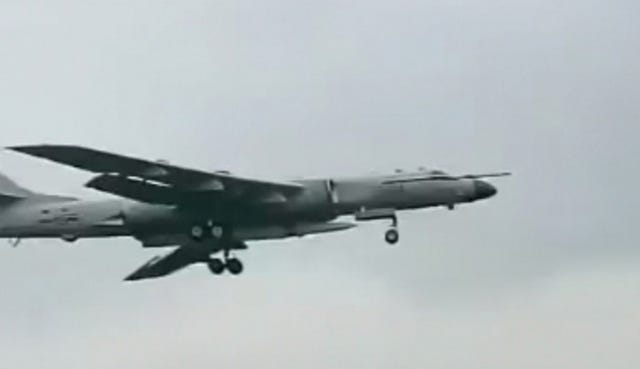 India
The second edition of India's "Technological Perspectives and Capabilities Roadmap", released by the Ministry of Defense in 2018, showcased more than 200 pieces of equipment expected to be used in the military by the late 2020s.
Among the list of projects that the Indian defense industry is encouraged to pursue is the "Tactical High Energy Laser System" for the army and air force. The Indian Ministry of Defense foresees a highly maneuverable vehicle-based laser weapon system that could "cause physical damage or destruction to electronic warfare systems, communications and radar system, antenna".
Another review by the Indian Ministry of Defense for 2020 also mentioned an anti-drone system made by the government's Defense Research and Development Organization (DRDO). From January 1, 2021, the system has been deployed for security purposes as announced by Prime Minister Narendra Modi on the occasion of the 74th Independence Day.
A DRDO official told Defense News that the project has been classified, named DURGA II. A senior scientist at DRDO said that DURGA II is in the conceptual stage and the organization is developing, improving various laser generation techniques using solid-state, fiber-optic and chemical lasers. DURGA II will be integrated with land, sea, and air platforms.
According to the same scientist, 50 DRDO scientists have been tasked with developing new directed energy weapons. DRDO also aims to start work on non-nuclear electromagnetic pulse technology.
DRDO laboratories involved in the development of directed energy technology include the Laser Science and Technology Center (LASTEC), the Defense Electronics Research Laboratory, the Defense Research and Development Laboratory, Center for Science and High Energy Systems.
The Laser Science and Technology Center is the lead laboratory in this effort and is involved in the development of a variety of laser technologies using chemical oxygenated iodine lasers and high-powered fiber lasers. So far, the center has built a 25 kilowatt laser that can target ballistic missiles (in the early stages of testing) at a maximum distance of 5km.
Meanwhile, India's focus on hypersonic technology has seen the creation of a wind tunnel for testing in Hyderabad. In September last year, DRDO had successfully tested a Hypersonic Technology Demonstrator Vehicle (HSTDV) that officials said would lay the foundation for the development of a hypersonic cruise missile system. While India's Brahmos aerospace active working on Brahmos-ii hypersonic cruise missile could be test flight in upcoming years.

According to defense scientists, the test vehicle developed by DRDO is capable of flying at six times the speed of sound. The supersonic cruise vehicle is launched by a solid rocket engine, bringing it to an altitude of 30km, the Indian Defense Ministry said.
Japan
Japan began pursuing hypersonic weapons in the late 2010s and has an eye on two types of hypersonic systems: supersonic cruise missiles (HCM) and hypersonic gliders (also known as HVGP). The HCM will be powered by a jet engine and have a similar appearance to a conventional missile, although it flies at a much higher speed and is capable of long-range flight.
The HVGP has a solid-fuel rocket engine that increases the payload of the warhead to altitude before detaching, then it glides to the target using altitude to maintain high speed until impact.
The government's Technology Acquisition and Logistics Agency (ATLA) also provides details on warhead payloads, with different warheads planned for both sea and land targets. The first type will be an armor-piercing warhead specifically designed to penetrate the deck of an aircraft carrier (or aircraft), while the land attack version will use a variety of high-density, explosive-forming munitions. to dominate the area.
The Japanese government is continuing to research and develop hypersonic technology, with a budget of 240 billion yen (equivalent to 2 billion USD). ALTA has signed a contract with Mitsubishi Heavy Industries for research cooperation in both HCM and HVGP, which is expected to come into operation around 2026.
Korean Peninsula
South Korea is pushing ahead with plans to develop its own hypersonic missile as it seeks a missile strike capability in response to North Korea's rich ballistic missile arsenal.
In August 2020, South Korean Defense Minister Jeong Kyeong-doo said the country would accelerate development of long-range and hypersonic missiles, as well as more powerful warheads for these weapons. South Korea has developed short-range ballistic missiles and is looking for newer types to intercept North Korean targets, including mobile ballistic missiles.
In December South Korea's Agency for Defense Development (ADD) released an animation video of the country's first hypersonic weapon called "Hycore".
For its part, North Korea claims it is also developing such weapons. Intelligence reports say that Pyongyang has established a new hypersonic missile research center under the National Academy of Defense Sciences. However, very little detailed or verifiable information is currently available on the hypersonic weapons development of both these countries.
Australia
In July 2020, the Australian Government released two defense documents showing an investment of AU$9.3 billion ($7.1 billion) in hypersonic weapons and further development of capabilities such as the air defense system and directional energy.
The 2020 Defense Strategy Update and associated Force Structure Plan will oversee funding to develop breakthrough weapons technology. The effort follows a commitment of A$730 million in an earlier white paper to research into targeted science and technology, including hypersonic weapons, advanced sensors, and pinpoint directed-energy weapon.
The Australian Defense Strategy update also notes that previous defense planning does not provide adequate assurance that Australia will come out on top in a modern conflict.
Although the Australian Government still considers the prospect of high-intensity conflict in the region unlikely, it also notes that the opportunities are less now than five years ago, including conflict between the US and China.
Reduced warning times, coupled with the perception that Australia no longer has the power to choose when or where military action occurs, are driving future weapons requirements such as detection and response, rapid threat response as well as greater response capacity.
In fact, Australia has been conducting research on supersonic aircraft for several years, most notably through the Hypersonic Vehicles Research Experiment (HIFiRE) Program. The program is a collaboration between the government's Defense Science and Technology Group, the University of Queensland, the US Air Force Research Laboratory and industry partners such as BAE Systems and Boeing.
Meanwhile, Australian defense company Electro Optic Systems has more than 35 years of experience in using lasers through so-called spatial domain awareness services, providing tracking in space for Australia and other countries. Allies are also developing a scalable, directed energy countervailing UAV weapon for the Australian Defense Force, initially based on a 26-kilowatt continuous wave laser. This weapon is expected to enter service at the end of 2021.
Pakistan
In October 2020, outgoing Navy Commander Zafar Mahmood Abbasi revealed plans to equip future warships with P282 hypersonic missile and directed-energy weapons systems. "The ship-based, long-range, anti-ship and land-attack P282 ballistic missile is under development," Zafar Mahmood Abbasi said
Later, Pakistani defense officials always refused to answer questions related to this issue. However, Mansoor Ahmed, a senior research fellow at Islamabad's Center for International Strategic Studies, believes these developments must be sensibly advanced for them to be revealed.
According to Mansoor Ahmed, hypersonic technology is part of Pakistan's defense focus. Earlier reports said Azeri's Barak-8 surface-to-air missile system – a weapon also installed on some Indian warships – shot down an Iskander tactical ballistic missile of Armenia in 2019, potentially leaving Pakistan's current arsenal of subsonic anti-ship missiles vulnerable.
Although Pakistan has purchased CM-302/YJ-12 supersonic anti-ship missiles for its Type 054A/P frigates, the P282 hypersonic missile will allow Pakistan to "take short cuts" to a similar level of capability like India.