According to recent media reports, India armed force will receive S-400 air defense missiles from Russia by the end of this year; What's special is India's S-400, which has a range nearly twice that of its Chinese rival's S-400.
According to sources, New Delhi will receive the first batch of Russian-made S-400 air defense missiles before December this year. This air defense system, which can be deployed in the eastern highlands of Ladakh, bordering China.
Despite being affected by the COVID-19 pandemic, it did not cause a delay in the delivery of Russia's  S-400 missiles to India. The first S-400 system, scheduled for delivery to the Indian army, is nearing completion.
Dmitry Sugayev, Director of the Russian Federal Service for Military-Technical Cooperation, said that the technical staff sent by India to train in Russia, on how to use the S-400 missile system, were proficient. the process of exploiting and using this air defense system. In the short term, India has not requested to order more S-400.
The developers of the Russian S-400, also fully believe in the system's ability to operate, in the highlands. After extensive tests, Russian experts say that the S-400 can be used well, in areas with altitudes above 3,000 meters, above sea level.
The Russian side claims that the system can provide 100% defense against the attack of enemy missiles and air targets; even in the highland terrain, with altitudes above 3,000m.
The deployment of the S-400 system, seen as a significant increase in India's defense power; especially in areas of the line of actual control (LAC), which are in high tension, with neighbors such as China and Pakistan.
S-400 is considered one of the most advanced air defense systems in the world; The system was developed by Russia's Almaz Central Design Bureau. NATO gave it the codename SA-21 Growler.
The radar of the S-400 system, can track aircraft from a distance of 600 km and can launch missiles to intercept targets from a distance of 400 km. The S-400 can shoot down fighter jets, drones, ballistic missiles, and even hypersonic weapons.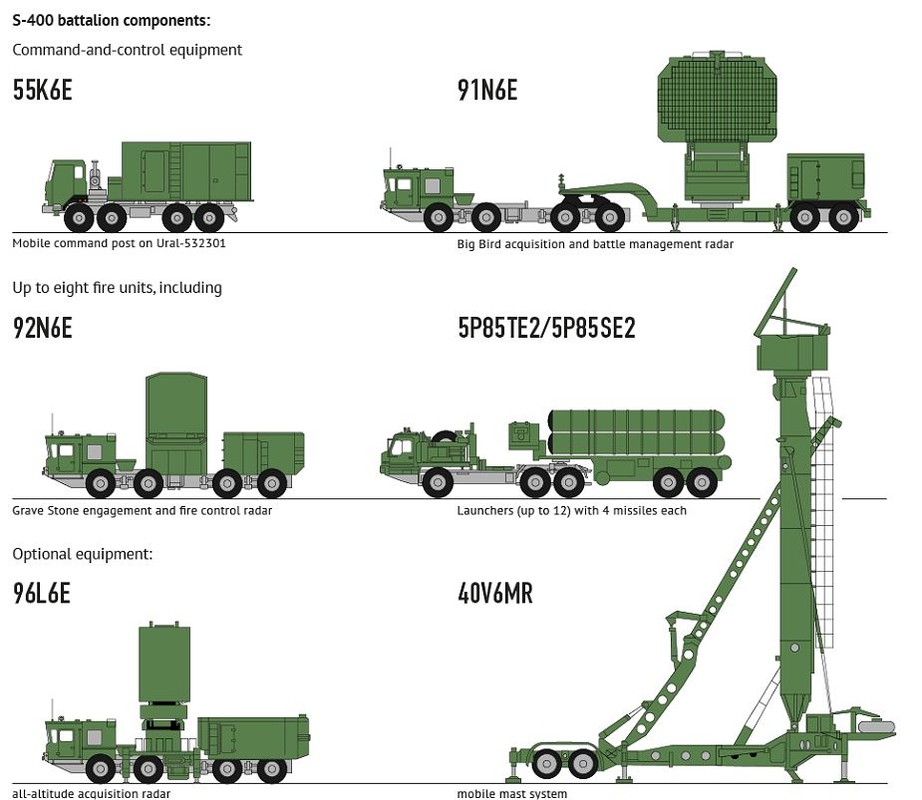 Each S-400 system consists of many components, including a long-range radar for tracking targets, a target acquisition radar, a command vehicle, multiple missile launchers, as well as grave stone engagement and fire control radar. technical guarantee, ammunition refueling vehicle.
The system can carry a variety of missiles to hit targets at different ranges. Although the specifications of the S-400 system, which Russia delivered to India, are still unclear; but each S-400 system that the Russian military uses, consists of at least 8 launchers and 32 missiles.
According to information, the S-400 system can shoot down B-1 and B-2 strategic bombers, airborne early warning aircraft, F-16 fighters and Tomahawk cruise missiles. Currently, the main aircraft of the Pakistan Air Force is the F-16.
The S-400 system has been in service with the Russian army since 2007 and is primarily responsible for protecting Moscow's airspace from air threats. In 2015, the S-400 system was deployed to Syria, to secure key facilities in Russia and Syria. In addition, Russia has deployed the S-400 system in the Crimean Peninsula.
India's neighbor China also bought the S-400 system, so what is the difference between the S-400 that China and India bought? According to Russian media, China has purchased six S-400 systems from Russia, but Russia has not sold 40N6E missiles which have a range of 400 km to this country. Even Russia has few no. of 40N6E missile in service and recently Russia started mass producing of 40N6E missile.
This means that theoretically, China's S-400 can only use missiles with ranges of 40 km, 120 km and 250 km; therefore China can only track and destroy targets within a radius of 250 km.
In 2018, India and Russia signed an agreement to buy five S-400 regiments for $5 billion. Each regiment will have a mobile command center, different types of radar and eight rocket launchers.
In total, India will have 5 mobile command centers, more than 10 radars and 40 launch vehicles. Each launcher can launch 4 missiles simultaneously, so India's S-400 can launch a total of 160 missiles at the same time.
Unlike China, India will receive missiles of the S-400 system with all ranges from Russia, that is, from 40 km to 400 km. Therefore, India's S-400 system can launch missiles with a range of 400 km, while its Chinese opponent is only 250 km, obviously India will gain a huge advantage