The Indian Navy had a few years ago expressed interest in the acquisition of 57 naval fighter aircraft for operations from its aircraft carriers, including the present INS Vikramaditya and the under-construction Indigenous Aircraft Carrier.
Currently, India operates just one carrier – a former Soviet vessel, Vikramaditya which embarks the MiG-29K fighters made by Russia. However, India's second carrier, the first to be built in the country, is underway and can be commissioned by March 2021.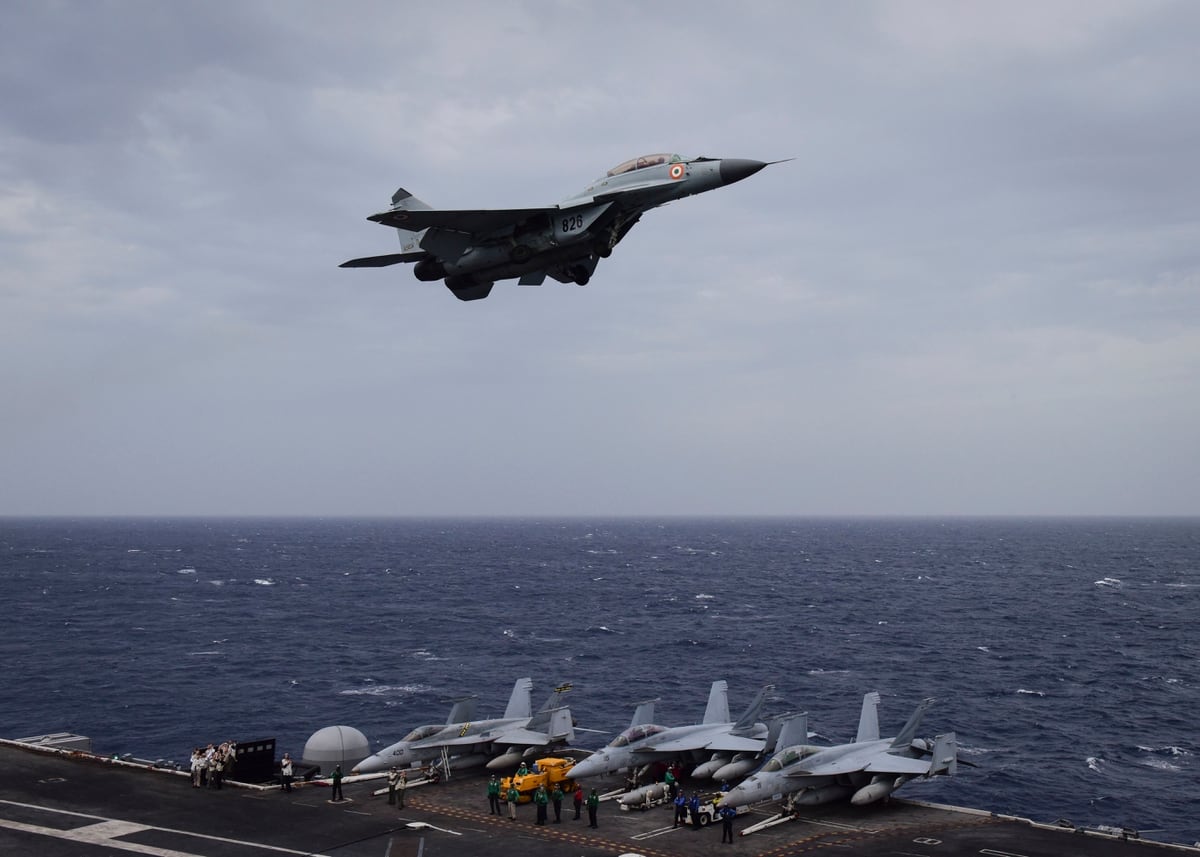 While Vikramaditya embarks a fleet of 45 MiG-29Ks, New Delhi wants to buy 57 new naval fighters to complement MiGs that would embark on the new indigenous carrier.
Indian Airforce deployed Tejas aircraft in Kashmir against Pakistan Jf-17
A few days back, the United States of America (USA) has offered its F-18 naval fighter jets for the Indian Navy's combat jets requirements for its aircraft carriers to develop further closer ties with India.
So the main question is should India buy F-18 super hornet block 3 for its navy or continue with the Russian Mig-29k deck fighter.
The U.S. has abruptly agreed to sell F/A-18 Super Hornet fighter jets to India to meet the demand for Indian aircraft carriers in exactly the same model as the U.S. Navy's active-duty aircraft.
Advantages
It can be operated from both land and sea
The GE engine is the same as the one we use on future Tejas aircrafts
One of the best air superiority aircrafts in its class
India – US relations
Cost-efficient – it is cheaper than Rafales
Having few good planes such as Rafales and F/A-18 is far better than having many old generation planes with poor serviceability. F/A 18 has one of the best service records
If India acquires F/A-18, both Pakistan and China airforces lose the debate of so-called "qualitative" and "quantitative" edge once and for all – India could easily establish air superiority with a formation of Rafales, Su-30s, and F/A-18s.
Easy maintenance compare to current Mig-29k
Low fight cost per hour
INDIA getting ready to meet 500 tanks of a new generation of Russian-made T-14 Armata
Disadvantages
The United States and India are helping each other in the current state, to counter threat from China. for example by buying more intelligence and weapons through military ties, so that some of India's own weapons and equipment can not be achieved by exporting equipment from US.
India's arms purchases from the U.S. are a bundle of interests that has squeezed Russia's market and between the big powers. So basically if India buy F-18 from USA it will surely effect the relationship between India & Russia.
It seriously affects the development of India's independent defense industry. Currently India working on many fighter aircraft for both Navy and airforce ,like Tejas mk2 , MWF , AMCA .
Either Indian airforce or Indian Navy don't have any experience on Us fighter aircraft , so may be India should not spent billions dollar on new aircraft.
It can also effect on India "make in India" programme , which can give serious injury to India own defence Industry.
Compare to Mig-29k the MiG-29's speed and the power of the AA-11 archer give it an advantage in a close-in dogfight, however, Hornet offers better situational awareness for the pilot which is key in combat.
India is yet to issue a tender and make a formal request as both Russia and the United States are close competitors yet again. As Vikrant is due to be delivered to the Indian Navy in the first quarter of 2021, it will be interesting to see who will India go ahead with.