In an unexpected development, the US may be using China's Type 055 destroyer as design inspiration for its upcoming New Generation Destroyer (DDG-X).
This January, the US announced the design of the New Generation Destroyer (DDG-X), which is intended to replace 22 Ticonderoga-class cruisers and older versions of the Arleigh Burke destroyer. The DDG-X stealth design will use integrated electric propulsion (IEP), which was previously used in the Zumwalt class destroyer.
This technology reduces detectable noise and vibration, increases uptime, and delivers more power to weapon systems. It will be fitted with larger variants of the AN/SPY-6 active electronically scanned array radar (AESA) – mounted on the latest Flight III Arleigh Burke class destroyers, with a hull designed to serve future sensor upgrades.
The DDG-X will initially be equipped with a 32-tube block of the Mk 41 Vertical Launch System (VLS), or a 12-tube block of a larger launcher for hypersonic missiles. This class of ships is also envisioned to be equipped with laser weapons.
Meanwhile, China's Type 055 missile destroyer is the largest surface warship built, 25% larger than the US Ticonderoga-class cruiser. It has the same stealth configuration as the DDG-X and is powered by a gas turbine and gas-powered propulsion (COGAG).
Type 055 is equipped with the Type-346B AESA radar, similar to the AN/SPY-6 on the Flight III Arleigh Burke destroyers.
Type 055-class ships are equipped with powerful weapons, with up to 128 VLS launchers arranged in two tunnels containing 64 tubes each, a 130 mm H / PJ-38 main gun, H / PJ-11 close-range weapon system 30 mm CIWS, Yu-8 anti-submarine missile and Yu-7 light torpedo launched from two torpedo tubes.
The striking physical similarities between the US design of the DDG-X and the Chinese Type 055 destroyer have led some analysts to comment that the US may be copying Chinese warships. In response, the US Navy has yet to comment on this speculation.
If true, this would mark a significant reversal from China's longstanding practice of copying other countries' weapon designs, and potentially leave the United States behind in the process weapon renewal.
China is said to have sought to obtain sensitive military technologies from abroad. Some of China's high-tech weapons bear striking similarities to their American and foreign counterparts, such as the J-20 and F-22, FC-31 and F-35, CH-4/CH-5 and MQ-9 Reaper Unmanned Aircraft, Y-20 and C-17 Globemaster III transport aircraft, or J-11 and Su-27 fighter jets.
Weapons with a Chinese "reference" element are often seen as inferior copies of the original foreign version. For example, China's fighter jet engines are said to be inferior to Russia's, which makes China dependent on Russia for jet engines to power powerful fighters. Jordan's sale of China-made CH-4 drones shows dissatisfaction with the aircraft's performance.
However, the similarities between the Chinese Type 055 destroyer and the US DDG-X destroyer design can be traced back to similar capacity requirements, thus resulting in similar designs.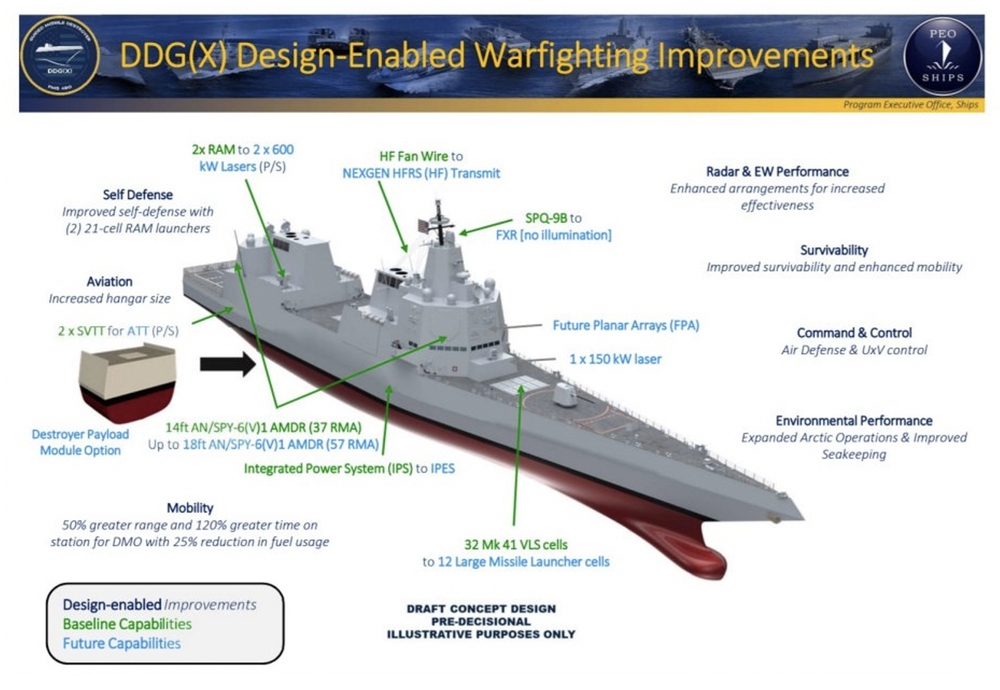 China and the United States' capability requirements for fleet air defense, surface warfare, and command and control at sea may form the basis of their respective design requirements for a large, heavily armed surface warship capable of operating in the flagship role.
But in some cases, the US may still be "in the hands" of China in the selection of foreign technology and design into its weapons. For example, the F-35B jet vertical take-off and landing (VTOL) incorporates technology from the Yak-38 and Yak-141 fighters that have operated on aircraft carriers since the Soviet era.
During their service life, the Yak-38 and Yak-141 had too many technical problems, due to their incomplete VTOL (vertical take-off and landing) technology. The breakup of the Soviet Union in 1991 deprived Russia of funds to further develop these experimental jets, leaving the Yakovlev manufacturer into bankruptcy.
However, in 1991 Yakovlev and Lockheed Martin signed an agreement to continue funding the Yak-141 prototype in exchange for limited design data and flight tests. This agreement was not disclosed until 1995.
Lockheed Martin was not interested in further developing the Yak-141, but the aircraft's rotating nozzle engine design and test flight data became a tool in the development of the F-35B fighter.
The success of the F-35B in US service may have prompted Russia to consider restoring and modernizing the Yak-141 design for its contemporary carrier operations.