Just a few days ago, it was reported that M109 howitzer sent by Norway put into combat duty but after few days after service it was completely destroyed by the Russian strike.
Videos released by Russia of strikes against Ukrainian M109A3GN self-propelled howitzer groups provide the most convincing evidence to date that Russia has destroyed some of the more important components of the military aid packages supplied by the West that have poured into Ukraine.
The video, which may have been taken by a drone flying overhead, shows what appears to be several American-made M109 series self-propelled howitzers spread across a patch of land in Ukraine. The Ukrainian armed forces reportedly received at least a batch of former Norwegian M109A3GN variants in May. In addition to Norway, the Netherlands, Italy and Belgium have supplied or indicated plans to supply other M109 models to Ukraine.
#Ukraine: A battery of three Ukrainian M109A3GN self-propelled howitzers was shelled with cluster munitions (likely 9M27K of BM-27 Uragan MRL) by the Russian army – one of the howitzers can be seen burning, thus highly likely destroyed, others may have sustained light damage. pic.twitter.com/TbcfIyHLmk

— 🇺🇦 Ukraine Weapons Tracker (@UAWeapons) June 7, 2022
Just the day before, on June 6, 2022, the Ukrainian General Staff also released a picture showing the Norwegian-aided U.S.-made M109A3 155 mm self-propelled howitzer, which was blown up on June 7.
Subsequently, what appeared to be Russian cluster munitions hit Ukrainian positions, causing mud and dust to gush out around the howitzers, one of which was later burned. It is unclear from the video whether the M109 itself is on fire, or whether the ammunition and propellant lined up behind one of the vehicles seen earlier in the footage are something that burns.
Ukrainian weapons tracker Twitter accounts believe that the Russian 220mm BM-27 multiple rocket launcher (MRL), which fired the 9M27K unguided cluster munition rocket, may have been responsible for the attack, but this has not been confirmed. Various cluster munitions or other Russian artillery systems can be used.
In any case, this only highlights how long-range artillery has taken center stage in the three-month conflict in Ukraine. Eastern Ukraine has been devastated by heavy artillery duels, leaving scars reminiscent of the no-man's land of world war I.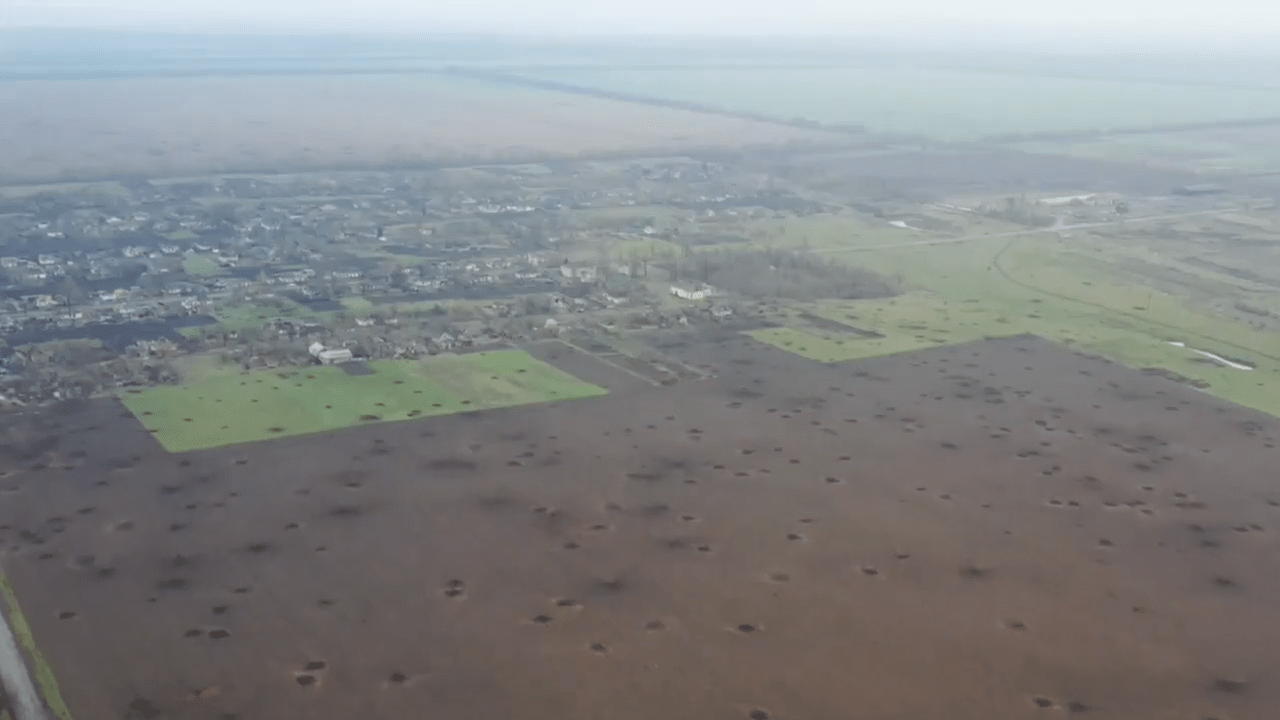 On Tuesday, Ukrainian artillery fire punched a hole in an apparent Russian ammunition depot in Zaporizhian Oblast, causing a huge explosion with dozens of rounds of ammunition fired indiscriminately in all directions.
As NATO countries argue about what kind of artillery to send to aid Ukraine's armed forces, both sides are trying to outdo each other. This recent strike on Ukrainian-equipped M109 forces highlights that many of the Western systems the country has recently received remain within range of hostile indirect firepower.
This reality was one of the factors that led the U.S. government to finally agree to send four sets of M142 mobile artillery rocket systems (HIMARS) and precision-guided 227 mm rockets to the Ukrainian army. The Germans and now the British have also announced plans (the M270 will be given to the Uk) and will also send a tracked rocket launcher system that can fire the same type of 227 mm ammunition. Warzone has previously delved into what these systems can and cannot provide for the Ukrainian armed forces in ongoing battles.
There are constant reports that the United States and other Western countries are considering further expanding the scope and scale of future military assistance programs to Ukraine, including possible armed drones and other higher-end weapons systems. Spain, for example, recently announced plans to supply Ukraine with the Leopard 2A4 tank, which could become the first modern Western main battle tank to enter the battlefield.
Spain plans to send its Leopard tank to Ukraine, which will be the first delivery to Kyiv of a Western-made main battle tank — if approved by Germany.