After suffering some doubts about its combat performance, the Bayraktar TB2 Ukraine UAV immediately made an impressive performance.
The Bayraktar TB2 Ukraine UAV successfully destroyed a fairly large number of Russian combat vehicles, air defence system, cargo trains partly dispelling doubts about its performance after the first few days of the outbreak of the war.
As is known, Ukraine's Bayraktar TB2 drone has received great expectations when confronting the Russian Army after an extremely convincing performance in the battlefields of Syria, Libya, and especially Karabakh.
Ukrainian TB2 drone strike against a Russian fuel train #Ukraine #UkraineRussiaWar #RussiaUkraine #Russia #TB2 pic.twitter.com/JEjVMH3LZk

— The foxbat (@IndiandefenceNS) March 1, 2022
However, during the first three days of battle, this UAV remained mostly silent, but now suddenly Tb2 make noise about its presence in warfare, it had launched a sufficiently significant strike on the Eastern separatists or the Russian Army.
The explanation given is that the Russian Army has the ability to control the sky, plus powerful electronic warfare systems capable of neutralizing the Ukrainian drone. However, when Russian armored convoys poured in in large numbers in the second phase of the offensive instead of favoring the use of paratroopers and special forces as in the past few days, Bayraktar TB2 face a number of opportunities.
With a large and spread armored formation, it is difficult for Russia to focus on protecting the ground forces closely with weapons and anti-UAV weapons as easily as in the first days.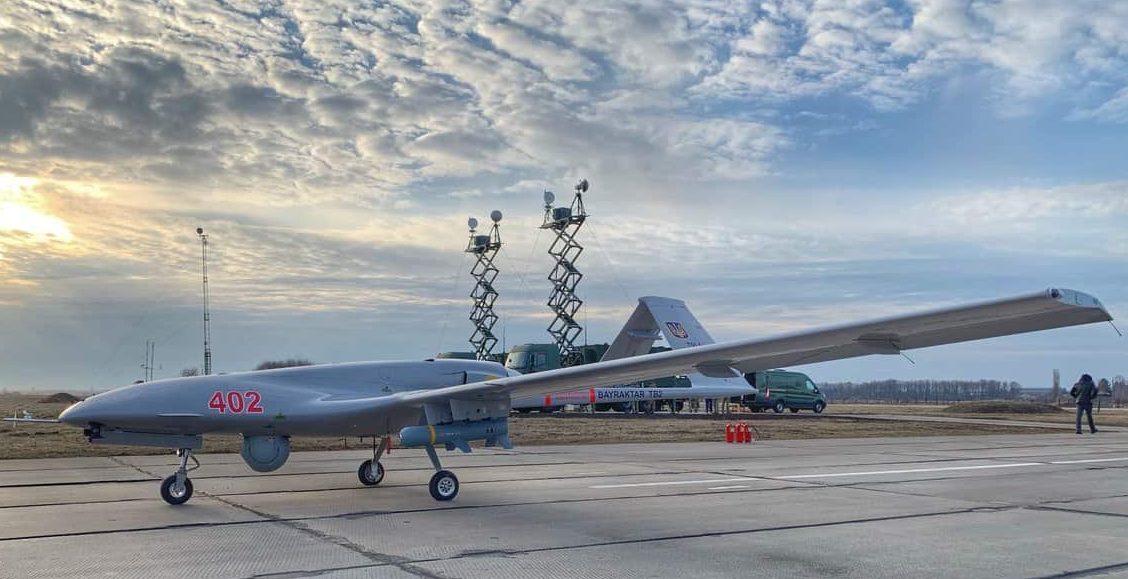 In addition, the Ukrainian Army has also studied quite well Russia's tactics and operational formations to adjust its fighting method for its Bayraktar TB2 UAV. Also Ukrainian armed forces getting lots of info from US and NATO of pin point location of Russian armed forces
Not long to wait, the Ministry of Defense of Ukraine has just released a video showing the Bayraktar TB2 successfully conducting a raid on a Buk-M2 anti-aircraft missile unit and destroying a self-propelled launcher.
This feat is considered very special, because the Buk-M2 is being evaluated by Russia as the most effective anti-UAV weapon Bayraktar TB2, based on what the Syrian air defense has shown in the Idlib offensive campaign.
Not stopping here, Kiev also published a detailed list of objects that were confirmed to have been destroyed by Bayraktar TB2 drones on Ukrainian territory. This list includes only those vehicles with photographic or video evidence.
Specifically, it is for 152 mm two A65 Msta-B towed cannons, one 9A310M1 TELAR self-propelled launcher and one TEL 9A39M1 loader and launcher vehicle of the Buk-M2 army air defense missile complex, 1 complex Tor-M2 low-altitude air defense missile.
In addition, the damage of the Russian Army from the attack of the Bayraktar TB2 Ukraine UAV also included 1 KamAZ 6×6 off-road truck, 4 KamAZ-6530 8×8 artillery trailers, 1 refueling tank truck and 8 trucks carrying unspecified goods.
In an effort to keep it secret, very little footage of the Bayraktar TB2 attacks on Ukrainian territory has been released. Therefore, the amount of equipment destroyed by this UAV could be significantly higher than that noted above. The list will be updated as more authentic footage becomes available, or at least affirmations from witnesses present at the scene.
With reality happening, it is too early for Russia to overlook the powerful Bayraktar TB2 UAV in the combat component of the Ukrainian Armed Forces.
Russian Tor missiles destroyed the Turkish-made Bayraktar TB-2 drone. pic.twitter.com/Ig8CsXtpyG

— The foxbat (@IndiandefenceNS) March 1, 2022
However in the above video, you can see Russian Tor missiles destroyed the Turkish-made Bayraktar TB-2 drone. But Moscow need a solid countermeasure against Tb2 UCAV to protect its groud forces.