According to Kenneth Willsbach, commander of the US Pacific Air Forces Command, the US F-35 stealth fighter has recently "encountered" with the Chinese J-20 stealth fighter in the East China Sea.
A top US Air Force (USAF) general says that Lockheed Martin F-35s have had at least one encounter with Chengdu J-20s, and that the Shaanxi KJ-500 airborne early warning and control (AEW&C) aircraft has a key role in long-range air-to-air kill chains.
USAF General Kenneth Wilsbach, Commander, Pacific Air Forces did not, however, divulge when the F-35/J-20 encounter took place, or if there have been more than one. He also touched on the role of the new Chinese fighter.
"It's a bit early to say what they intend to do with the J-20, so really all we've seen it do is air superiority," he says.
"But we notice that they are flying it pretty well. We recently had – I wouldn't call it an engagement – where we got relatively close to the J-20s along with our F-35s in the East China Sea, and we're relatively impressed with the command and control associated with the J-20."
Wilsbach made the remarks during a discussion posted on the YouTube channel of the Mitchell Institute for Aerospace Studies.
"We're seeing relatively professional flying and it's still too early to tell exactly what they intend to do with [the J-20] – whether it's going to be more like an F-35 that's capable of doing many, many missions or more like an F-22 that is primarily an air superiority fighter that has an air-to-ground capability."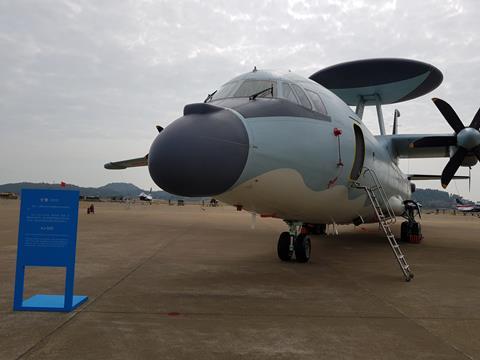 Wilsbach also touched on the KJ-500, which in recent years has emerged as China's key AEW&C platform.
Powered by four turboprops, the KJ-500 is based on the Y-9 tactical transport. The aircraft carries a three-panel active electronically scanned array radar in a fixed radome above the fuselage. This is understood to provide 360° radar coverage.
"The KJ-500 plays a significant role in some of their capability for long range fires," says Wilsbach.
"Some of their very long range air-to-air missiles are aided by that KJ-500. Being able to interrupt that kill chain is something that interests me greatly."
China's PL-15 long range air-to-air missile is understood to have a range in excess of 107nm (200km). The radar-guided weapon is carried by types such as the Chengdu J-10C, Shenyang J-11B, J-15 and J-16, Islamabad's Pakistan Aeronautical Complex JF-17 Block 3, and the J-20.
Wilsbach's remarks hint that the KJ-500 may identify and assign targets for Chinese fighters, which can then launch the active radar homing PL-15 from great stand-off distances.
It is not surprised that both country's advamced fighter meet each other in air beacause according to previous reports, J-20 fighter jets have been deployed in the eastern theater of the PLA, so the possibility of such stealth fighter jets appearing in the East China Sea does exist. The U.S. Air Force's F-35A and Marine Corps' F-35B fighter jets have also been deployed in Japan. The Japan Air Self-Defense Force announced on the 15th that it both Japan and U.S. Air Force each dispatched F-35A stealth fighter jets to conduct a confrontational exercise over the Sea of ​​Japan west of the Misawa base in Aomori Prefecture.