A Russian Iskander tactical ballistic missile destroyed a Ukrainian 9K37 Buk air defense system near Kyiv.
The Russian Defense Ministry issued the latest announcement on the special military operation in Ukraine. Over the past day, the Russian armed forces have hit at least 117 military targets.
The ministry also released a video showing the Russian military destroying a Ukrainian Buk air defense system near Kyiv with an Iskander tactical ballistic missile.
A Russian Iskander missile destroyed a Ukrainian 9K37 Buk air defense system near Kyiv. #UkraineWar #RussiaUkraineWar pic.twitter.com/bzK0odfYOW

— The foxbat (@IndiandefenceNS) March 27, 2022
Ukraine's Buk system can be seen crumbling after a large explosion, smoke and flames rising, debris scattered everywhere. The 9k37 Buk missile system was destroyed during Russia's special military operation in Ukraine.
The Russian military is still advancing, while the forces of the self-proclaimed Donetsk and Lugansk People's Republics (DPR, LPR) have repeatedly gained more control and tightened the siege, determined to wipe out Ukrainian extremists in the strategic port city of Mariupol in southern Ukraine.
Along with the S-300 long-range missile, the Buk medium-range missile systems are acting as pillars of Ukraine's air defenses. Besides Su-27, MiG-29, Su-25 fighters. These Ukrainian anti-aircraft missile systems are being hunted down and destroyed by Russia every day in order to wipe out the sky.
What's so special about the Ukrainian Buk missile?
The Buk anti-aircraft missile system is designed for air defense missions that protect ground combat forces and infrastructure in all weather conditions and combat times.
Buk can disrupt large-scale air attacks, using electronic suppression and strong anti-aircraft suppression due to high-speed tactical and strategic aircraft currently or will be equipped, helicopters maneuvering or hanging on the spot.
In addition to the main task of effectively destroying aircraft, helicopters, UAVs, the Buk is also capable of intercepting tactical ballistic missiles and air-launched cruise missiles conducted by the enemy, as well as being capable of destroying ground and water targets with electromagnetic radio reflectivity.
The system configuration (Buk-M1-2 version) includes: Combat equipment and Combat Equipment Kit.
Standard combat equipment includes:
• 9S470M1-2 command vehicle;
• 9S18M1-1 reconnaissance station vehicle;
• Up to 6 self-driving pedestal vehicles 9A310M1-2;
• Up to 6 9A39M1 ammunition pedestal vehicles for backup launch and resupply for pedestal vehicles;
• Up to 72 9M317 anti-aircraft missile projectiles on self-propelled platforms (each carrying 4 rounds) and ammunition trucks (each carrying 8 rounds, of which 4 are awaiting launch on backup launchers).
The kit serves to fight and repair the combat equipment and wheel combat vehicles of the system.
For every four Buk-M1-2 anti-aircraft missile systems will be equipped with the following combat equipment:
• The kit ensures engineering, repair, inspection and synchronous status assessment for all components of the system;
• The set of equipment for transporting, unloading and temporarily storing missile ammunition;
• Combat training equipment;
• Spare parts and spare parts for all components of the system.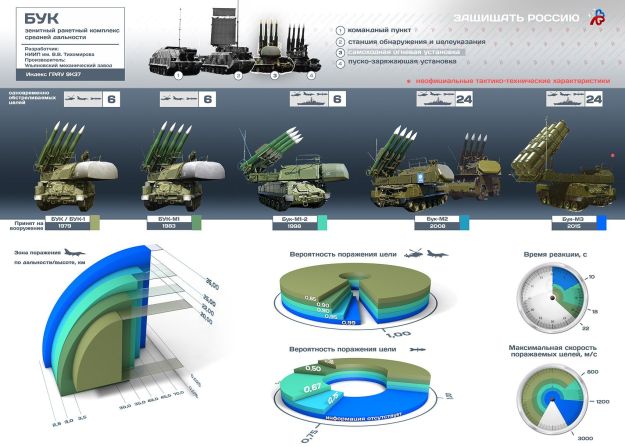 Basic specifications:
Maximum target detection distance (km): up to 160;
Air flight targeting area (km): Range: from 3 to 42; Altitude: 0.015 – 25;
Area of fire to destroy ballistic targets (km): Range: up to 20; Altitude: up to 16;
Maximum range of fire against other types of targets (km): Cruise missiles and anti-radar missiles: up to 20; Ground targets reflect radio waves from: up to 15; Water surface targets the size of small missile ships and destroyers: up to 25; Maximum speed of the target being fired (m/s): 1,200;
Warhead mass (kg): 70;
Maximum overload of bullets (g): up to 30;
The number of self-propelled pedestal vehicles is synchronized and the target is simultaneously fired: 6;
Firing readiness time from the time of detection of the target (seconds): 18;
Deployment time – recovery of equipment (minutes): 5