Recently reports emerged that a customized variant of Dhruv Mark-III for Indian Coast Guard (ICG) and Indian Navy (IN) completed its special package integration. In 19 April this month Indian navy officially induct HAL Dhruv MK3 variant into Indian Naval Air Squadron (INAS) 323. The Indian Navy and the Indian Coast Guard have been using the older Dhruv MK-I variants. On the other hand, the Indian Army and the Indian Air force have been using the more advanced Dhruv MK-III and Rudra; which is the armed variant of Dhruv. These reports also state that HAL consulted ICG on all the modifications on this aircraft. It is also reported that the current identification of the helicopter will be Maritime Reconnaissance and Coastal Security ALH (MRCS).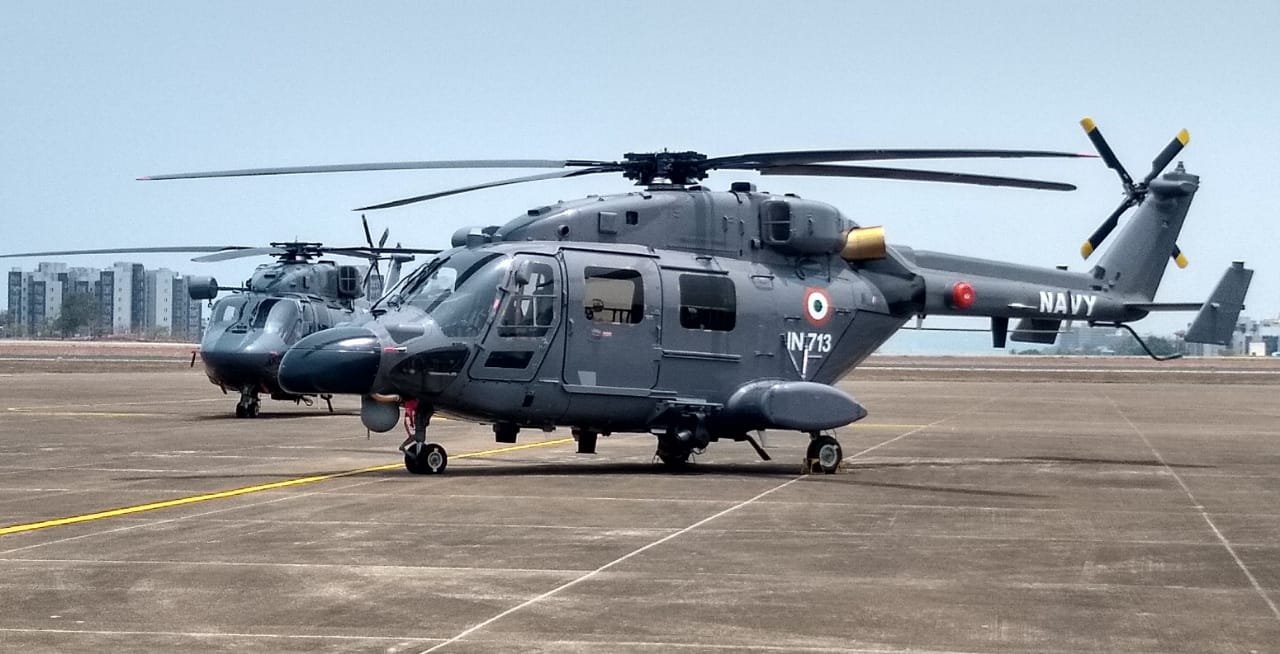 The whole thing started in March 2017 when HAL signed a deal worth of 5126 crores for supplying 32 ALH (fixed wheel version) to ICG in a time span of five years. This was as a part of boosting the low-intensity maritime operations and coast security capabilities. The basic helicopters were then transferred to Rotary wing R&D center, HAL for the integration of proposed 19 systems. After the initial order of 32 by ICG, Indian navy gave a follow-on order of 16 to support its ageing Chetaks.
Dhruv-III Updates
In addition to different sensor systems, the updates include HAL's Integrated Architecture System (IADS). This is a full glass cockpit system. Also, it has powerful Shakti engines. These helicopters were handed over to RWRDC and they have completed the integration within two years.
According to reports, updates also include 270 degree surveillance radar on the front that can detect and track multiple marine targets, synthetic aperture radar and inverse synthetic aperture radar.
Other Features
Along with the mentioned features, Dhruv Mark-III also comes with the features listed below.
Multi-spectral electro-optronic pod for reconnaissance, surveillance, target acquisition and range finding along with stowable control grip.
Removable medical Intensive care unit (MICU) for air ambulance roles.
High intensity search light for coast search operations.
Loud hailer on the starboard side of the helicopter.
12.7 mm machine guns.
Traffic alert and collidance avoidance systems.
V/UHF communication systems with system data and data modem.
Identification friend and foe (IFF) with mode S transponder.
Automatic identification system.
Automatic deployable emergency location transmitter.
Solid state digital video recorder.
Pressure refueling system.
360-degree search and rescue homer covering a range of 110-420 Mhz.
Electrical rescue system winch with rescue basket upto 250 kilo load.
Control grip in cabin for air-sea rescue.
Automatic flight control system (AFCS) with IADS as mentioned above.
The Verdict
All these upgrades makes the Dhruv Mark-III a very capable helicopter. The Indian navy needs more of this kind to replace their aging Chetak helicopters. Importance of these upgrades is that these types of systems are only present in heavier multi-role helicopters of the Indian navy. There are reports that the maximum certified all-up weight (AUW) of the MRCS variant is now 5750 kg. Previously it was 5500 kg. Do not confuse this program with the Navy's NUH program. The NUH program is driven by the under 4.5 ton category and these helicopters can only be seen as a stop-gap replacement for the age old Chetaks.
Apart from all these improvements, 6 out of the 16 helicopters ordered by ICG will come equipped with state-of-the-art indigenous low frequency dunking sonar (LFDS). This was developed by Kochi-based Naval Physical and Oceanographic Laboratory (NOPL). In addition, state owned entity BEL will also produce this.