Ten years ago, China didn't have any aircraft carriers in service. Now it's building its 3rd at the Jiangnan shipyard in Shanghai. This is part of a massive modernization and expansion of naval capabilities.
China's navy, the PLAN (People's Liberation Army Navy), has always been large. But for many years it was far behind Russia, India and the West in terms of both quality and core capabilities. That is changing due to a massive construction program. Large destroyers, frigates and amphibious ships have been multiplying at an incredible rate. And the new Chinese carriers are getting bigger and more potent with each ship. The first two were smaller than U.S. carriers at around 67,500 tons, and feature a raised 'ski-jump' bow to launch their fighter jets. This new ship is expected to be much larger and will replace the ski-jump with an electromagnetic catapult.
The construction progress of the 003 aircraft carrier has shown a new picture. The second domestic aircraft carrier is obviously more interesting than the first. The "conventional power + electromagnetic catapult" is not only world first, but also makes the Chinese navy truly have the "Ocean Aircraft Carrier". "Full-load takeoff + fixed-wing early warning aircraft" indicates that PLA navy is fully capable of achieving global deployment and strategic deterrence.
Compared with the previous pictures (missing the bow), the biggest change of 003 is that the upper layer of the tail section is significantly wider and the thickness is also increased.
The widened part is understandable, it belongs to the part that floats outside the aircraft carrier, so the thickened part should be the main cabin and hangar of the ship hull. We can assume the majesty of the 003 aircraft carrier from the floating hull of the Shandong ship and the thickness of this part. However, the 60,000-ton aircraft carrier is still incomparable with the nearly 90,000-ton aircraft carrier. According to experts, in the future, 003 will be several thousand tons larger than its shown in public.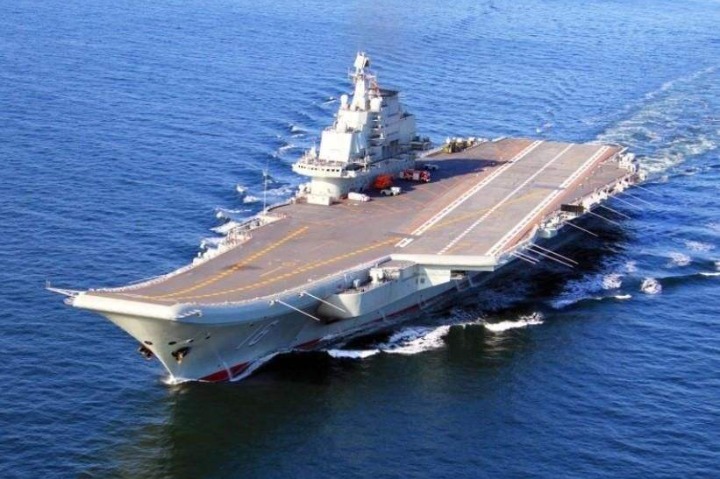 The subsequent construction of the 003 aircraft carrier will be the assembly of the main body of the cabin and the floating hull. These sections have also been built in advance using modular construction technology and placed on the right side of the dock.
According to this current progress, we can assume the complete hull structure of the 003 aircraft carrier in November will be complete. It would be an unexpected surprise if the flight deck could be laid before the end of the year.