Indian Air Force is counted as 4th strongest Air Force in the World and most powerful in South Asian region comprising more than 550 Fighter jets in the inventory. It is also one of the most battle-hardened Air Force in the world with aggressive training and combat sorties undertaken regularly.
In present world, there are more than 30+ Flanker (Su-27 and Su-30 variants) servicing in different countries. However Indian variants Su-30 are better than other variants of the Flanker family except the new Su-30SM variant of Russian air force. So what makes the Su-30MKI better and more capable fighter than other flanker versions like Chinese MKK, Malaysian MKM etc.
The Su-30MKI fighter (NATO codename: Flanker-H) is a multi-purpose two-seater fighter developed by the Russian Sukhoi Company. This type is developed from the Su-30 "M" fighter, which is mainly produced and used by Russia and India. Su-30MKI currently serves the Indian Air Force and is the main fighter of the Indian Air Force.
Better Design
Su-30MKI aerodynamic configuration is a longitudinal triplane with relaxed stability. The canard increases the aircraft lift ability and deflects automatically to allow high angle of attack (AoA) flights allowing it to perform Pugachev's Cobra. The integral aerodynamic configuration combined with thrust vectoring results in extremely capable manoeuvrability, taking off and landing characteristics. This high agility allows rapid deployment of weapons in any direction as desired by the crew. The canard notably assists in controlling the aircraft at large angles-of-attack and bringing it to a level flight condition.
The visual differences from basic Su-27(red marks) and predecessor – Su-30MK(green marks):
IR sight moved to right side of canopy(1)
Refueling system is installed(2)
More advanced avionics and cockpit instruments(3)
Two-weel nose gear(4)
Trainer seat replaced by the operator equipment(5)
Canard foreplanes(6)
Larger tail-planes(7)
Thrust-vectoring control engines(8)
The Su-30MKI aircraft incorporates an aerodynamic airframe made of titanium and high intensity aluminium alloys. The twin stabilisers and horizontal tail consoles are joined to tail beams. The semi-monocoque fuselage head includes the cockpit, radar sections and the avionics bay. The section between the engine nacelles houses the equipment bay, fuel storage and the brake parachute mechanism. The aircraft has a length of 21.9m, wingspan of 14.7m and a height of 6.4m. The maximum take-off weight of Su-30MKI is 38,800kg.
Better Avionics
The tandem glass cockpit of the Su-30MKI accommodates two pilots. The forward cockpit is equipped with an integrated avionics suite incorporating Isareli Elbit Su 967 head-up display (HUD), seven active-matrix liquid crystal displays (AMLCD) and primary cockpit instrumentation from Thales. The Indian Su-30MKI aircraft are equipped with multifunction displays (MFD) supplied by Indian Samtel Display Systems. A large monochromatic display screen installed in the rear cockpit provides air-to-ground missile guidance.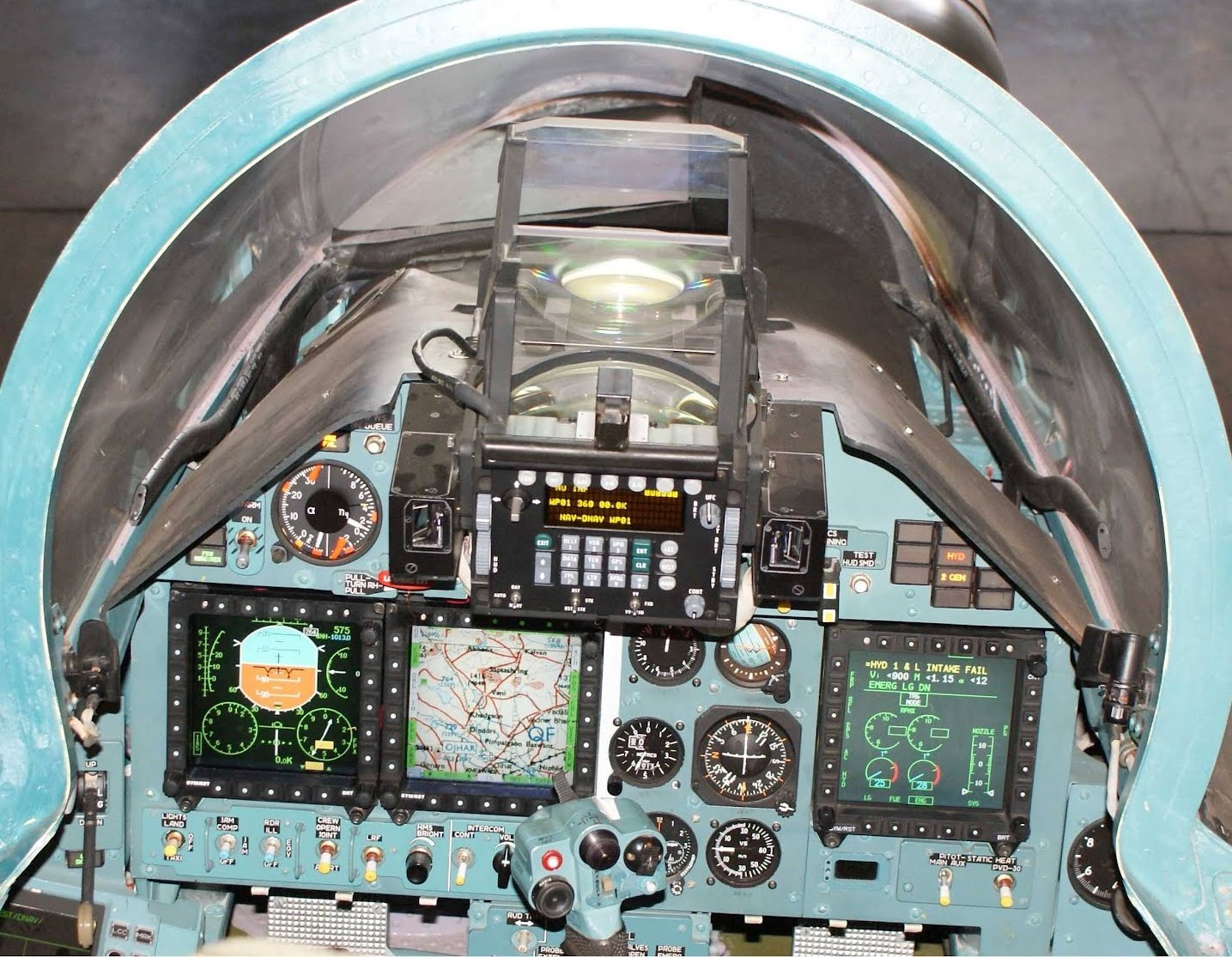 The aircraft has a fly-by-wire (FBW) with quadruple redundancy. Dependent on flight conditions, signals from the control stick position transmitter or the FCS may be coupled to remote control amplifiers and combined with feedback signals from acceleration sensors and rate gyros. The resultant control signals are coupled to the high-speed electro-hydraulic actuators of the elevators, rudders and the canard.
Better Radar
The Su-30MKI is also equipped with a N011M passive electronically scanned array radar.  NIIP NO11M Bars (Panther) is a powerful integrated radar sighting system. The N011M is a digital multi-mode dual frequency band radar (X and L Band, NATO D and I). The N011M can function both in air-to-air and air-to-land/sea mode simultaneusly while being tied into a high-precision laser-inertial / GPS navigation system. It is equipped with a modern digital weapons control system as well as anti-jamming features.
N011M has a 400 km search range and a maximum 200 km tracking range, and 60 km in the rear hemisphere. A MiG-21 for instance can be detected at a distance of up to 135 km. Design maximum search range for an F-16 target was 140-160km and can detect Su-27 fighters at a range of over 330 km.
The radar can track 20 air targets and engage the 4 most threatening targets simultaneously. These targets can include cruise/ballistic missiles and even motionless helicopters. For comparison, Phazotron-NIIR's Zhuk-MS radar has a range of 150-180km against a fighter and over 300km against a warship. "We can count the number of blades in the engine of the aircraft in sight (by the NO11M) and by that determine its type," NIIP says.
The Su-30MKI can function as a 'mini-AWACS' and can act as a director or command post for other aircraft. The target co-ordinates can be transferred automatically to at least 4 other aircraft. This feature was first seen in the MiG-31 Foxhound, which is equipped with a Zaslon radar.
The N012 tail warning radar has been reported to be part of the Su-30MKI suite and is offered as a retrofit to other models.
Su-30MKI also equipped with OLS-30 laser-optical locator system. OLS-30 laser-optical locator system to include a day and night FLIR capability and is used in conjunction with the helmet mounted sighting system. The OLS-30 is a combined IRST/LR device using a cooled, broader waveband, sensor. Detection range is up to 90 km, whilst the laser ranger is effective to 3.5 km. Targets are displayed on the same LCD display as the radar.
For Electronic Warfare, it is equipped with Indigenous Radar Warning Reciever (RWR), "Tarang". Israeli Elta EL/M-8222 is used as primary self-protection jammer of Su 30MKI that enables incredibly robust capability when it comes to evading, degrading, spoofing and blinding enemy surface to air missile and search radar installations.
Targeting Pod
Rafael Litening III Advanced Airborne Targeting Pod
Litening Airborne Day/Night Navigation & Targeting Pod provides precision strike capability to every fighter aircraft.
reduces pilot workload during the process of targeting maintenance target
Sighting system of high accuracy and reliability
reduces operational limitations
simple maintenance and support
low maintenance cost
potential upgrade
upgrades available for aircraft with multi-mission capability
Adaptable on most aircraft
detection, recognition, identification, laser designation of targets on land or sea
Release accurate ammunition laser-guided enema and general purpose weapons.
identification of air targets beyond visual range (BRV)
option for data link and long-range video
Su-30mki can be equipped with DARE's High Band Jammer (HBJ) pod, it has three major systems: the integrated EW suite, the active array phased transmit-receive unit and the cooling system.
SIVA IMR pod: the SIVA IMR pod is something similar to the ELTA Systems-developed ELM-2060P radar targetting pod, and it will be used for location of static ground targets/installations. The fact that the DRDO's PJ-10 Project Office is the nodal agency for developing the IMR pod indicates that this pod will be used in conjunction with the BrahMos-NG (previously known as BrahMos-Mini) air-launched supersonic cruise missile.
The aircraft is fitted with a satellite navigation system (A-737 GPS compatible), which permits it to make flights in all weather, day and night. The navigation complex includes the high accuracy SAGEM Sigma-95 integrated global positioning system and ring laser gyroscope inertial navigation system.
Better Engine
The Su-30MKI is powered by two Al-31FP turbojet engines. Each engine generates a full afterburn thrust of 12,500kgf. The power plant, equipped with thrust vector control, provides a maximum speed of Mach 1.9 in horizontal flight and a rate of climb of 300m/s.
The nozzle of the engine can be adjusted 15 degrees upwards and downwards, so that Su-30MKI can perform many difficult high-altitude actions and become one of the ultra-mobile fighters.
The new 117S AL-41F1S engine thrust has been increased by 16% (up to 14500 kgf) compared to the base AL-31FP engine, the ultimate life has been increased twice (up to 4 000 hours), keeping the same weight and overall dimensions. Such high parameters are attained thanks to application of:
• new high-tech LP compressor with increased air consumption and efficiency
• high efficiency turbine with increased reliability and improved blade cooling system
• new digital engine control system integrated to aircraft flight control system
Can carry Russian, Indian and Israel weapons
Su-30MKI is the only fighter aircraft in the world after Tejas that can carry and fired Russian, Indian, and Israeli weapons. Su-30 MKI can fire Russian R-77, R-27, R-73 AAM while Agni series AAM from India and I-Derby ER and MICA AAM from Israel.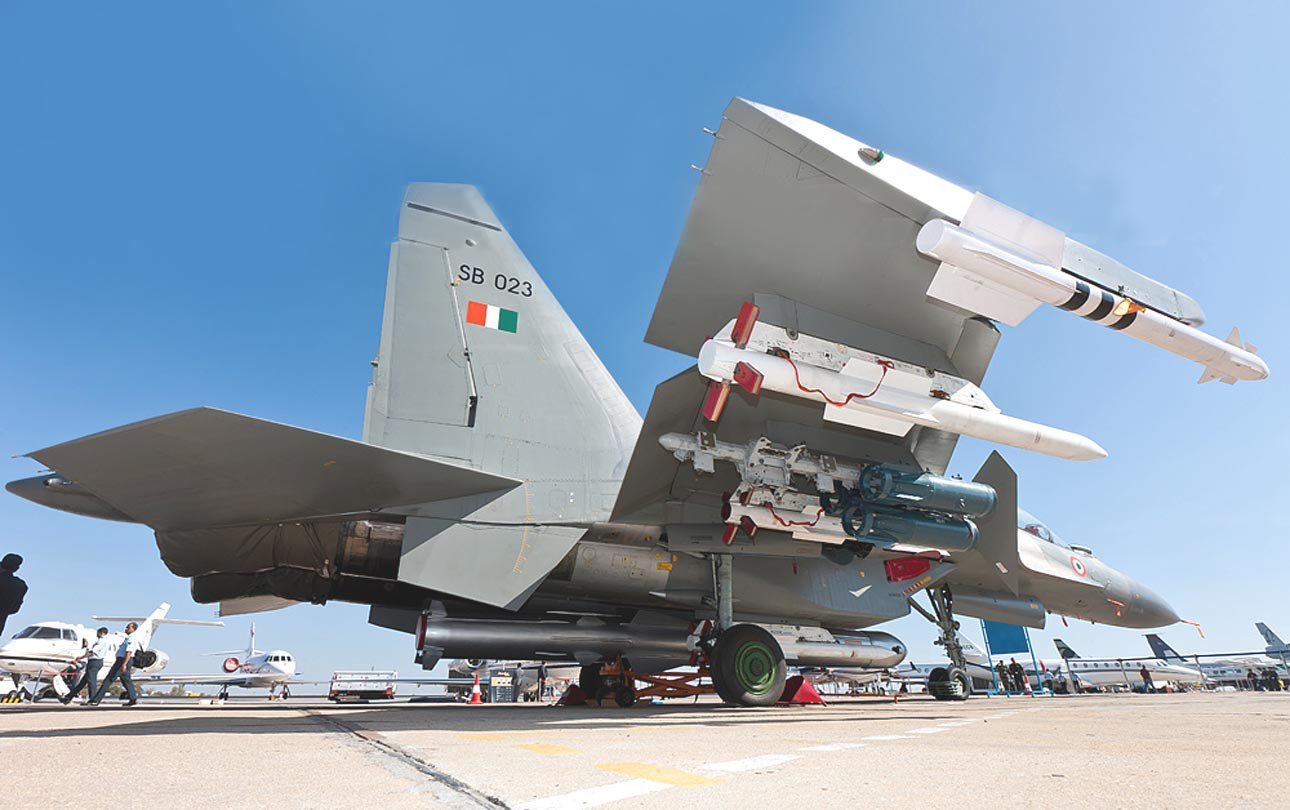 The Su-30MKI also can fire cruise missiles and anti-ship missiles like the Brahmos cruise missile, KH-59, and Kh-29 missile also it can fire anti-radiation missile-like Rudram and Kh-31P missiles, while it can no, of different types of Bombs both guided and non guided.
Su-30MKI fighter is a Su-30 fighter designed by Sukhoi in accordance with Indian requirements and conditions. It uses many advanced technologies, especially thrust vector engines, passive electronically scanned array radars, etc. The German Industrial Survey magazine even commented that the Su-30MKI is the best fighter bomber in the world.