Since the 1960s, India has purchased most of its weapons from USSR or Russia, and weapons systems such as the Mi-4 helicopter, the T-55 tank and the R-2 anti-ship missile have played a crucial role in India's military conflicts.
As alliances changed in the post-Cold War era, USA actively courted India as part of efforts to balance China's growth as a superpower. This led India to purchase U.S. military systems such as P-8i Poseidon maritime patrol aircraft and Apache attack helicopters, Chinook heavy-lift helicopter etc.
In addition, India has abandoned an ambitious program to jointly develop an Indian version of the Russian Su-57 stealth fighter in 2018. Moscow has also announced a new readiness to export weapons to rival India. And after Crimea's return from Ukraine in 2014, Washington passed the CAATSA (Countering America's Adversaries Through Sanctions Act), which threatens sanctions against countries that make large military purchases from Russia.
But despite these negative factors and the Modi administration's insistence that foreign imports come with an internal manufacturing component on Indian soil, in reality, Russia remains India's dominant arms supplier in the 2020s, accounting for 62 percent of Indian arms imports in the previous five years.
In the first nine months of 2019 alone, India spent a record $14.5 billion on Russian weapons, with many deliveries and financial expenses continuing into 2020. In addition, India has also entered into an agreement with Russia allowing it to license the production of spare parts for Russian systems.
So, if we borrow a battered expression, the reports of the decline of the Indo-Russian arms trade were greatly exaggerated. While the accompanying part is considering the Indian Air Force's recent purchases of MiG-29UPG and Su-30MKI aircraft and S-400 surface-to-air missiles.
Here are some major new purchases by the India armed forces-
AK-203 assault rifle
In 2019, India also established a joint venture with Kalashnikov (50.5% Indian/49.5% Russian) to produce a huge 750,000 AK-203 assault rifles. 100,000 will be produced in Russia, and the rest will come from a new plant in Uttar Pradesh. These are mostly upgraded AK-74s with improved ergonomics and component support. They will replace the native Indian rifles "INSAS" and other Ak variants.
Curiously, the Indian Army has previously announced that it is looking for rifles that use NATO rounds of 7.62×51 millimetre caliber with greater long-range accuracy and striking capability than the 7.62×39 mm ammunition used by the AK-203.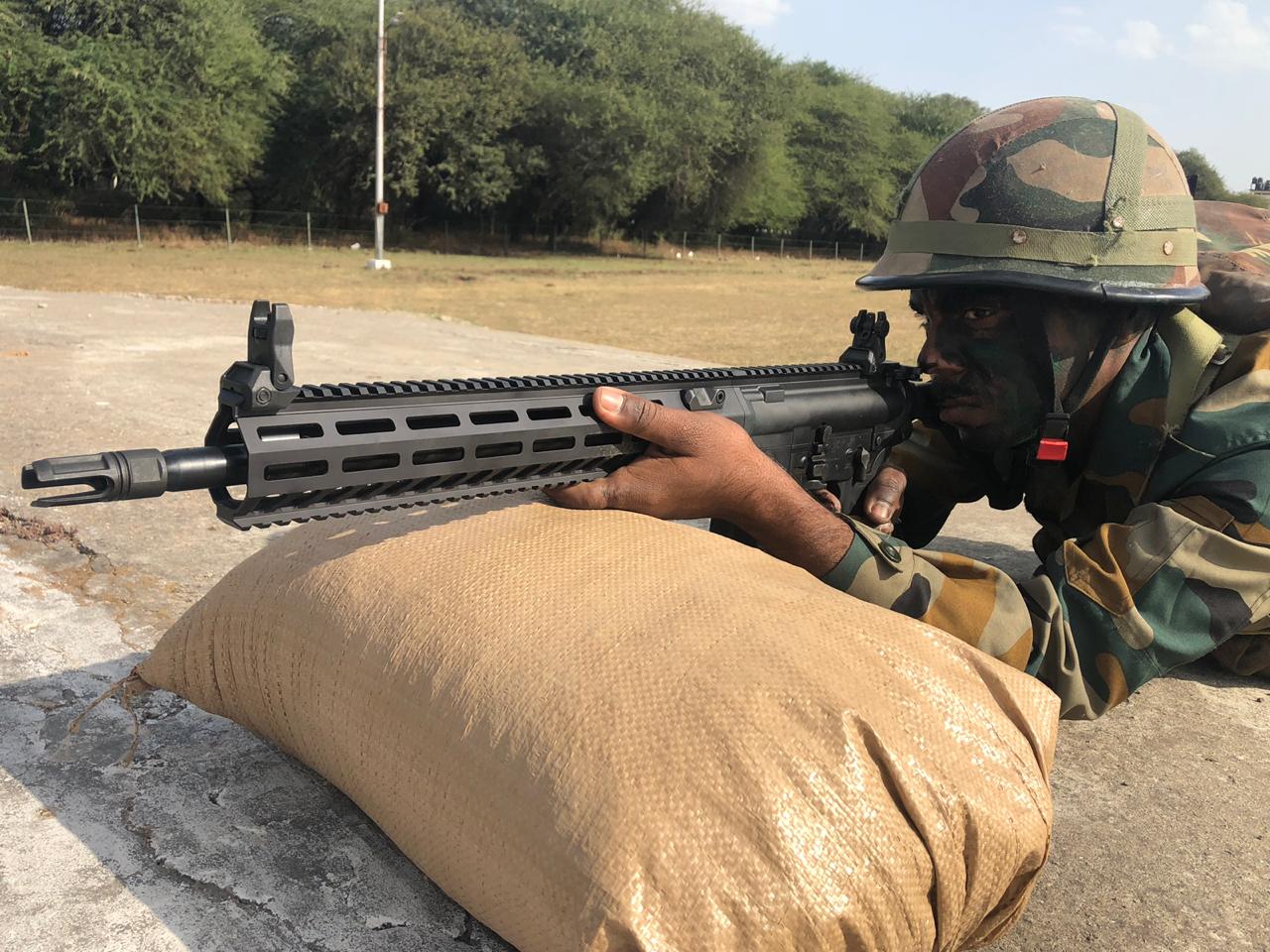 Indeed, the Indian Army is also acquiring 72,000 SIG-716i rifles at a higher price, which will reportedly be issued to "front-line units". But producing a less productive AK-203 could comfortably help Modi build electoral support in Uttar Pradesh, while at the same time giving Kalashnikov a long-term foothold for future orders in India.
Talwar-class frigate
India has also completed a deal to acquire four frigates based on Russian Stealth Frigates of the Admiral Grigorovich class. India already operates six Talvar-class frigates based on the earlier Russian Frigate-class Krivak.
The 4,000-ton warship is 124 meters long and has a formidable weapon: more than two dozen missiles of varying ranges of air-to-air, 100-millimetre cannon, torpedoes, anti-submarine missiles, anti-submarine helicopters, as well as vertical shafts, which can accommodate anti-ship or cruise missiles.
Russia originally planned to operate six frigates "Admiral Grigorovich" built using a Ukrainian engine. But Ukraine cut off engine deliveries to Russia after the return of the Crimean peninsula in 2014, leaving Russia with two nearly completed frigates without engines.
Under the current deal, the two frigates will be completed at the Yantar shipyards in Russia at a cost of $950 million (paid in rupees to avoid CAATSA sanctions) and delivered in 2022. India will supply a domestic gas turbine engine.
In addition, India will pay another $1.2 billion for the license to build two more frigates at its shipyards in Goa, due in 2026 and 2027.
The Indian version of the "advanced Talwar" will be armed with Brahmos supersonic cruise missiles and domestic radar and navigation systems.
T-90MS main battle tanks
In November 2019, India signed a $1.2 billion deal (paid in roubles bypassing CAATSA) to transfer technological components for the licensed assembly of 464 additional T-90 tanks at the Avadi plant – enough to equip 10 additional armored regiments as these are delivered by 2025.
The Indian plant will be paid an additional $1.9 billion for production, and it will build components including night sights and thermal imaging cameras, while Russia will still supply the engine and transmission.
More than a thousand main battle tanks T-90S and T-90MS form the core of Indian armored forces, supported by a large number of old, modernized T-72 tanks and several hundred domestic "Arjun" tanks. The 52-ton T-90MS is not as heavily armored as the Western main battle tanks, but it benefits from advanced jet armor and active defense systems that make it more to anti-tank guided missiles.
The later Indian T-90MS actually boasts superior engines, sensors and defense systems compared to the T-90AS model supplied by the Russian army.
Igla-S portable anti-aircraft missile systems
In November 2019, India also awarded $1.47 billion in its competition for very short-range air defense for the purchase of 5,175 missiles (the last 600 were manufactured in India) and 800 portable launchers.
This "shot and forgotten" thermal imaging weapon will provide the latest protection for Indian infantry units and can be particularly useful for neutralizing enemy helicopters, drones and even cruise missiles, especially in mountainous areas. Igla-S will replace India's old Igla-M missiles by increasing range, strike altitude and countermeasure resistance.
Igla-S competed with the Saab RBS-70 and the MBDA Mistral missile. Both foreign companies complained that Indian appraisers had waived performance requirements that were not in line with Igla-C. For example, during one test, Igla-C was unable to intercept targets in hot climates (a more difficult task for a heat-guided missile), but a second attempt was made in colder climatic conditions.
However, it is possible that the contract was simply concluded with the cheapest bidder, not based on performance, as Mistral was offered for $2.7 billion and RBS-70 for $2.1 billion.
Ka-226T helicopters
The Indian armed forces should be prepared for a potential war in the mountains with Pakistan on the northwestern border and China on the eastern flank. In such regions, helicopters are very useful for bypassing mountainous terrain.
In January 2020, Indian companies recently signed a contract with the Russian kamov Corporation to supply 200 Ka-226T light helicopters worth $4 billion: 60 Russian-made helicopters and another 140 Indian-made helicopters at the Tumakuru plant.
The Indian helicopters HAL "Cheetah" and "Chetak" based on the French SA 315B and Alouette III respectively showed their age. By comparison, the Ka-226 can fly twice as high, 25 percent faster at a top speed of 250 km per hour and carry six or seven personnel or one ton of cargo, not just four or five troops.
It is equipped with the famous coaxes of the propeller of the Russian corporation Kamov, which due to complexity provides greater stability and high-altitude characteristics than a traditional helicopter.
The current deal involves the transfer of 50 percent of the technology (in particular, the rotor blades, construction and chassis). India will also be able to export Ka-226TS abroad, but domestic orders may also increase, as the army currently requires 259 light general-purpose helicopters, Air Force-125, and Navy-111 such anti-submarine helicopters.